WHO: Deon Mitton
WHERE: Los Angeles, California
POSITION: Director of service reliability engineering at Sony PlayStation, Aviation photographer
CAREER HIGHLIGHTS: Commercial land / seaplane, Private pilot helicopter, Tailwheel
1. When did you first enter the aerial photography scene?
I started in 1993 as soon as I earned my pilot's license. Photography has always been a passion of mine and once I got in the air, I immediately wanted to capture the incredible bird's-eye view general aviation offers. I am a conservationist at heart, so it became a goal to share with the world this unique, lesser-known perspective of nature. And though some of my work is now published and found in promotional materials, I still look at it as a hobby, not a business. Most of my jobs are a result of word-of-mouth or social media.
2. How has social media influenced today's photography industry?
Social media has become a powerful communications tool. It enables us as photographers to reach a global audience instantaneously and engage with them in real-time. Personally, my goal with social media is to share my photos to 1) promote the importance of participating in efforts to preserve our natural resources; and 2) inspire the upcoming generation to engage in aviation in any way possible.
Technology enables us to deliver a glimpse of this world, right to their mobile devices, 24×7. If my work achieves either of the above, I did my job.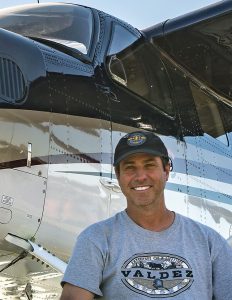 3. From which aircraft do you prefer to photograph?
Depends on the airspeed of the subject aircraft and/or the location on the ground. But I have shot from most platforms, including Bell, Robinson and Airbus. For air-to-air work, a high-wing Cessna such as the C170 or C185 is a good platform. The Bonanza is probably one of the most versatile, as it has a broad speed envelope, which is helpful to cover most turbine-powered aircraft as well. I've also used de Havilland Otters, Beavers and Quest Kodiaks. I have a special appreciation for flying in and photographing seaplanes in remote wilderness locations.
4. Where is one of your favorite geographical locations to photograph?
Alaska by far. The Alaskan landscape has to be some of the most diverse and scenic geographical regions on the planet. Specifically, the mountainous regions on the southeast coastline. In one shot, you can capture picturesque ice cap mountains, glaciers and turquoise blue water. It's visually stunning – a sensory overload! And the best time to shoot of course is the golden hour. The air is still, and the low angle of the sunlight creates the most optimal lighting for both air-to-air and air-to-ground work.
5. Can you tell us about one of your most memorable photo shoots?
Two come to mind. One was earlier this year when I photographed a vintage de Havilland Beaver and Quest Kodiak in Florida. The Kodiak is essentially the modern-day Beaver so to see the two STOL planes fly in close formation was really special. The other really memorable trip would have to be my flight in a Cessna 206 amphibian to the Misty Fjords National Monument in Alaska. We landed on a remote lake, accessible only by air. It reminded me the privilege we have as pilots and aviation enthusiasts to access such untouched, natural beauty. Truly priceless.