Several years ago, we decided to fly our Cessna 340 from its home base in Washington State (KBVS) down through Mexico and Central America to Ecuador, and then 600 nm across the Pacific to the Galapagos. Well-maintained airplane; two high-time ATP pilots; veteran passenger wives; two airplanes in loose company (a Baron and Cirrus) and a supposedly very experienced U.S. based handler to organize everything. 
It seemed like a good idea. At least at the time.  
And so, in a burst of innocence and enthusiasm, we started the trip with an 1800 nm flight to Brownsville, Texas, spent a night, then made the easy trip down the Gulf Coast to Vera Cruz, Mexico. We eased through Mexican Customs and Immigration and had the airplane topped off (with fuel at half the price of that in Brownsville). We then crossed the relatively low mountain range separating the Gulf Coast of Mexico from the Pacific to land at Tapachula. 
Following a 10-mile hazardous, seatbelt-free cab ride into town, we arrived at a very modest motel for the night as arranged by the handler. The next morning, we were back in the precarious cab headed to the airport. What followed thankfully, was a pleasant trip in CAVU conditions down the coast of Central America to Liberia, Costa Rica where we made a problem-free fuel stop and departed for Panama.  
It was VFR conditions when we arrived to the Marcos A. Gelabert Airport near Balboa, Panama and they were landing airplanes to the north. So, we approached from over the Gulf of Panama, passed over a small hill just before the runway and landed without difficulty. The customs folks met us at the FBO and were very friendly. We then took a van to the Hotel Gamboa, a very nice facility about halfway up the canal where we spent the next couple of days exploring the waterway and its surrounding jungle. 
After that relaxing interlude, we returned to find the handler did not fully process our flight plans and clearances to Ecuador. A personal trip to the tower controller's cab was required to resolve the problem during which I found that my ability to speak Spanish was very helpful. 
The weather at our destination of Guayaquil, Ecuador was marginal VFR with an occluded front over the area and rain showers reducing visibility and ceilings down to 2-3 miles and 1500 feet. While still over the Gulf of Panama, we found ourselves at FL200 on top of the system. It worsened as we made landfall near Tumaco and began dealing with an old-fashioned, radar vector controlled IFR arrival into Guayaquil. The controllers all spoke a broken form of English and worked to space us between inbound airliners. There was a localizer approach however, and we broke out well in time to see the airport and land in light rain. This time, our handler actually arranged for a rather nice hotel close to the airport. And even better yet, had a traditional Brazilian steakhouse right next door.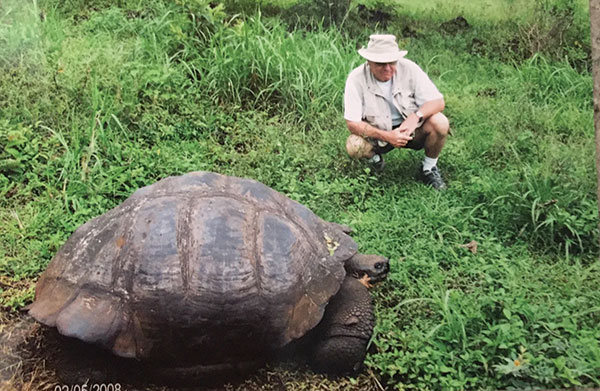 The next morning, we topped off the tanks with just over 200 gallons (or about 4 hours of flight at 200 knots) with some reserve. The distance from Guayaquil to our first stop, the island of Baltra in the Galapagoes, was about 600 miles so we felt very comfortable about range. In addition, we brought with us all the required emergency equipment for overwater flight including a raft and life preservers. We departed in the same conditions we landed previously, but after an hour or so we were west of the front and at FL200 in sunny skies surrounded by seemingly endless ocean.
Another two hours passed, and we began to see building cumulous on the horizon, suggesting land must be out there somewhere. So, we contacted the local controller and were informed he had an airline Boeing 727 inbound with priority. After some circling, we landed and parked in the small general aviation area, well removed from the airline terminal. The amount of paperwork upon our arrival was minimal, and we were soon in a mini-bus bound for a strange, Japanese style motel on the other side of the island. 
The next day, we returned to the airport to refuel the aircraft and take care of some administrative details before boarding a small expedition ship anchored in a nearby cove, on which we were to spend the next week exploring the islands. Despite a few of the accommodations, everything to this point in time had gone fairly well. Unfortunately, that soon changed.
For some reason (that subsequently proved to be due simply to lack of experience and correct information), our Florida based handler had arranged for us to make our initial landing at Baltra – an airline airport void of 100LL gas. The handler then promised clean fuel would be made available at $10/gallon by having it barged over from the Ecuadorian mainland in 50 gallon drums specifically for our use…something we were assured was common. 
Now, I have operated 100LL burning aircraft from Alaska to Africa, and one of the things I have learned is to be very careful about fuel coming out of drums. For this very reason, I brought with me a large plastic funnel with a chamois cloth through which fuel could be filtered and examined before it entered the aircraft's tanks. So, as the five fuel guys backed their ancient, rusty pick-up truck containing a stack of blue, plastic and unlabeled 50-gallon drums toward my airplane, I started rucking through the airplane's lockers to find my funnel. 
They were obviously anxious to get the task over however, so started pumping directly into the right tip tank while I was still looking for my funnel, causing me to shout over, "Espera, espera, el gasolina esta limpia?" (Wait, wait, is that gas clean?). As they continued to cycle the hand pump, they shouted back, "Si Capitan, muy limpia" (Yes Captain, very clean). Finally, I located my funnel and chamois cloth and over their complaints, interrupted the pumping while I put the funnel in the tank. I then asked them to start pumping again. Within two or three strokes of the hand pump, the cloth was covered by some white flakey material, small pieces of rust and some dark, brown ominous looking globules of what looked like water. Exactly what I was afraid of. But what was even worse was an unknown quantity had already been pumped into my airplane.
I proceeded to have a small and unseemly 'hissy fit,' yelling at them to stop all pumping. Once they did, I sampled the tanks low point. In the glass, I found the same material as in the funnel. I tasted the brown liquid and found it was salt water. The white stuff was sand and the rust, well was just plain rust. By now, a significant commotion had developed in typical Latin style. A few of the five fuel guys shouted loudly in Spanish that the fuel is indeed clean, and the dirt is from my funnel, while the other cohorts excitedly shouted that they have no idea what the fuel problem is, but it is not their fault.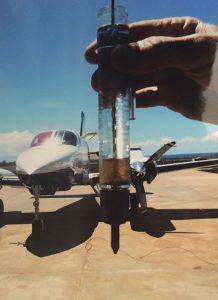 In the middle of this Spanish cacophony, over wandered a uniformed Ecuadorian air taxi pilot from a recently landed Aztec. He pulled me aside and in fairly good English asked what the problem was. I explained it to him and he replied, "Ah yes, this happens all the time. They siphon fuel from the barrels somewhere between the barge and here, put it in their cars, then bring up the level in the barrel with sea water. We never use this fuel. There are sharks in the water here, and it is too dangerous. But, we have our own 1000 gallon 100LL tank at our base on San Cristobal (a nearby island). If you can get over there, we will sell you what you need." Nice guy.
However, I still had a badly contaminated right main tank, with a total of about 20 gallons in it. As a rule, all takeoffs and landings in a tip tank-equipped Cessna are supposed to be completed using the tip tanks (due to fuel porting concerns with the inboard wing tanks). At this point, the right wing tank had around 15 gallons of uncontaminated fuel brought over from the mainland, with the left side holding about 20 gallons in the tip and 15 in its adjacent wing tank (all clean). The trip to San Cristobal was about 30 nm, or about 20 minutes. So thankfully, there was enough clean fuel on board to get there safely without touching the contaminated right tip tank at all.
I considered this for a while, and decided the only option was to take off using the left tip tank while cross feeding from the left side to the right engine. Then shortly after, switch the right engine back to its nearby wing tank. With some considerable caution, I carried this out and we soon found ourselves arriving at my new pilot friend's welcoming hangar in San Cristobal. We were greeted by a huge tank of clean 100 LL, and also a mechanic well-versed in the issues of fuel tank contamination. He agreed to flush the right main tank on the 340 while we spent the night at a local hotel then had the expedition ship pick us up in the nearby harbor.  
We proceeded to have a nice time cruising around the Galapagos for the rest of the week and returned to find the mechanic had indeed cleaned the tank. It required pulling all the filters and drains and pumping $2000 worth of 100 LL fuel at $11/gallon. He proudly showed me all the wasted fuel along with all the nasty looking stuff he scraped off the filters.    
The next day, after paying extra careful attention to all the tank drains, we departed for Guayaquil then Panama. Having had enough of our handlers "handling," and being a bit alarmed by the fuel fiasco, the other couple with us (a retired airline pilot and his wife), bailed from the trip immediately after landing in Panama and flew United back to the States. But my wife Kari and I flew north (with the Baron still as company), wandered around central Mexico for a while and wound up spending two very pleasant days at the ancient ruin of Palenque.
Thereafter, we departed Mexico, breezed through U.S. Customs in Tucson and landed back home at KBVS the next day (with the airplane running well the whole way). 
Many years have now passed since this misadventure, however, I still pay close attention to the sump on the right tip tank in that 340. It may be my imagination, but occasionally I see some white stuff that looks like sand.