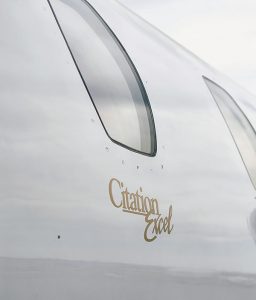 The most common question I hear when I tell people I'm the 560XL expert for jetAVIVA is, "What is the proper nomenclature when referring to this aircraft: Excel or XL?" Technically, they're both correct. The original airplane's official marketed name is the "Citation Excel." However, like every certified aircraft model, an official serial number designation is given. In the case of the Excel, that serial number designation is 560XL-XXXX (the last four digits representing the unique serial number). So, "XL" was picked up early as a quick way to write about the Excel. Incidentally, that "XL" terminology now encompasses all three models: Excel, XLS and XLS+. 
Citation 560XL
The Citation XL series aircraft is the world's best-selling business jet for a reason. The airplane is versatile, has excellent range, can land on shorter runways, offers a roomy cabin and ample baggage space, and most importantly, is economical to operate – which brings me to the whole reason for writing this guide covering the XL lineup. jetAVIVA is a top dealer/broker in the industry through the vast number of transactions we handle each year, including Citation XLs. 
This guide is my way of providing value to Excel/XLS/XLS+ clients past, current and future. The series will focus on several areas: 1) Providing current and prospective owners valuable information related to aircraft values; 2) What we see in pre-buy inspections and how this can help you as a buyer or seller; 3) What new technologies to look for if you plan on holding on to your airplane for a while. We'll also touch on paint and interior upgrade options, and even explore upgrade paths when figuring out the best time to "trade up" and move into your next aircraft.
History
Introduced in 1996, the first Citation Excel delivered in 1998, and Textron continues deliveries of this popular jet as of 2019. The most recent variant, the XLS+, makes the fleet size a whopping 949 aircraft in operation today. Of those aircraft, 365 are Excel, 328 are XLS, and 256 are XLS+. (If you want to learn more about the history and differences between each model, I invite you to watch our 560XL Series Review Video review at www.jetaviva.com under the "Videos" section).
Another interesting fact about the XL fleet is that a staggering 28 percent of all XLS aircraft in operation today are operated under fractional ownership programs like NetJets and Wheels Up. They clearly see the value, efficiency and popularity of this aircraft model. 
A Current Overview of the XL Markets
Last year proved to be another strong year for the XL markets, although we did see some dichotomy between the three models in this series. The Excel stayed fairly strong in the first part of the year and then experienced some market softening as the year went on. The XLS market remained strong throughout the year, only experiencing a short lull through the summer months, then returning as one of the strongest markets in business aviation going into Q4. The XLS+ market proved to be the most unpredictable of the three markets, however, with early serial numbers selling more quickly than later serial numbers. Overall, all three markets remained fairly strong in the fourth quarter.
Current Snapshot
A "healthy market," as defined by many industry analysts, is a market with roughly 10 percent of the fleet available for sale. Any higher, and this indicates a buyer's market. Any lower, and it's considered a seller's market, generally speaking. So, as of this writing at the end of October 2019, here are the market statistics:
Citation Excel: 17 For Sale = 5.0%
Citation XLS: 13
For Sale = 3.3%
Citation XLS+: 12 For Sale = 5.5%
As you can see, we are most decidedly in a seller's market with inventory numbers for all three models in the 3 to 6 percent range. Life is good, right? In theory, yes. However, there is an interesting trend when it comes to breaking down the transactions over the past year and discovering what buyers are looking for. 
In general, there seems to be a higher demand for late-model Excels (2002 or newer), as well as any XLS priced at or below $4.5 million. There are also a number of variables when looking at this fleet, and buyers assign a certain value to these variables that are not necessarily linear. It's these devil-is-in-the-details variables that drive overall aircraft values.
For instance, the "Vref Aircraft Valuation Digest" says to deduct the engine buy-in cost if the aircraft is not on an engine program. "Bluebook" values the airplane differently. They have you add the buy-in amount to the overall aircraft value if the airplane is already on an engine program. Just figure out the buy-in cost then, right? Wrong. We have found that of the 12 (yes – twelve!) different engine program options and levels of coverage, simply figuring out the buy-in differential does NOT directly calculate aircraft value. Partly, this could be because some buyers do not understand the differences between these programs and coverages. Other savvy buyers, however, weigh the buy-in differently depending upon how far from the future event they are. 
For example, say the airplane is on Pratt & Whitney's ESP Silver engine program, and to bring the airplane up to ESP Gold coverage, the buy-in cost is $500,000. If the airplane is just past an overhaul, most buyers will not account this buy-in into their equation due to the fresh engines. Alternatively, with the same coverage and buy-in for an airplane approaching overhaul, a buyer would likely take into account the full $500,000 buy-in. 
Other variables like ADS-B and WAAS vs. ADS-B and WAAS/LPV can mean a difference in value of up to $175,000. That's on top of the "normal" variables like seating configurations, WiFi and other attributes specific to the model (e.g., an APU on an Excel was optional).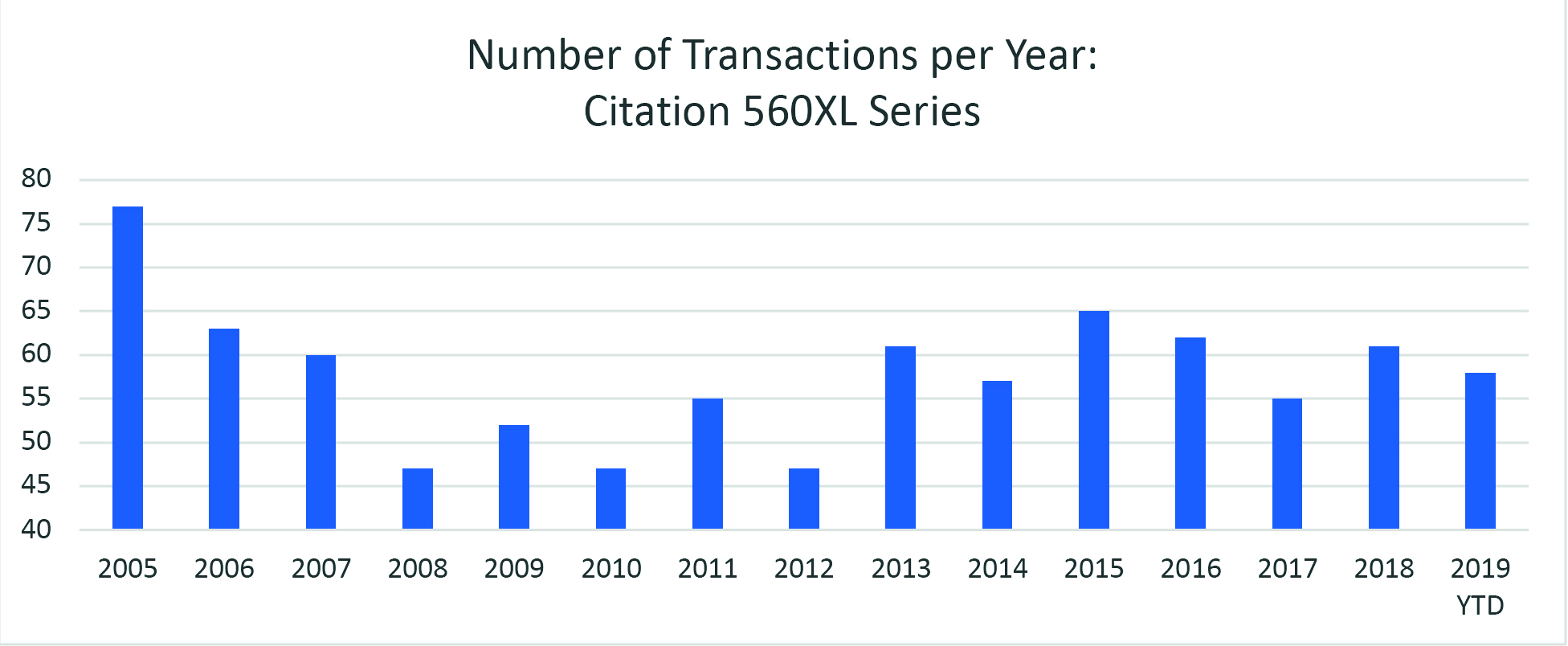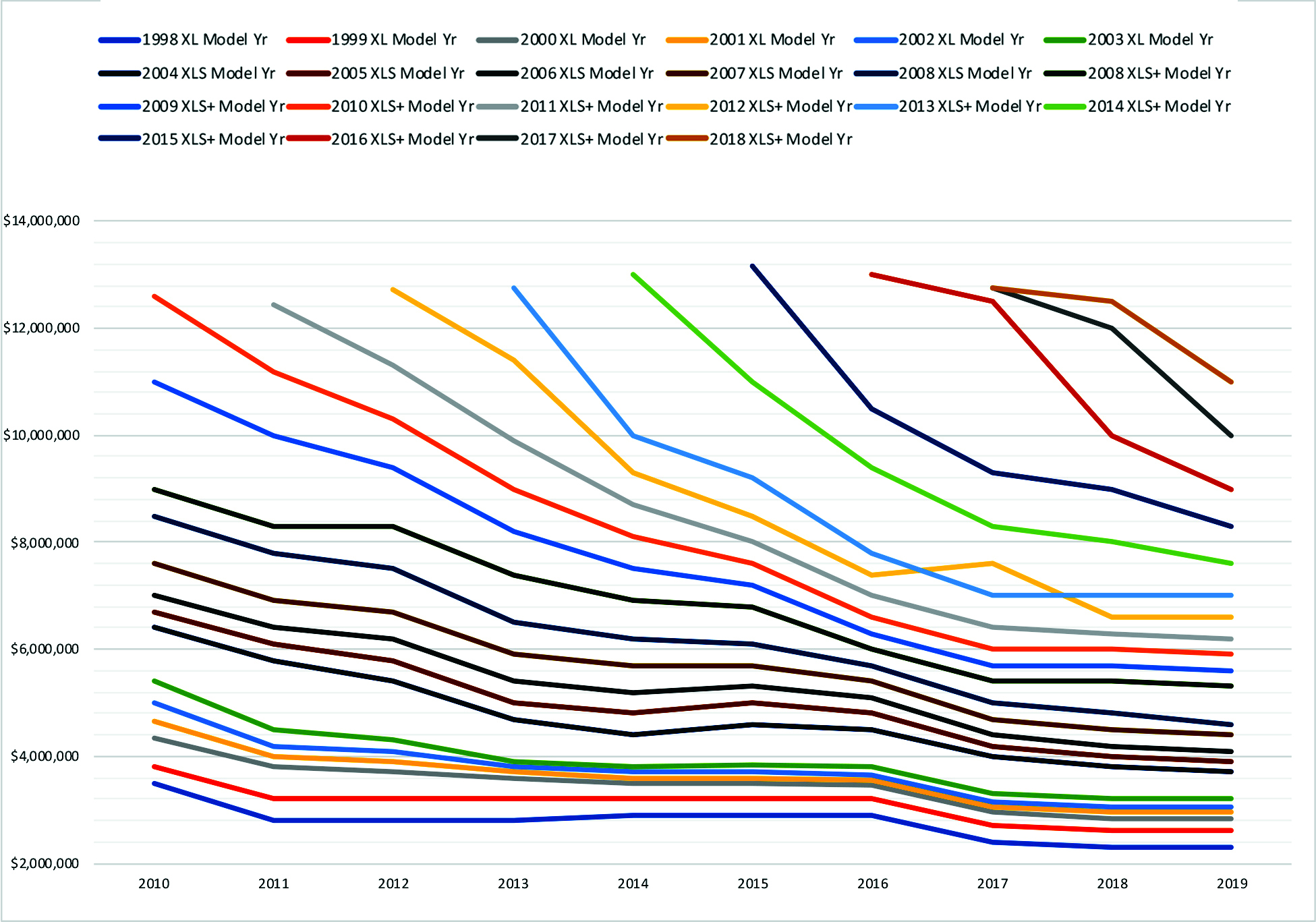 Historic Comparison
I'm also a fan of looking at the historical numbers. As you can see below, the sheer volume of trades has generally been trending up, though they are still not back to mid-2000-era numbers.
 And as I mentioned earlier, while transactions were up in 2018, we were happy to see values staying relatively stable throughout the year on both the Excel and XLS as well. 
 So, what does this all mean? It means that on a macro-level, values seem to be holding steady, but I sense change is in the air. Specifically, for the Excel fleet due to the vast number of former NetJets aircraft currently held in inventory by Textron. This will no doubt start affecting the values of aircraft across the board at some point, much like the Citation X fleet experienced back in 2015-2016. However, the value of your specific airplane is going to be dependent upon many factors, including aircraft age, total time, engine program level, avionics upgrades, ADS-B compliance, WiFi, paint and interior condition, among other things. 
With the help and research continuously conducted by jetAVIVA's sales advisors, I meticulously track on- and off-market aircraft as well as obtain sold prices for recent transactions. I've spent years refining and perfecting my super-secret-squirrel spreadsheet on the XL markets. Even my colleagues tend to glaze over or go cross-eyed at the level of detail that goes into my calculations. But at the end of the day, I am confident in the data I provide an owner with a valuation of their aircraft, or when I'm buying an aircraft for my acquisition clients. The market is the market; I just report the weather. 
Stay tuned for "A Guide to the Citation 560XL Series: Part 2" in an upcoming Jet Journal.