What could potentially be described as the "Martha's Vineyard of the Midwest," the Little Traverse Bay area of northern Michigan is our next great getaway. At approximately 45 square miles, Little Traverse Bay is Lake Michigan's fourth largest bay, behind Green Bay, Grand Traverse Bay and Bay DeNoc.
Notable towns comprising the Little Traverse Bay Area include Charlevoix, Bay Harbor, Petoskey, Traverse City and Harbor Springs; many of which have names originating from the region's native Indian tribes. Each offer a unique, charming downtown with great shops and restaurants, as well as a wide array of outdoor recreational activities. An added bonus for pilots flying in is spectacular water views.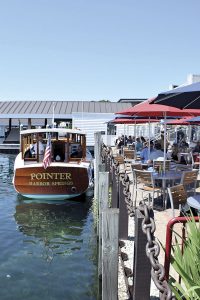 Activities and Amenities
From hiking, biking, sailing and golfing, Little Traverse Bay attracts a large number of summer gatherers every year and is often found featured in travel blogs and magazines. Though a popular summer destination, the area is equally as enjoyable during the winter months. The first few months of the year are a great time to take advantage of the nearby skiing (downhill and cross-country) and snowmobiling options.
Dotting the Lake Michigan coastline are numerous options to stay including lakefront cottage rentals, hotels, resorts and condo-style lodging. As an inlet to one of the world's largest lakes, it's no wonder that the area offers numerous water-related activities both residents and visitors find appealing. Boating is especially popular with hundreds of yachts, sailboats and fishing boats floating around the bay at any given time. 
One of the best-known marinas in the region is Bay Harbor Lake Marina, which has been named both one of the "10 Best-Family-Boating Resorts" by Boating Life and one of "The Top Ten Ports in North America by Motor Boating Magazine. The marina has a central location and is a quick boat ride from Beaver Island, the largest island on the lake with its own share of fun activities (such as notable viewing of the Northern Lights in the late summer). 
Aside from leisure boating, the Little Traverse Bay offers world-class fishing with bass, steelhead and trout inhabiting the waters. Beyond the Great Lake, the towns' rivers, streams and lakes also have a wide array of fish to keep any angler occupied during their stay. 
North of the bay is Mackinac Island, a throwback to the 19th century with horse and buggy transport. The town offers many things to do, but perhaps the most popular pastimes revolve around the variety of historical landmarks such as Mackinac Island State Park and Fort Mackinac. And though the town is reminiscent of the past, the island has various accommodation options, fine dining and an airport (MCD). 
Joe Wortman, a PC-12 pilot, frequents the Little Traverse Bay Area from his home near Detroit and says, "There is something special and unique about northern Michigan, with more things to do than there are days in the year. It is certainly well-suited for those who like to be outdoors." 
Off the water, visitors to Little Traverse Bay can be found zip lining, attending live concerts, biking, apple picking and golfing. Each activity takes advantage of the bay's beauty, notably the Bay Harbor Golf Club designed by famed golf architect Arthur Hills. Hills molded the picturesque landscape into a beautiful 27-hole course commonly referred to as the "Pebble Beach of the Midwest."
An overview of the region is certainly not complete without mentioning its admired food and drink scene. Whether it be cafes, steakhouses, sandwich shops or dessert places, the small towns along the coast have a wide array of options to meet any foodie's taste. There are also dozens of microbreweries and wineries around the bay, with companies offering assorted packages to tour vineyards and sample the diverse options. Additionally, farmer's markets are commonly sighted during the summer and early fall months.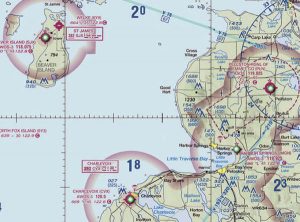 Flying into Little Traverse Bay
Pilots have several airports to choose from when embarking on their northern Michigan adventure. One popular option, located in Harbor Springs, is Harbor Springs Municipal Airport (MGN), which sits feet away from the water of Lake Michigan. The non-towered airport has a 4,157-foot by 75-foot lighted asphalt runway (10/28), 100LL and Jet A fuel, a courtesy car, as well as tie downs and instrument approaches. A 10-acre portion just north of the airport houses Harbor Springs Airpark. The residential airpark sports 10 one-acre home lots with houses built in beautiful northern Michigan architectural style.
Another landing spot for aviators is the Pellston Regional Airport of Emmet County (PLN), which has two runways – Runway 14/22 (6,513-foot by 150-foot asphalt) and Runway 5/23 (5,401-foot by 150-foot asphalt). The latter is a popular alternate due to the extra runway and additional instrument approaches. The airport too has all requisite fuel, tie-down and ground transportation resources needed for those deplaning to get away for a few hours, or days, and explore what makes Little Traverse Bay Area a truly great getaway.