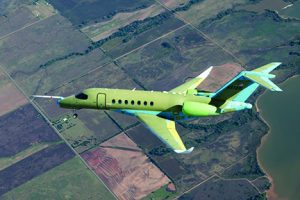 Cessna Aircraft Company, a subsidiary of Textron Aviation Inc., announced the successful first flight of its Citation Longitude super-midsize jet on October 8, 2016. The flight comes less than a year after the company unveiled new details for the revolutionary aircraft – the company's latest example of continued investment in its family of larger business jets.
"Today's successful first flight of the Citation Longitude was performed exactly as we anticipated," said Scott Ernest, president and CEO, Textron Aviation. "Our product development process is second to none and allowed us to move smoothly from unveiling the Longitude last November to the first flight of the prototype in just 11 months. This milestone not only showcases our continued commitment to investing in new products to meet market demand, but also our focus on investing in our development and production processes to bring the aircraft to market quickly with-
out compromise."
The Longitude took off from the company's east campus Beech Field Airport, piloted by experimental test pilots Ed Wenninger and Stuart Rogerson. During the two hour and two minute flight, the team tested the aircraft's flaps, landing gear, pressurization systems, stability and control.
"I was extremely pleased with the performance of the Longitude during the first flight," said Rogerson, senior flight test pilot. "The level of maturity in flight characteristics is already very high. I was particularly impressed with how intuitive the flight systems are, validating the extensive integration work done by our development teams. We accomplished everything we wanted to do during this maiden flight, setting the pace for the flight test program."
The prototype aircraft will continue to expand the performance envelope, focusing on testing flight controls and aerodynamics, while the first production model, set to fly in the coming weeks, will be primarily used for systems testing.
"With industry-leading design and production expertise, our world-class team is able to execute quickly and precisely, enabling the company to bring new concepts to market faster so both pilots and passengers enjoy an unrivaled level of capability and comfort," said Michael Thacker, senior vice president, Engineering, Textron Aviation.
The Citation Longitude is designed specifically for maximum passenger comfort and offers the lowest cabin altitude in its class at 5,950 feet. With seating for up to 12 passengers, the Longitude features a stand-up, flat-floor cabin with a standard double-club configuration and a class-leading walk-in baggage compartment, fully accessible in flight. It features the next evolution of the Garmin G5000 flight deck and is powered by FADEC-equipped Honeywell HTF7700L turbofan engines with fully-integrated autothrottles. The Longitude offers a full fuel payload of 1,500 pounds, a maximum cruise speed of 476 knots and a high-speed range of 3,400 nautical miles.