What qualities are training providers looking for when they hire in an instructor? How is the volatility of the pilot market altering the training business? What tips do instructors have for pilots preparing for a training course? During a recent visit to TRU Simulation + Training in Tampa, we got specific in our exploration to uncover a behind-the-scene look into the training market. The goal: learn more about the people who enable owner-pilots to operate their equipment safely and efficiently.
TRU Simulation + Training
TRU was introduced in 2014 when parent company Textron acquired and combined the capabilities of several companies in the flight simulation and pilot training industry, one of which included ProFlight, a Cessna CitationJet and Conquest training provider based in Carlsbad, California. The 50,000-square foot Tampa facility is now the company's largest, offering programs for all Citation 525 variants (except the CJ4, which is available at the Carlsbad location) as well as the Citation Latitude, Sovereign+, the Beechcraft King Air 90/250/350, and as of just recently, the XLS+. 
The company has grown significantly over the last few years, with owner-pilots vocally appreciating the online ground school option, on-site ground simulators (referred to as the Integra™) and knowledgeable instructors.
"When we purchased ProFlight, it was firmly established that we wanted to preserve the quality of instruction, which meant pilots with applicable real-world experience," said David Smith, vice president of training centers. "Our instruction is geared toward active flyers and GA pilots – we want our people to bring more to the discussion than just the systems."
Smith added that instructors are encouraged to continue building time once they join the company. Typically, this is achieved through contract corporate jobs or flights with the demonstration team from sister company, Textron Aviation. "We work hard to make operating the actual aircraft a normal part of their job. Because of this experience, our instructors are able to be active in forums and discussions even outside of the classroom. They can weigh in on operator's decisions and SOPs (standard operating procedures)."
Like the rest of the industry, TRU is experiencing challenges recruiting instructors as the airlines continue to ratchet up their efforts to attract pilots. But the company seems to have struck an effective balance in their hiring methods, focusing on retirees and young, family-forward pilots seeking more time at home than the typical airline schedule would allow. With their convenient location in Florida, TRU smartly offers various retirement packages to draw those pilots ready to settle down, but not ready to fully retire. The years of valuable real-world experience they bring nicely aligns with the company's mission to retain quality instruction. Instructing is not an easy job, however. It requires considerable attention and energy.
"I think the job of an instructor like this is one of the most challenging ones," said Smith. "You are someone's world for the period of time they are here. And like a parent, you are constantly taking care of their needs, correcting bad behaviors and instilling knowledge. But at the same time, it can be a very rewarding one."

Meet Two Instructors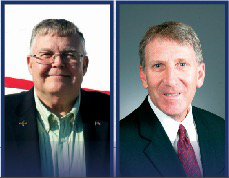 To better understand life as an instructor and gather some insider tips, Twin & Turbine visited with two TRU instructors: Darrell Pope (King Air instructor; 15,000+ hours) and Larry Provenzano (Citation instructor; 13,000+ hours).
Twin & Turbine: Can you tell me about your aviation background?
Pope: Primarily, I am a former military pilot – 28 years of active duty. I have been retired from the military for 20 years but have served in various aviation roles. I was with a freight company (became DHL) for 11 years, and then I flew with a small aviation company out of Virginia for eight years performing government contract work. I tried to retire at that point officially, but for me, that did not work. I soon found TRU online, liked the idea of teaching and have been here for nearly a year.
Provenzano: I have been flying for over 30 years. After I earned all of my ratings, I flew traffic reporting to build 1,200 hours. Following that job, I flew cancelled bank checks in a number of aircraft like the 210, 310, Shrike Commander, and later the MU2. I then did freight for 11 years before getting my first corporate job and my first type rating in a Beechjet. I also flew a CJ2 for a private owner for a period. Today, I have six different type ratings. 
Twin & Turbine: Can you walk me through a typical day in the life of a TRU instructor?
Pope: First, I will admit that I came here thinking this was going to be an easy job. But once I got here and started teaching, I discovered it is actually challenging – but I enjoy the challenge. If it's a ground school day, I'll show up at least an hour ahead to prepare the lesson and paperwork. Then it's four hours teaching in the classroom followed by four hours in the Integra. On a sim day, we will complete a five-hour block (2.5 hours for each client). This is followed by a debriefing. It normally ends up being a solid 8-hour day.
Provenzano: It depends on the schedule. But I'd say typically ground school starts at 8 a.m., so I will arrive at 7 to get the lesson prepared prior to the students' arrival. On a sim day, I will do the same thing to ensure there are no surprises or delays with the equipment when the student arrives. But the schedule constantly changes based on the number of pilots and the need. There is a lot of variation among the CJs as well, particularly with avionics. I have to mentally prepare myself for which product I am going to be teaching that day.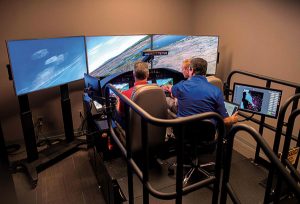 Twin & Turbine: In your opinion, what are the benefits of sim flying versus in-aircraft?
Pope: The sim allows you to do and practice all of the malfunctions and emergencies you cannot simulate in the real airplane. The technology today is phenomenal; the simulator mimics precisely what the actual airplane will feel like. So, it is all about teaching what the airplane is capable of doing, how the airplane will handle in a situation, and how the client can come out of that situation safely. 
Provenzano: The ability to fly into various airports is very beneficial. We can easily practice at airports that present different challenges with weather, runway or altitudes. Also, it's helpful when we complete a procedure, and we have the option to restart, reset, and do it as many times as needed until the client is proficient. And of course, the biggest thing is you can do things in the simulator that you could never do in the plane for safety reasons.
Twin & Turbine: What do you enjoy most about working with owner-pilots?
Pope: They come to us with their expectations of how they are going to employ the airplane – whether it be flying into Aspen, Colorado or landing at their ranch in Brazil. They fly the same airplane day in and day out, and because it is their personal investment, they tend to want to know more about the specifics about the airplane. If they can identify issues, it saves time and money in maintaining the airplane. It is my first time working with this group, and I really enjoy their passion and interest.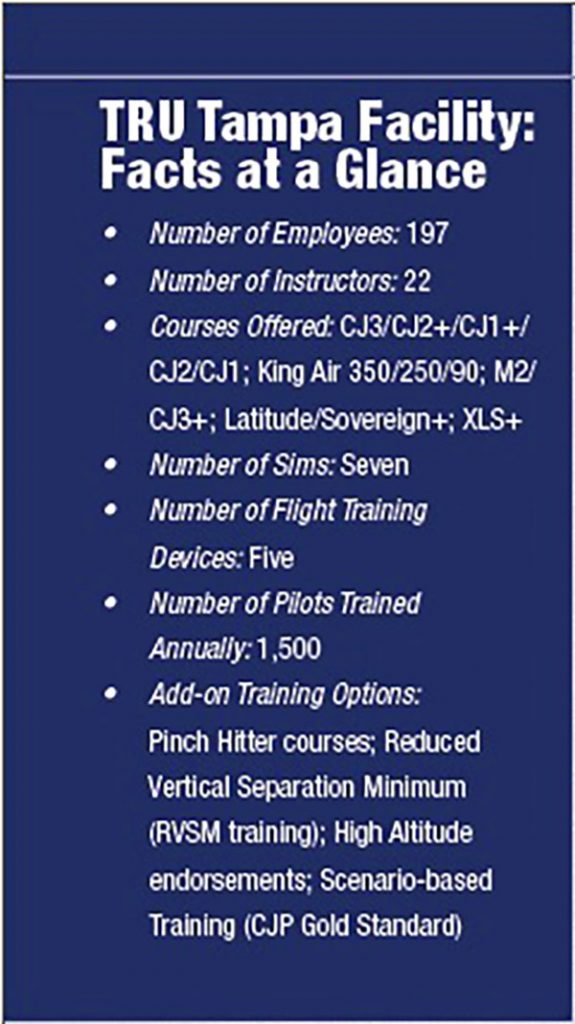 Provenzano: With the M2, the majority are owner-operators. In a lot of cases, they have never flown a jet. For me, it is rewarding to take someone who came in knowing nothing about jet-flying to when they leave and are proficient in the avionics, systems and procedures – hands down my favorite part of this job. Even those who come in with a lot of experience should always be leaving here having learned something new.
Twin & Turbine: What common mistakes do you see among owners attending courses?
Pope: It depends upon their background. Have they been flying something of lesser performance? In many cases, there is the challenge of bringing them from the piston world into the turbine world – or from single-engine flying to multi. 
Provenzano: Often, I run into owner-operators who are not used to doing callouts – or speaking aloud in the cockpit at all. A good example is the takeoff briefing. If they are not used to doing one, we will practice it every day to get them in the habit. I need to be able to hear what they are thinking in their head. 
Twin & Turbine: Do you have any tips or recommendations for someone about to take a course?
Pope: Come with an open mind and good attitude. It is amazing to see a client walk in who has little turbine experience then leave here with a big smile. Our goal is to have them be comfortable with their equipment, and I think we do a great job in that.
Provenzano: I would recommend reading up on limitations and memory items. That seems to be the weak point. If a situation arises, there are some things you need to know even before grabbing the checklist. Also, take advantage of the Integras while you are here, especially for the M2 and CJ3+ – they are gold. If you can sit there in your time off and practice the Garmin, you will be in so much better shape before you get in the full-motion simulator. Makes a world of difference. 
For more information, visit www.trusimulation.com.