Aviation Fabricators, located in Clinton, Missouri, has announced a broad package of interior improvements for the Beech King Air 90 and 200 series. Termed the "AvFabulous" upgrade, the mix-and-match menu allows customers to tailor elements of the package to suit individual needs.
We recently toured the AvFab C90 demonstrator aircraft during a visit to the company's headquarters. According to company co-founder Jeff Lowe, with his father G.R. Lowe, the goal of AvFabulous is to give owners and operators of older King Airs the look and feel of a C90GTx or 250 without trading aircraft. "Charter customers and clients can see a modern interior when they board your airplane," he said, "regardless of the actual age of the aircraft." Impressions are important, and AvFabulous makes a great first impression.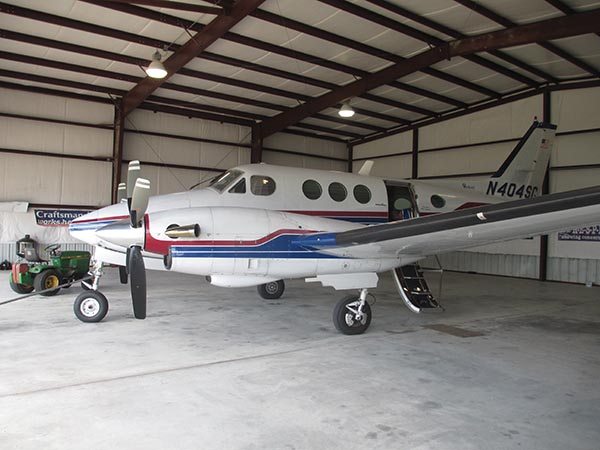 Chief among the AvFabulous upgrades is the Arm Ledge Table System, which offers an integral arm rest along the sidewall, giving a look similar to the current production new King Airs. AvFab's improved fold-out work tables have four deep cup holders, versus the original two holders, usable even when the table is stowed.
AvFab's new pull-down pleated window shades replace the factory original rotating polarized shades, eliminating their toxic materials and adding heat rejection when closed while the aircraft is parked. The pleated shades give the look of newer jet interiors and are available in three colors. Weight saving is two pounds per shade.
The installation of side-tracking cabin seat bases allows an extra 3.5 inches of lateral elbow room to be used in flight, Lowe said. The seat's new low-profile headrests, which nestle into the seat back when not in use, give a clearer view through the cabin; they are dubbed "Clear View" by AvFab.
The aft jump-seat options from AvFab are among its most popular offerings in the 200 series King Airs. N404SP, a C90, was fitted with a single fold-up forward-facing seat with shoulder harness, adjacent to the aft toilet seat. Depending on the airplane, the folding seat allows some aft baggage space to be used while it is occupied, or nearly all the baggage area can be filled when it's folded against the sidewall. A new lighter-than-original side-facing seat was also installed in the demonstrator's aft cabin, with storage underneath.
The AvFabulous upgrade brings the experience of AvFab's improvements for the later King Airs into a modern-looking interior for the venerable 90 and 200 series airplanes. The kits are available for installation by customers' shops or completion centers, as desired.
For further information, contact: Aviation Fabricators
805 North 4th Street  Clinton, MO 64735
(660) 885-8317 www.AvFab.com