Twin & Turbine is written and edited by and for the knowledgeable, experienced owner of cabin-class aircraft. Our readers are the owners and operators of high-performance aircraft. They fly for both business and pleasure, and they are among the highest income groups in the world.

100% of the Jet and Turbo Prop owners in Canada and the United States
Your advertising message stays with owners because Twin & Turbine stays with the owners. The magazine provides you, at a cost competitive rate, with the market you care about reaching.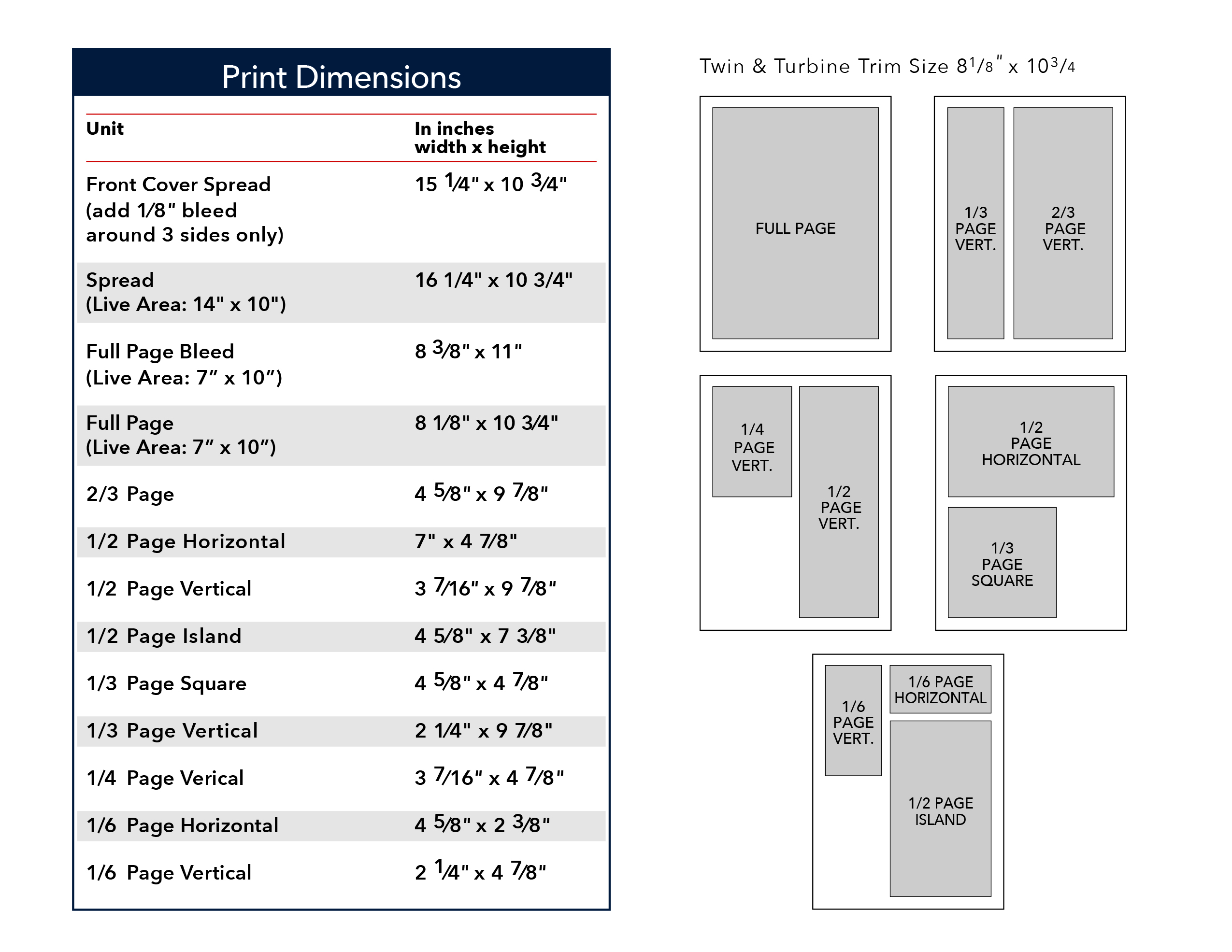 ---
Contract and Copy Regulations
Rates shown are for digital ads submitted as specified. Any art correction will be charged to advertisers at cost.
Discounts & Commissions
Terms: Net 30. 15% commission on space to recognized agencies for camera-ready copy if invoices are paid within 30 days. Commissions and discounts are forfeited on past-due accounts. The publisher reserves the right to reject any advertising, or to request alteration in content prior to publication. Advertisements are accepted and published upon the representation that the agency and/or advertiser is authorized to publish the entire contents and subject matter thereof. The agency and/or advertiser will indemnify and hold harmless from and against all loss or expense resulting from claims or suits based upon contents or subject matter, including, without limitations, claims or suits for libel, violation of rights of privacy, plagiarism, and copyright infringement.
The publisher shall have the right to hold advertiser and/or its agent jointly and severally liable for such monies as are due and payable to publisher for advertising that advertiser or its agent ordered and that was published.
If change of copy is not received by the closing date, copy run in previous issue will be inserted.
Authority and License to use (1) the names, portraits and/or pictures of living persons; (2) any copyrighted material; and (3) any testimonials contained in any advertisement submitted by or on behalf of an advertiser are the responsibility of the advertiser and its agency if there be one. As part of the consideration and to induce Twin & Turbine Magazine to publish such advertisement, the advertiser and its agency, if there be one, each agrees to indemnify Twin & Turbine 2015 Advertising Rates and save harmless Twin & Turbine, publisher of Twin &Turbine Magazine, against all loss, liability, damage and expense of whatsoever nature arising out of the copying, printing, or publishing of such advertisement. Cancellations cannot be accepted after closing dates. Content of all advertising is subject to the approval of the publisher. Advertising Rates may be adjusted without notice if circulation increases or publication costs require. Contract advertisers,
under such circumstances, will have the right to adjust their contracts. All invoices are payable in U.S. funds. All advertisement orders set and not used will be charged for composition. The publisher's liability for any error will not exceed the cost of the space occupied by the error. Mechanical Requirements:
Printing: Sheet fed Offset Trim Size: 8-1/89 x 10-3/49
Binding: Saddle wire Column Width: 2-1/49
Ad Prep Service:
Your ad can be prepared for publication by Twin & Turbine Magazine. The charge will be assessed on the first insertion of the ad. Agency discount does not apply on first insertion. Ads submitted in digital format must meet the Village Press Production guidelines. Please call if you have any questions regarding your file set-up, or go to
www.vpdemandcreation.com/support
for ad submission guidelines.
It is your responsibility to send the proper sized ad and format for the ad space purchased. If the Art Department considers a digital ad to be incorrectly set up by the advertiser, we reserve the right to do one of the following options at our discretion: scale the file size unconstrained up to 5% (wide or tall), or send the ad back to the advertiser to correct and resubmit. The advertiser may also request our Art Department alter the ad to meet the specifications at an additional charge to be quoted. Please call if you have any questions regarding your file setup.
Bleeds: No extra charge on full pages. Trim size 8-1⁄8" 2 10-3⁄49. Keep live matter 1/49 from edges.
Miscellaneous:
Direct mail services: Additional information on request.
Special Positions: Every effort will be made to comply with advertiser requests but special positions cannot be guaranteed. Contact Ad Director about possible premium placement rates.
---