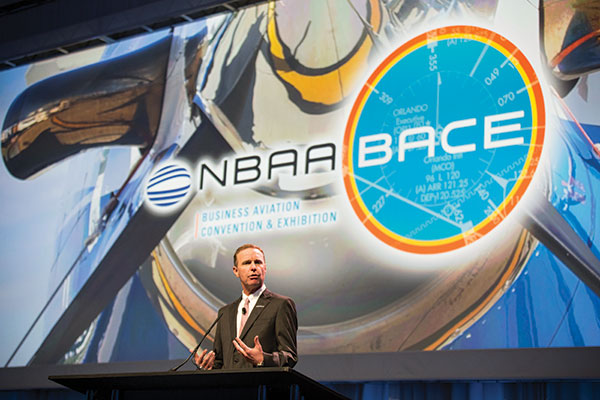 With only days remaining until the kick-off of the 2018 NBAA-BACE Convention & Exhibition, the business aviation community prepares to gather for three days of impactful, educational and thought-provoking keynote speakers, forums and exhibits. In addition, safety, emerging technologies and a focus on the emerging young leaders in business aviation will be among the major themes. All of this will take center stage at the upcoming convention scheduled for Oct. 16-18 in Orlando. 
Last month, Twin & Turbine caught up with NBAA President Ed Bolen to discuss issues facing business aviation as well as what we can expect at this year's convention. 
Twin & Turbine: The Trump Administration's push to spin off U.S. air traffic control from the FAA to a so-called government-chartered nonprofit board was a difficult battle, and it was ultimately defeated. What's the key to ensuring the issue is not resurrected?
Bolen: Fifteen months ago, President Trump held a press conference at the White House and said that his administration wanted to push for so-called privatization of our air traffic control system. Congressman Bill Shuster, chair of the House transportation and infrastructure committee, also was there and the White House effectively at that point were endorsing the Shuster bill, which effectively handed over ATC to an entrenched group of special interests. 
As we now know, it was not privatization, but it was labeled as privatization. At that point, our community rallied like it had never has rallied before. It wasn't just the business aviation community, but the entire general aviation community came together to say that we wanted to modernize our system, not privatize it. Spokespeople such as "Sully" Sullenberger, astronaut Jim Lovell, and former Blue Angels and Thunderbirds pilots  – people whose integrity and authenticity could not be impeached – came forward to speak out. Also speaking out were business leaders who not only run world-class businesses, but are also pilots. Mayors from around the country were engaged. 
But mostly it was our community. We were seeing that our members were sending emails and making phone calls to Capitol Hill in record numbers. It had an effect. So as a result, this past spring Chairman Shuster announced that he was going to bring a bill to the House floor that did not contain the ATC so-called privatization. He stripped that provision from the bill and it passed the
House overwhelmingly. 
In the Senate, the FAA reauthorization bill is pending. They are working to try to bring it to the floor but the Senate calendar is very congested. So, my guess is when this article comes out the legislation will not have passed both the House and the Senate. I'm expecting FAA reauthorization will be extended from September 30th to December 31st, which would allow the lame duck Congress to take up the issue after the mid-term elections.
I think the good news on extensions is the sky doesn't fall in. But clearly a long-term reauthorization bill provides stability, creates a North Star for us to navigate by. The so-called privatization has been a distraction to getting a long-term FAA bill. I'm hoping that we can now put that to the side and get a long-term bill passed for three, four or five years. At this point it certainly looks as if the ATC privatization has been fully vetted and rejected. So we would hope it doesn't resurface in a lame duck session. But, obviously, we're going to remain very vigilant. There continues to be some people speaking positively about ATC privatization. We know that if we call on our community to respond they will. 
Twin & Turbine: Mid-term Congressional elections are a big focus in the United States. How could the outcome potentially impact business aviation?
Bolen: Over decased we have seen  that although different parties can be in charge of the House or the Senate, there is no one party that is consistently better or worse for business aviation. We have been able to find champions on both sides of the aisle and in both chambers that have been important at helping us get our message out. Sometimes those members are pilots, and that can be helpful. 
Business aviation is not a partisan issue; it's an awareness issue. So, what we've been doing for the past several years is try to build a strong general aviation caucus in both the House and the Senate that helps us identify those people who understand our industry and are inclined to support it. Whatever the outcome of the elections are, we will be reaching out to our community asking them to help us build strong GA caucuses. We'll be relying on champions to help rally support and do some of the member-to-member outreach. But obviously elections have consequences so we'll see what changes, if any, happen in the House and in the Senate and we'll respond accordingly.
Twin &Turbine: What other key issues is NBAA focused on right now?
Bolen: One of the things that we did at our NBAA Regional event in northern California was work with the Northern California Business Aviation Association on a career day to address the issue of attracting and retaining talent. It'll obviously be a big focus at the NBAA-BACE in Orlando where we also will be holding a career day. In addition, we're very focused on promoting the top "40 Under 40," which shines light on young professionals who are making an impact on our industry. Everyone on both sides of the aisle in Congress, the airlines, and general aviation, want to attract talent into the aviation-aerospace industry. It's becoming a national priority and we certainly want to facilitate that. 
Twin & Turbine: Given the strong U.S. economy and business aviation's positive market indicators, what are your expectations for this year's convention?
Bolen: At regional and industry events throughout the year, we have felt a sense of optimism and opportunity. This year's show will be focused on the changes that are taking place in the market and the exciting technologies and emerging trends that are feeding it. 
We've got dynamite keynote sessions focused on new technologies, leadership and developing the next generation of business aviation leaders. In the technology realm, we will hear from the president of Uber Elevate who will talk about their vision for urban mobility vehicles. In addition, we'll have panel discussions that feature a lot of these emerging innovations and concepts.
Highlighting our theme on leadership development, Pamela Nicholson and Christine Taylor, the CEO and COO of Enterprise Holdings respectively, will lead a panel discussion and talk about their leadership of one of the country's most well recognized and successful companies. 
NBAA's Young Professionals in Business Aviation (YoPro) has a full slate of events and programs. There will be a panel discussion titled "Young Professionals: Changing the Face of Business Aviation" to discuss how the industry can effectively bolster both its workforce and clientele by engaging young professionals. Further, a few top "40 Under 40" rising leaders who will discuss their pathways to success, practical strategies for developing young talent and the value of building industry connections. We'll also host the annual YoPro Networking Reception.
We want to capture that enthusiasm and excitement, put it on display, combine that with kind of our challenges of attracting workforce. We just think it's going to be a magnificent event that takes place at kind of a key moment in the history of our industry.
Twin & Turbine: NBAA-BACE features several safety events that will be particularly beneficial to the owner-pilot or single-pilot operator. Can you preview what attendees can expect? 
Bolen: NBAA-BACE will hold two significant safety events: the Single-Pilot Safety Standdown on Oct. 15 and the NBAA National Safety Forum on Oct. 18. At the safety stand-down, we will feature expert speakers and highly respected single-pilot aviators who will share their knowledge and offer practical information on operational safety and risk mitigation. You'll hear from AOPA President & CEO Mark Baker and EAA CEO Jack Pelton, both businessmen, aviation industry leaders and accomplished pilots.
At the Safety Forum, we will focus on technologies that can help a pilot recognize they are moving toward an unsafe event. We will also talk about the physiology and psychology that affects human performance, airmanship, fitness for duty and the relationship between professionalism and aviation safety.
Both of those events will help us make sure people recognize the value of safety to our industry and see how people and companies are addressing those issues. These events will underscore how we as a pilot community can work together to constantly advance and enhance safety for our industry.