Page 18 - Jan 20 TNT
P. 18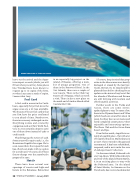 GRAND TURK ISLAND OF TURKS AND CAICOS
leave out the arrival and the depar- ture airport on each (which you will fill out when you arrive). Some places like Trinidad have been known to request up to 12 copies of the form, so when I say carry a stack of copies, I mean what I say.
Fuel Card
A fuel card is a must in the Carib- bean, especially for jet fuel since the avgas ones are a lot less available. The beauty of the jet fuel card is that you first have the price confirmed to you ahead of time. Number two, there is no money exchanged on site. Everything is done and covered by companies such as UVair, World Fuel, Colt, etc. It is certainly a must to carry one of these down instead of cash or credit cards.
That brings up the notion of cash. Some areas will require cash, i.e., the Dominican Republic for avgas. We've seen cases where the request for cash has often been made with no option for a credit card. Of course, all of these factors change over the years but be prepared in case.
Hotels
There have been several new openings of resorts and high-end hotels in the Bahamas. Bahia Mar
is an especially big project on the island of Nassau, offering a num- ber of unique properties. One of them is the Rosewood Hotel. In the Out Islands, there are a couple of new resorts. There is the Chub Cay Resort off of Nassau, which is worth a visit. There is also a new place on the south end of Andros Island called Caerula Mar Club.
Of course, keep in mind that prop- erties in the Abacos area were heavily damaged or erased by the last hur- ricane, Dorian. So, no stop should be planned there before checking for an update on the status of any hotel. But the islands of Eleuthera and Exuma are still thriving with tourism and offer beautiful activities.
Further south in the Turks and Caicos, there are some newer, updated places to stay. To name a few, there is the Wymara Resort and Villas (which has been around for about 10 years, but they have a new name and newly completed construction). Other enjoyable and interesting options: The Shore Club and the Seven Stars Resort and Spa.
Even further south, Anguilla is cer- tainly a beautiful place – flat with a lot of beautiful beaches. Malliouhana is a resort I have visited in the past and recommend. It has been refurbished, reopened, and is now under the care of Auberge Resort Collection.
On the same island, Belmond took over Cap Jaluca. With its Moorish style and view of the island of Saint Martin, it is an exciting place to stay with the Belmond aura. On the island of Saint Martin, La Samana on the French side, has received a substantial
 16 • TWIN & TURBINE / January 2020
THE SILVERSANDS HOTEL IN GRENADA.