Page 6 - 214744_December20T
P. 6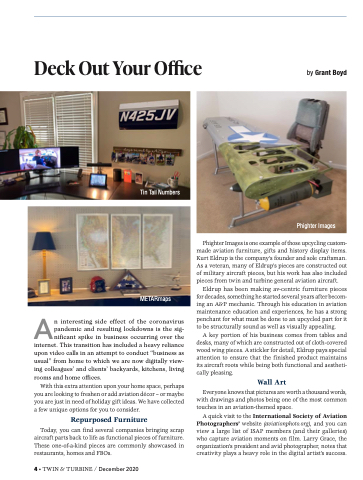 Deck Out Your Office by Grant Boyd
  Tin Tail Numbers
 METARmaps
An interesting side effect of the coronavirus pandemic and resulting lockdowns is the sig- nificant spike in business occurring over the internet. This transition has included a heavy reliance upon video calls in an attempt to conduct "business as usual" from home to which we are now digitally view- ing colleagues' and clients' backyards, kitchens, living rooms and home offices.
With this extra attention upon your home space, perhaps you are looking to freshen or add aviation décor – or maybe you are just in need of holiday gift ideas. We have collected a few unique options for you to consider.
Repurposed Furniture
Today, you can find several companies bringing scrap aircraft parts back to life as functional pieces of furniture. These one-of-a-kind pieces are commonly showcased in restaurants, homes and FBOs.
4 • TWIN & TURBINE / December 2020
Phighter Images
Phighter Images is one example of those upcycling custom- made aviation furniture, gifts and history display items. Kurt Eldrup is the company's founder and sole craftsman. As a veteran, many of Eldrup's pieces are constructed out of military aircraft pieces, but his work has also included pieces from twin and turbine general aviation aircraft.
Eldrup has been making av-centric furniture pieces for decades, something he started several years after becom- ing an A&P mechanic. Through his education in aviation maintenance education and experiences, he has a strong penchant for what must be done to an upcycled part for it to be structurally sound as well as visually appealing.
A key portion of his business comes from tables and desks, many of which are constructed out of cloth-covered wood wing pieces. A stickler for detail, Eldrup pays special attention to ensure that the finished product maintains its aircraft roots while being both functional and aestheti- cally pleasing.
Wall Art
Everyone knows that pictures are worth a thousand words, with drawings and photos being one of the most common touches in an aviation-themed space.
A quick visit to the International Society of Aviation Photographers' website (aviationphoto.org), and you can view a large list of ISAP members (and their galleries) who capture aviation moments on film. Larry Grace, the organization's president and avid photographer, notes that creativity plays a heavy role in the digital artist's success.