Page 16 - 214744_December20T
P. 16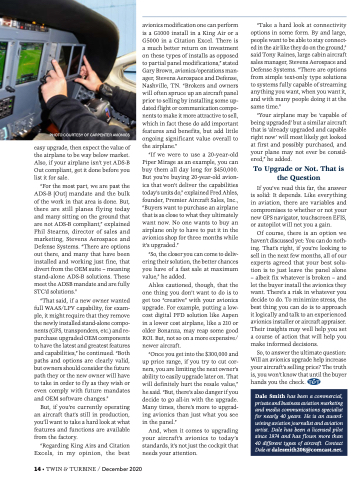 PHOTO COURTESY OF CARPENTER AVIONICS
easy upgrade, then expect the value of the airplane to be way below market. Also, if your airplane isn't yet ADS-B Out compliant, get it done before you list it for sale.
"For the most part, we are past the ADS-B [Out] mandate and the bulk of the work in that area is done. But, there are still planes flying today and many sitting on the ground that are not ADS-B compliant," explained Phil Stearns, director of sales and marketing, Stevens Aerospace and Defense Systems. "There are options out there, and many that have been installed and working just fine, that divert from the OEM suite – meaning stand-alone ADS-B solutions. These meet the ADSB mandate and are fully STC'd solutions."
"That said, if a new owner wanted full WAAS/LPV capability, for exam- ple, it might require that they remove the newly installed stand-alone compo- nents (GPS, transponders, etc.) and re- purchase upgraded OEM components to have the latest and greatest features and capabilities," he continued. "Both paths and options are clearly valid, but owners should consider the future path they or the new owner will have to take in order to fly as they wish or even comply with future mandates and OEM software changes."
But, if you're currently operating an aircraft that's still in production, you'll want to take a hard look at what features and functions are available from the factory.
"Regarding King Airs and Citation Excels, in my opinion, the best
14 • TWIN & TURBINE / December 2020
avionics modification one can perform is a G1000 install in a King Air or a G5000 in a Citation Excel. There is a much better return on investment on these types of installs as opposed to partial panel modifications," stated Gary Brown, avionics/operations man- ager, Stevens Aerospace and Defense, Nashville, TN. "Brokers and owners will often spruce up an aircraft panel prior to selling by installing some up- dated flight or communication compo- nents to make it more attractive to sell, which in fact these do add important features and benefits, but add little ongoing significant value overall to the airplane."
"If we were to use a 20-year-old Piper Mirage as an example, you can buy them all day long for $450,000. But you're buying 20-year-old avion- ics that won't deliver the capabilities today's units do," explained Fred Ahles, founder, Premier Aircraft Sales, Inc., "Buyers want to purchase an airplane that is as close to what they ultimately want now. No one wants to buy an airplane only to have to put it in the avionics shop for three months while it's upgraded."
"So, the closer you can come to deliv- ering their solution, the better chances you have of a fast sale at maximum value," he added.
Ahles cautioned, though, that the one thing you don't want to do is to get too "creative" with your avionics upgrade. For example, putting a low- cost digital PFD solution like Aspen in a lower cost airplane, like a 210 or older Bonanza, may reap some good ROI. But, not so on a more expensive/ newer aircraft.
"Once you get into the $300,000 and up price range, if you try to cut cor- ners, you are limiting the next owner's ability to easily upgrade later on. That will definitely hurt the resale value," he said. "But, there's also danger if you decide to go all-in with the upgrade. Many times, there's more to upgrad- ing avionics than just what you see in the panel."
And, when it comes to upgrading your aircraft's avionics to today's standards, it's not just the cockpit that needs your attention.
"Take a hard look at connectivity options in some form. By and large, people want to be able to stay connect- ed in the air like they do on the ground," said Tony Raines, large cabin aircraft sales manager, Stevens Aerospace and Defense Systems. "There are options from simple text-only type solutions to systems fully capable of streaming anything you want, when you want it, and with many people doing it at the same time."
"Your airplane may be 'capable of being upgraded' but a similar aircraft that is 'already upgraded and capable right now' will most likely get looked at first and possibly purchased, and your plane may not ever be consid- ered," he added.
To Upgrade or Not. That is the Question
If you've read this far, the answer is solid: It depends. Like everything in aviation, there are variables and compromises to whether or not your new GPS navigator, touchscreen EFIS, or autopilot will net you a gain.
Of course, there is an option we haven't discussed yet: You can do noth- ing. That's right, if you're looking to sell in the next few months, all of our experts agreed that your best solu- tion is to just leave the panel alone – albeit fix whatever is broken – and let the buyer install the avionics they want. There's a risk in whatever you decide to do. To minimize stress, the best thing you can do is to approach it logically and talk to an experienced avionics installer or aircraft appraiser. Their insights may well help you set a course of action that will help you make informed decisions.
So, to answer the ultimate question: Will an avionics upgrade help increase your aircraft's selling price? The truth is, you won't know that until the buyer hands you the check.
 Dale Smith has been a commercial, private and business aviation marketing and media communications specialist for nearly 40 years. He is an award- wining aviation journalist and aviation artist. Dale has been a licensed pilot since 1974 and has flown more than 40 different types of aircraft. Contact Dale at dalesmith206@comcast.net.