When your company is expanding and you need a plane with more range to keep up with its needs, maintaining family ties is a logical option. Now that Textron Aviation supports both the former Beech Aircraft and Cessna Citation lines, an upgrade from a Premier 1 jet to a Citation CJ4 makes a lot of sense.
Bob Norton, president of BioZyme, Inc. in St. Joseph, Missouri, has long understood the value of his company's aircraft, which he characterizes as a valuable tool for the business. Norton got into flying in mid-life, rather than as an aviation dreamer during childhood. He was in the food processing business and had to travel a lot, and he grew weary of spending an untoward portion of his time sitting around airline terminals and driving to the final destination.
In short order, Norton bought a Piper Archer and obtained his private license. The ability to hop in the little Piper and fly to a convenient general aviation airport opened up a great travel option for him. One of his good friends was president of BioZyme, Inc. and, in conversation with his friend, the subject of retirement came up. Norton eventually found himself at the helm of a major livestock nutrition company, one that had a Beech Bonanza available as a company plane and a CFI full-time pilot on staff.
Norton earned his instrument rating in that Bonanza, and when it grew into a Baron his multi-engine rating followed in due course. Before long, a King Air B100 replaced the Baron, to get him up and out of the weather, and a King Air 200 was the B100's replacement. The Premier 1 jet logically replaced the Super King Air, and it served well until last year, when a larger, longer-range aircraft was needed.
"We started out working with dealers and staff over a 300-mile radius, then that expanded to 600 miles and then 1,200 miles, so our choice of an airplane has had to accommodate those changing needs," Norton said. Single-pilot certification was a plus, for repositioning convenience. BioZyme occasionally ferries the aircraft with a single pilot, but current company policy is to always have two pilots on the flight deck with passengers in the back.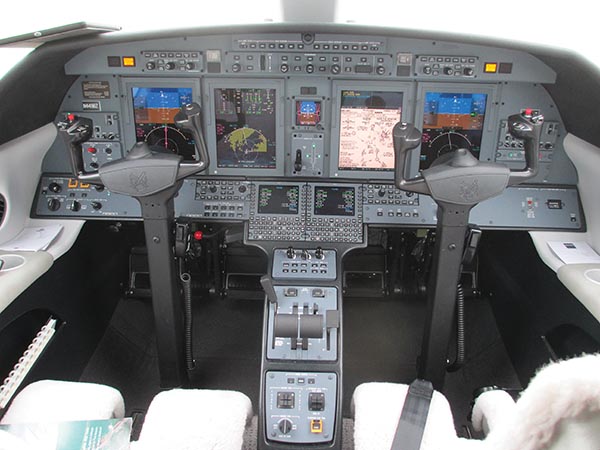 Improving Nutrition
BioZyme Incorporated is a privately-held company with a long history in nutrition research. Its livestock feed supplements help animals break down the forage and feed in their stomachs more efficiently, getting more nutrition from those inputs and reducing feeding expense. Its custom-tailored products are sold largely through dealer and distributors, with the largest number concentrated in the livestock belt through the middle half of the U.S. However, 25 percent of BioZyme's sales are now made overseas, where the global economy is especially supportive of efficient livestock solutions and technology.
Situated almost directly in the center of the U.S., BioZyme is ideally located for a medium-range business aircraft. The Beech King Airs and Premier 1 gave it payload and range capability for most trips, but often more seats were needed and a fuel stop was required for the longest trips. The Premier had served well, but it was time to upgrade. Last year, taking company scientists to a convention in Orlando, Florida required stops in both directions, but the new CJ4 will easily make the trip non-stop. In the week after our visit to BioZyme, a trip was scheduled to Modesto, California, a mission that also benefited from the CJ4's longer legs.
"Our airport (KSTJ) has everything we need (even precision approach radar, thanks to the Air National Guard Wing on the field), but there is no MRO service, so we have to take the jet to Wichita or have AOG mobile service come to us. Warranty is important to me; I want the airplane covered if maintenance is needed." After looking at other light-midsize jets, Norton settled on the Citation CJ4. With up to 9 seats and over 2,000 nm of range, it still offered single-pilot ferry capability and will easily serve the company's present and future needs.
Norton and chief pilot Zane Goforth went to FlightSafety International's Wichita Learning Center to earn their type ratings. The CJ4 uses a Rockwell Collins ProLine 21 flight deck, as did the Premier, and its Williams FJ-44 FADEC engines were familiar, so the transition wasn't totally foreign. Goforth came out of an airline background (CRJ and 747-400 crew cockpits); his transition to a single-pilot rating meant he had to learn to rely on the autopilot and handle emergencies with an empty right seat.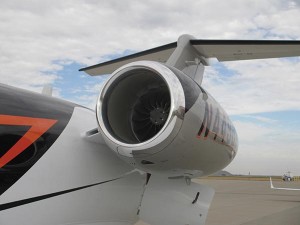 A Typical Company Trip
On the day I visited BioZyme, the daily mission was to be an out-and-back to Abilene, Texas, a 450-mile hop to return an executive of a subsidiary company who had been picked up earlier in the week. BioZyme's average passenger load is about three, but the single-club plus two interior is comfortable for six and two extra passengers can go on the side-facing seat by the door and a belted lavatory seat. I occupied the copilot slot on the way down and luxuriated in the cabin with the passengers on the way back.
Home-base FBO Express Flight at St. Joseph expertly hangars and ramps BioZyme's aircraft and Norton insists on having it in a hangar when overnight away from home, if one is available. The CJ4's custom-designed paint job would soon be further enhanced by a company logo. The airplane had been in service for only two weeks and would be turning over 30 hours total time on this trip; I was careful to wipe my feet on the FBO mat.
Goforth's preflight preparation involved supervising the single-point fueling for the trip; 4,400 pounds of Jet-A brought the takeoff weight to approximately 15,500 pounds, well under the 17,110-pound maximum. The static-wick tennis balls were stowed, the refreshment center was restocked with coffee, ice and water, and the aft baggage bin was left ajar to receive luggage. As the steps were raised and the eight-pin door was secured, we turned the right engine and watched the automated start sequence. The engines idle at a low 24% N1, and taxiing is easily managed with rudder-pedal nosegear steering. While slightly longer than a CJ3, the CJ4 has a narrower maingear span and maneuvers easily.
The lately-designed CJ4 cockpit is more pilot-friendly than earlier Citations, with most system checks automated and fewer switches and breakers to check. There are no thrust reversers, but with four-panel spoilers and powerful anti-skid brakes, the runway numbers are impressively short. Goforth found the V1-cut climbout to be impressive during his training; the single 3,600-pound thrust turbofan could manage nearly 1,500 fpm. For our departure, the ProLine computer said V1 was 95 kts, Vr was 98 and V2 was 111. As the FADEC throttles were moved to the takeoff detent, the airplane launched like a scalded cat and was off the ground in under 2,000 feet.
Scooting upward at 240 knots in climb-power detent, the FJ-44's turned 94% N1 and delivered 3,500 fpm on a near-ISA day. We transitioned to .64 Mach as the climb progressed, and we were still doing 2,000 fpm as we passed FL400. We leveled gently at FL430 about 21 minutes after brake release, even though we were held down by several ATC restrictions on the way up.

For conservative planning, Goforth figures on 1,500 pounds of fuel for the first hour and 1,300 pph thereafter. That said, we settled into cruise at FL410 using only 1050 pph, at 96% N1. Limiting Mach is .77, which the CJ4 was eager to exceed. We were truing at 420 knots over Oklahoma City, cleared direct KABI. All too soon, it was time to start the descent; Goforth set up a descent target of 10,000 feet when 30 miles out. He says the CJ4 is easily capable of slowing down while going down, seldom requiring the speed brakes.
With 12.5% more wing area than the CJ3, the CJ4 requires adherence to speed control on approach, but fits into 4,000-foot runways without difficulty. We had 7,200 feet available, so adding 5 knots above the Vref of 103 kts over the fence still had us down and turned off at the 5,500-foot point. Abilene Aero gave us 700 pounds of quick Jet-A and we were soon buttoned up for the return hop. A 50-knot tailwind at FL450 took us back to base in good time, and we arrived at KSTJ just two hours after landing in KABI.
A Vital Business Tool
As Norton puts it, "there's no way we can travel like we need to without the airplane. We pick up customers and bring them to our plant, we discuss the business in privacy during the flight, and we take distributors and headquarters employees to meetings, minimizing nights on the road and long hours away from their family."
During the previous week, right after putting the new CJ4 into service, Norton and Goforth took the airplane to visit a customer in Shawnee, Oklahoma, a nice town with a 6,000-foot runway that's not convenient to reach by airline. While there, Norton got a phone call from an incoming Korean distributor who had missed his connecting airline flight in Dallas and was stranded at DFW after 26 hours on the road. No problem; the CJ4 met him at the Signature FBO and he was in St. Joseph an hour-and-a-quarter later.
A trip earlier in the week illustrated the ability of BioZyme's airplane to get them where they need to go. The first stop from St. Joseph was North Platte, Nebraska, then to Billings and Dillon in Montana, and to Boise, Idaho after that. Try putting that together in one day by airline.
The flexibility of general aviation is its strength, bringing people closer to where they need to go, on their schedule. The CJ4 was an excellent choice for BioZyme, as the company continues to expand its business.