It's common knowledge that upgrading an older airplane's panel is an expensive affair. So how do owners justify taking a legal, functioning legacy stack of avionics and replacing them with all-new technology? Some simply seek the "latest and greatest" for their aircraft. Some start with the steps necessary to become ADS-B compliant and then keep on going. Some are focused on the new capability and situational awareness that a new panel can provide. 
In my case, all the above played a role in my decision to install the Garmin G500 TXi system in my aircraft. However, my primary motivation was the worsening reliability from my old avionics – I was becoming less and less comfortable operating them IFR. I've owned the same airplane for the last 18 years, a 1984 Beechcraft Bonanza A36, N42BA. My vintage Bendix/King avionics (aka steam gauges) had served me well, but one-by-one unsettling issues were becoming more frequent. So, safety was my primary motivation to stop dragging my feet and start investigating a new glass panel – but doing so didn't come without some trepidation.
First, a little background. I have had the opportunity over the years to operate several different aircraft with glass panels ranging from the early Electronic Flight Instrument (EFIS) days to Garmin G1000 in Bonanzas and Barons to Rockwell Collins Proline 21 in King Airs and the Beech Premier. But I never really spent the time required to become truly efficient with any of them. Usually, I had a safety pilot that helped me punch the right buttons at the right time. 
I learned the hard way that not being familiar with a "Technically Advanced Cockpit" can create a step back in safety for someone not familiar with the equipment. I vividly recall one trip where I took a new G58 Baron from the Beechcraft factory to Stillwater, Oklahoma where I was to speak to the University's Flying Club. I had been "checked out" in the G1000-equipped Bonanzas and Barons but must admit the checkout was rather brief. It was an IFR day, and I filed direct for the short 40-minute flight. Approaching Stillwater, Ft. Worth Center cleared me for the ILS. I then suddenly realized that I could not recall how to switch from GPS mode to Localizer. I asked Center to hang on for a moment as I was locked up mentally on what to do.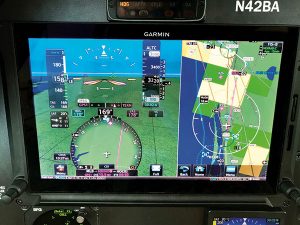 After what seemed like an eternity (for myself and the Ft. Worth controller) I figured it out and was able to make the switch and shoot the ILS. I was so rattled by the experience that I flew home that night VFR under about a 1,200-foot overcast. I was determined not to venture into the clouds again until I was more thoroughly acquainted with the equipment. 
That was about 12 years ago, and today, virtually all my flying is in my A36. As part of my consulting business, I still attend many of the major aviation trade shows including Oshkosh, Sun 'n Fun and NBAA. I have always made it a point at each to swing by the Garmin booth and drool over their latest equipment. But when they announced the G500 TXi, I knew it was the answer for me. I've had the good fortune of knowing several of the Garmin leaders from my Beechcraft and Piper days and as before, they were incredibly patient and helpful as I deliberated my options, of which there are many.
I also began searching within a 100-mile radius of my home in Vero Beach for a place that I felt most comfortable handing my airplane over for such major surgery. I settled on Tomlinson Avionics in Fort Myers, Florida. They were very responsive, and I liked the fact that the owner, Ralph Tomlinson, has decades of experience with Beechcraft, and most notably owned a Bonanza himself. It is a family business run by Ralph and his son Phil, and they quickly put me at ease that I had made a good choice.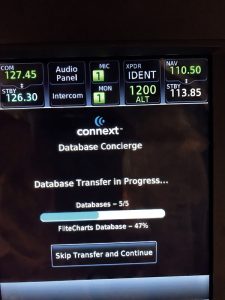 Once I decided to take the G500 TXi plunge, there were a surprising amount of decisions that needed to be made, and options to consider. How much was I comfortable spending? Would I rather the single large 10.6-inch landscape display for the Primary Flight Display (PFD) or the two 7-inch portrait displays? (If I chose the single large display, I would need to select a separate backup standby unit, or if I chose the two 7-inch portrait displays, I would need to order two separate Attitude Heading Reference Systems (AHRS) for IFR operations). Did I want engine instruments to be incorporated into the unit? Did I want the new GFC500 autopilot? Oh, and how about adding a new GTN750 to the stack? I already had upgraded to ADS-B via a Garmin 345 from a prior installation.
After a lot of deliberation and a review of the balance in my checkbook, I chose the single 10.6-inch landscape display and the L3 EFI500 as the backup. I struggled with whether to electronically display the engine gauges and decided against it since (1) those gauges are like an "old friend" to me and (2) I didn't want to take anything away from the real estate available on my new big PFD. I did knuckle under and add the GTN750 to the stack as it provides a lot of capability and situational awareness on top of the G500 TXi. I also added the Flightstream 510 for seamless downloading of database updates, a 406 MHZ ELT, some hardwired LEMO plug jacks for cockpit headsets and several USB charging ports to keep my passengers happy. At this point, my checkbook balance was pretty much decimated so I couldn't stomach the step up to the new Garmin autopilot. I just hoped that the KFC200 would integrate into the new system without a hitch (maybe I'll step up to the new autopilot in a year or two).
Tomlinson was very careful to make sure that we were in total agreement on the layout of the panel. Ralph paid incredible attention to make sure it looked aesthetically pleasing and balanced. I would say he is really into the "feng shui" of panels, something I consider important as well. Every detail was covered down to the font size of my new "N" number display and its exact placement.
It wasn't easy when the day came for me to drop 42BA off for its transformation, but I felt confident that my aircraft was in good hands. The original plan was for it to be down for about six weeks, but that stretched into a tad over two months as both the TXi and L3 backup were on backorder. Ralph kept me posted regularly. During that time, I downloaded the G500 TXi training material from Garmin and began to familiarize myself with the new equipment I was about to receive.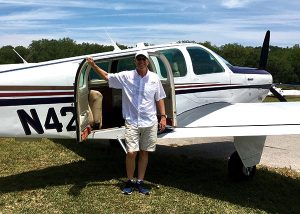 Finally, the day came for me to see and fly my new panel. Ralph and another technician came along for what turned out to be a flawless first flight. But I couldn't help but notice that despite some practice on my home computer, I was struggling to keep up and comfortably operate my newfound capability. Knowing how to quickly and efficiently make the system operate to its potential was going to take some time. 
One of the most pleasant surprises that I had with the system was the fact that my old KFC200 worked smoothly with the new equipment and, even better, I now had an altitude capture capability, something that I never had before. There is no question that the new Garmin autopilot would bring a lot more capability and safety to the table, but for now, I was delighted that my pocketbook compromise worked pretty darn well.
I promised Ralph and Phil that I was going to fly home carefully and strictly VFR. The flight was uneventful and gave me some time to poke at my new touchscreen capability and marvel at the ADS-B traffic and weather displayed on both the TXi and the GTN750.
Determined not to make the same mistake I made a dozen years ago on my trip to Stillwater, I soon got with a friend who is an excellent instructor and very familiar with the G500 system. While the TXi itself was new to him, he's the type of person to study up on the differences, and he saved me the misery of trying to pour over manuals. We spent a lot of time on the ground with power connected to the airplane and bit by bit I started to gain confidence in operating the system. We flew several times and shot a variety of approaches into multiple airports. While I still couldn't make the new system "sing," he and I agreed that I was safe, while perhaps not getting into "hard" IFR situations. 
Since then I have flown at least a dozen times, and the airplane and new avionics continues to perform flawlessly. With each flight, I become more confident and comfortable with the system. And without a doubt, I feel like I have accomplished my original goal of enhancing the safety and reliability of 42BA for years to come.