Whether you are looking to drop a hint, buy a gift for your favorite pilot or simply treat yourself, Twin & Turbine is here to help. There are plenty of pilot-oriented gadgets and gizmos out there, so we narrowed the field down to 12 unique gifts for the owner-pilot (and those who travel along) at a variety of price points. As we approach the holidays and the season of giving, we hope these selections inspire you…or at least get you dreaming of what you might find under the tree this year.
The Paris Jet: Own the World's First Business Jet and Rare Piece of History

Aviation's short history is filled with many airplanes that were fantastic performers and enjoyable to fly, but didn't find commercial success or wide market appeal. The Paris Jet is one such aircraft that but never found its legs in the business aviation. Nevertheless, it a pilot's airplane. Whether you fly it for your next weekend getaway or simply make it the centerpiece of your aviation collection, this low-time Paris Jet – immaculately restored and with state-of-the-art avionics – is a gem waiting to be scooped up. For our 2017 Gift Guide, Twin and Turbine is proud to announce the availability for sale of this one-of-a-kind aircraft.
If you thought the Learjet was the first business jet, you'd be wrong. That honor belongs to the Morane-Saulnier MS.760 Paris, a four-place, French-built jet designed and built in the early 1950s, and marketed to business travelers in the United States by Beechcraft. This year's marque gift guide item is a beautifully restored and extremely well-equipped and appointed Paris Jet. Privately owned and maintained, this rare aircraft was once owned by the King of Morocco and pilot/actor John Travolta, who featured this bird in his movie "Look Who's Talking."
The Paris Jet was originally built as an ab initio jet trainer to compete for a French government contract. The revolutionary (at the time) side-by-side seating doomed the aircraft from winning the competition, so Morane-Saulnier came up with an idea that was way ahead of its time: Market the MS.760 as a business jet. In 1955, Beech Aircraft Corporation imported and FAA-certified two aircraft, intent on bringing business aviation into the jet age.
This 1959 Paris Jet was initially sold in Europe before being purchased by Santa Monica Aviation. In 1987, it was converted to a MS.760B-II, which added more fuel and the two Turbomeca Marbore VI engines producing a combined 2,116 pounds of thrust. In 2012, the panel was updated to feature Garmin G600 with synthetic vision and a touchscreen Garmin GTN 750, which is fully coupled to an STEC 55X autopilot. The beautiful leather interior with sheepskin seats were completed in 2015.
This rare bird is currently owned and offered for sale by "Mr. Paris Jet" Dave Bennett. For more information and pricing, contact Dave at parisjet@me.com.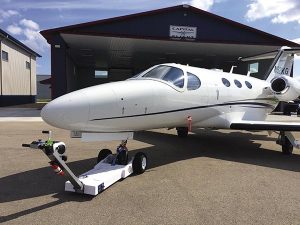 Best Tugs: The Last Tug You'll Ever Need
Why move your expensive aircraft with a low-tech tug? Finally, a company has developed a digital tug that is engineered with every feature on an owner-pilot's wish list: digital speed modulation, prop protection, auto-throttle for changing grade conditions, quiet operation and even an optional air compressor. Plus, the Best Tug can easily configured to move every aircraft in your hangar, from piston to jets.
The Echo is a workhorse with a tow rating of 9,000 pounds, while the Echo XLP can move aircraft up to 12,500 pounds, but also is perfectly suited to move a Cirrus or Bonanza. The Echo features a "Prop Safe" design that guarantees that even the large props found on a TBM or Meridian will never come in contact with the tug. Every tug comes installed with a computer software optimized for the torque limitations specific of your plane to help prevent nose gear damage. The tug measures speed and torque while moving your aircraft, and the Auto Throttle can make up to 30 changes a second to maintain a constant speed, even on slopes. It also has programmed codes that will trip to prevent you from damaging your aircraft. Plus – new for 2017 – the hybrid system allows the tug's motor to act as a generator and recharge its batteries when the tug is slowing or stopping your plane. 
All Best Tugs can be personalized with one of several paint schemes and can be outfitted with several options, including an LED light, underglow lighting, a fire extinguisher, USB charging ports, jump-start GPU and an air compressor.
For more information and pricing, go to besttugs.com or call (800) 914-2003.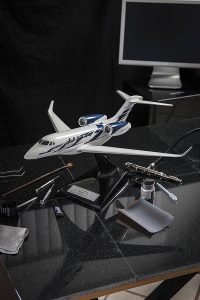 Factory Direct Models:
A Custom Model of Your Plane
What's almost as good as the real airplane? A highly detailed, scale model of it. From a photo you provide, Factory Direct Models will create an exact replica of your plane in desktop size down to the stripe detail, registration number and personalized, engraved plaque attached to the stand. Your personalized interior can be included upon request. Each meticulously detailed scale model is custom manufactured and precisely engineered to your exact specifications. To learn more, go to www.factorydirectmodels or call (866)-580-8727.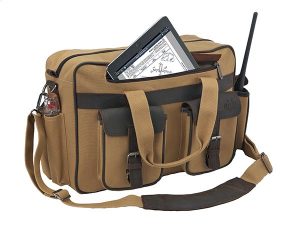 Flight Outfitters Bush Pilot Folio
Why can't a flight bag be utilitarian yet look good? Flight Outfitters says you can have both. The company's new Bush Pilot Folio has plenty of style, it's also a very practical bag, storing a surprising amount of gear without looking bulky or weighing you down. It has separate pockets for your tablet and laptop, plus a large center compartment and plenty of exterior pockets. For further utility, the Folio Bag has a rear strap to securely attach it to your roller-board.
The Bush Pilot Folio retails for $139.95 and can be found at leading online aviation retailers. For more information, go to flightoutfitters.com.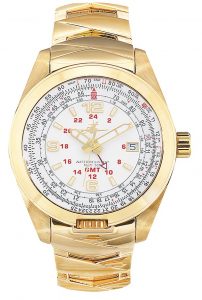 Special Edition Abingdon
Watch for Your Favorite Aviatrix
Watchmaker Abingdon Company is celebrating its 10th anniversary by unveiling a new version of its most popular timepiece. Limited to 100 pieces only, the 24-carat gold Amelia, features a custom designed 10th anniversary case-back. The Amelia timepiece is the company's most popular watch that helped launch the company into the spotlight as the first aviation watch for women back in 2007.
Specifications include a Ronda Swiss Made 505.24H GMT movement, 40mm case size and 5 ATM water resistance. This limited watch is delivered in a collector's box with two straps: a gold metal strap and a genuine white leather strap. Both straps have the EZ release pins on the back for a simple swap out. Authenticity paperwork with the watch's serial number and signed by the company founder, Abingdon, is also included. Sapphire crystal, date box, dual time function, and a rotating aviator's bezel controlled by a gold crown at the 6 o'clock position makes this watch not only stunning, but functional as well.
The watch is priced at $499 and will begin deliveries Nov. 3, 2017.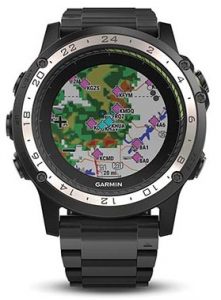 Track it All on Your Garmin D2 Charlie Watch
The Garmin D2 Charlie combines aviation functions with sports watch features.The Garmin D2 Charlie combines aviation functions with sports watch features.
With a rich array of color mapping, weather, waypoint reference and flight logging features, the D2 Charlie sets the standard for on-wrist situational reference and backup navigation. You can pan and zoom the watch's moving map to quickly expand your view of airports, waypoints, terrain, obstacles or weather activity along your route of flight.
Wherever you travel, smart notifications (emails, text messages, alerts and more) can display on the watch to help you stay in the know while on the go. And between flights, you can use the latest sport watch features – including wrist-based heart rate monitoring, daily activity tracking, training metrics and more – to keep up with your personal fitness goals.
Priced starting at $799, you can find the D2 Charlie at many online pilot shops.

An Emergency Essential
This knife is much more than just a blade. Designed to be the perfect emergency accessory for pilots, this knife could even save your life when in a pinch. The locking serrated blade is constructed with 440 stainless steel to cut through tough material, even through jammed harnesses. It also features a removable LED flashlight that activates with a twist of the head. A magnetic back makes it easy to mount to something when you need both hands-free. It also has a magnesium alloy fire starter, which is key to prolonged survival out in the bush.
Spring assisted for easy, one-hand operations, this knife will quickly become your go-to when in the bush. Priced at $29.95, it's available at most online pilot stores, or by going to flightoutfitters.com.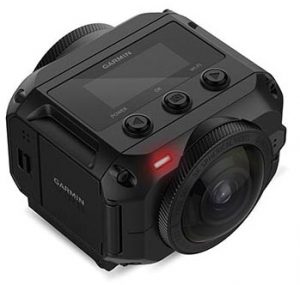 Garmin VIRB:
Capture and Create Videos Flying Flights
Garmin's line of VIRB cameras was designed especially for pilots, and their latest model doesn't disappoint. The powerful, easy-to-use, and compact VIRB Ultra 30 shoots ultra HD video (4K/30fps) with built-in image stabilization and GPS logging. Plus, the complete kit includes an audio cable for recording cockpit com-munications, a prop filter to remove distortion and mounts. It's everything you need to create amazing flying videos.
The MSRP for the VIRB 360 is $799 and can be found at many online pilot shops or purchased directly from Garmin. Go to Garmin.com for more information.
Base Turn: Aviation-Inspired Apparel for Your Yogi
The work of talented photographer Jessica Ambats has graced the covers of many aviation magazines. Now she has turned her creativity to a new venture: Base Turn apparel and accessories. Using images from her extensive photography catalog, Ambats has created a fun line of yoga leggings, capris, tank tops, and accessories such as headbands and mini pouches. Other fun collections include yoga wear featuring sectional charts (you pick from several regions) and captain's stripes. She also has a line of matching toddler leggings as well.
These handmade leggings and tops are medium weight
and made of sturdy, yet breathable material. Reason-ably priced, the items are available
at baseturn.com.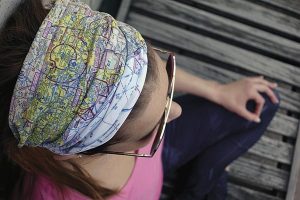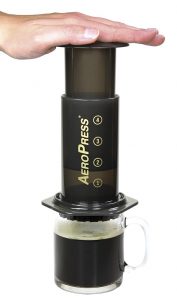 Make a Great Cup of Coffee On the Road
Created by a Stanford University engineering instructor, the AeroPress is a great option for pilots because it's small, sturdy and lightweight, and it comes with a tote bag making it easy for travel. One minute with the AeroPress makes a delicious cup of coffee and a quick, light rinse cleans it up. As long as you've got a source of hot water you've got a smooth, rich cup of coffee. Also, the quick brewing process helps keep the acid level in the coffee low, meaning it's gentler on your stomach than drip or French press brew. In fact, AeroPress brewed coffee is so smooth and flavorful that many people find they love the taste even without cream or sugar.
The AeroPress is priced at $29.99 and available at amazon.com or go to www.aeropressinc.com to see more retailers near you.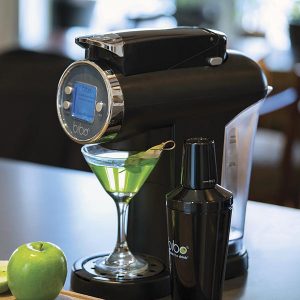 Bibo Barmaid is a Mix-Saving Drinkmaker
If you often travel to a vacation or second home, you know the frustration of leaving behind perishable food and drink. Now you can enjoy your favorite cocktails without the worry of leaving partially used bottles of mixers and juices behind. Named the top kitchen gadget of the future by Architectural Digest, the Bibo Barmaid is cocktail self-serve machine that allows consumers to create expertly crafted mixed drinks at home with the touch of a button. If you can use a Keurig, you can make a Bibo cocktail. Simply fill it with cold water, insert a cocktail mix pouch, pull down the handle and press the "mix" button. Add your choice of alcohol, ice and a garnish.
The Bibo Barmaid and cocktail mix packets are available at Bed, Bath & Beyond, Amazon, Best Buy and others. Retail price for the system is $199.
Custom-engraved Seatbelts for Your Favorite Sleigh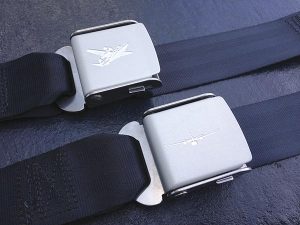 Your aircraft deserves a holiday gift, too! If your seat belts are looking a bit worn, why not replace them with custom engraved lift lever lids featuring your aircraft's head-on or profile view, your company logo or even your N number. Aircraft Belts, a sister company Twin Commander Aircraft, can create customized belts for both crew and passenger seats. Call Brian Harbaugh of Twin Commander Aircraft at (919) 956-4385, or email him at bharbaugh@twin
commander.com. He will be happy to help you with a quote on a stylish and distinctive set of new restraints. For more information see www.aircraftbelts.com.