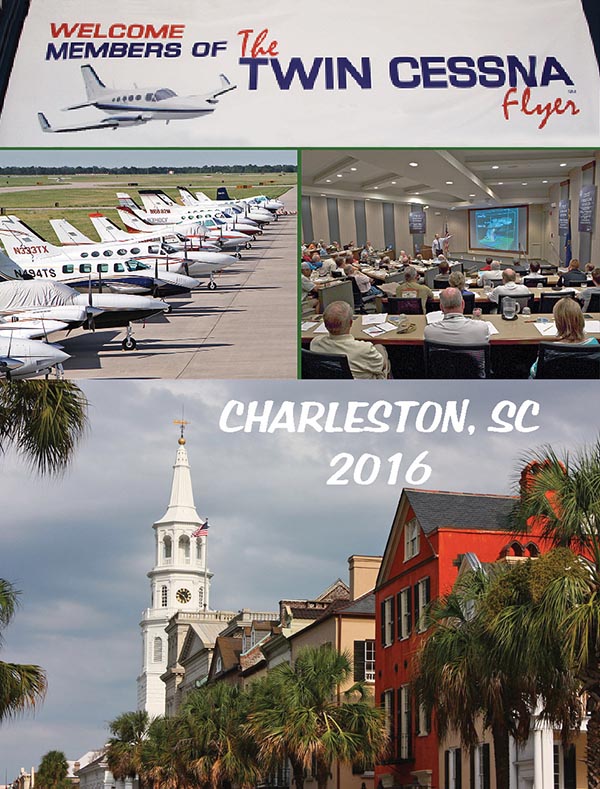 On April 28 – 30, 2016, a group of some 125 Twin Cessna owners and their spouses met in Charleston, SC for the organization's annual convention. Bob Thomason, the organization's leader, arranged for an outstanding group of speakers on topics relevant to the safe operation of these now aging, but well cared for, aircraft, varying from Cessna 310s of 1950s "Sky King" vintage to the 1980s models of the Cessna 421. In an unusual twist, each topic and speaker was rated immediately by the audience, following their presentation, using electronic keypads. Nearly every talk was highly rated.
Some of the speakers and topics were: Robert Sumwalt, a former airline pilot and now an NTSB Board Member, who obtained his original multi-engine rating in a Cessna 310. Sumwalt gave an informative talk on recent Twin Cessna accidents, with loss of control being one of the primary causes. He also pointed out that, more and more often, prohibited non-prescription drugs are being discovered in the systems of accident pilots. He reviewed what some of the offending drugs were, and cautioned about their use.
Textron/Cessna representatives Joe Hepburn and Scott Howell discussed new developments at their company, which now includes Cessna's old competitor Beech Aircraft. The discussion regarding parts availability for aging Cessna and Beech airframes was of great interest to the audience, as was the carefully-worded brief announcement that Textron was in the process of developing a new light piston twin, described as "a little different."
Peter Basile, Senior Air Safety Investigator, also from Cessna, discussed accidents in 2015, a period described as a "bad year." It turns out that, although the total number of accidents was down slightly compared to 2014, the number of fatal accidents increased significantly. The most common causes seemed to be poor piloting skills in bad weather, frequently while on approach to landing or following a missed approach.
Dr. David Strahle, an MD radiologist known as the "father of data link weather radar" and a King Air pilot himself, gave one of his well-known presentations on the subject. He clearly favors using XM as the source for downlink aviation radar because it includes radar sweeps, depicting what is actually going on at altitude rather just on the surface. Apparently the Sirius downlink is more intended for boaters, as it only includes surface-level activity.
Tony Saxton, renowned Twin Cessna maintenance guru from TAS in Ohio and the Twin Cessna organization's Technical Director, spoke at length about a recent AD that affects all Twin Cessnas (other than the 303); it requires inspection and replacement of elevator trim hardware. Apparently not all issues regarding the AD were well thought-out before it was issued, which Tony responded to with e-mails directly to the FAA office involved. Solutions to those issues, including the correct parts being available, are now in the works.
Kevin Ware, ATP CFI MEI and regular 'Twin and Turbine' contributor, gave a presentation on optimizing takeoff and landing performance in these aging, and often significantly-modified, twin-Cessna aircraft. It appears that when performance enhancing modifications are made to these aircraft, those are not always accompanied by appropriate changes in either the Pilots Operating Handbook or on the airspeed indicators. Ware reviewed how an owner/pilot can obtain the correct numbers and, by operating the aircraft accordingly, increase aircraft utility and safety.
There was also a large group of sponsors present, with the largest booths probably being those of RAM Aircraft, well-known Twin Cessna modifier and engine overhaul company from Waco, Texas, and Garmin, from Olathe, Kansas. RAM offered several attractive discounts for those attending the meeting. Garmin had a display of its new touch-pad panel-mounted units.
An occasionally humorous "pinch hitter" course for spouses was well attended and highly rated. It was noted (and, in fact, quite factually), that not all "spouses" were female.
The group also had a number of heavily-attended social functions, including a visit to the retired WWII aircraft carrier Yorktown, where special access was allowed to the flight deck and bridge, followed by a real southern BBQ dinner served on the aircraft maintenance deck.
Most of those attending the convention promised to return in 2017; the location has yet to be announced.