"Hey Dad, my friend Curt and I are going fishing south of New Orleans in a couple of weeks."
"Are you driving?" I asked Matt. "It's a seven-and-a-half-hour trek from Dallas. How about I fly you in the King Air?" "Wow, that would be fantastic," came the quick response.
I reviewed the forecasts. A low-pressure system was developing in southeast Texas.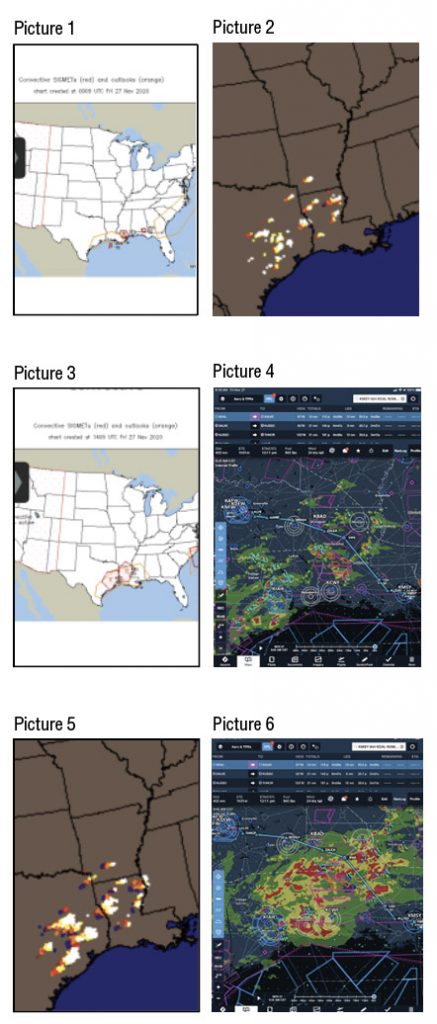 Picture 1, taken the night before departure, showed an area of potential scattered thunderstorm development over the route of flight but nothing ominous. The destination, KMSY, had a forecast of 5 miles visibility in fog and a ceiling of 300 broken. Along the route, only rain showers were forecast.
I woke up the next morning to a much different scenario. Picture 2 of lightning strikes got my attention. Taken at 6:54 a.m., it was followed by Picture 3 showing two convective SIGMETS with tops to FL450.
The C90A is a great airplane, but like me, it is vertically challenged. There was no way we were going to go over this weather. How about around it?
Picture 4 indicated my planned ForeFlight route might be possible. But the weather system was moving northeast at 30 knots and intensifying over Houston. I knew that the Houston storms would be over my route about the time of my scheduled 10 a.m. departure. Going around the system would take a huge deviation, and I had to return to Dallas Love (KDAL) right back through the weather. How about the lightning situation? Picture 5 didn't ease my concerns…convective activity was increasing. An Airbus A319 reported severe turbulence at FL240 along the route. Numerous aircraft reported light icing.nd the afternoon forecast promised much of the same until well after dark.
I glanced at FlightAware to see what kind of aircraft were going through the weather. Only jets were trying. Not a single airplane with propellers. I texted Matt.
"I hate to tell you this, but I just can't safely get you to New Orleans today." "No big deal," he said. "Thanks for trying." They drove instead of flying. Picture 6 was taken at my scheduled departure time.
I felt defeated. I watched the weather all day. Did I make a mistake? Was I losing my edge? The weather did exactly as forecast. It stayed lousy. Sometimes the hardest decisions are the best ones.
Fly safe.