Company plans to stay true to its core strategy of offering custom-tailored training designed for the owner-pilot.
As the newest and fastest growing full-service training organization in the industry, TRU Simulation & Flight Training continues to build its portfolio of aircraft training platforms. Currently the company has three ProFlight facilities serving business aviation customers: Carlsbad, California; Tampa, Florida; and Valencia, Spain. However, the company has hinted that growing their existing footprint domestically and internationally is under consideration.
This year, its ProFlight Cessna Citation CJ3+ and Latitude and Sovereign+ training programs received full certification including an FAA Level D qualification for its full flight simulators. It also received approval for its Citation CJ4 online ground school.
TRU's ProFlight training portfolio covers the Conquest I and II, King Air 90/250/350, Citation 525 family, and the Latitude/Sovereign+.
According to David Smith, vice president of TRU's training centers, investing in a robust training business is a natural and intentional part of its Textron's business aviation strategy. "Textron Aviation really wants to be close to its customers, and training of the industry is one of the more structured and critical part of the ecosystem. By offering these services we saw an opportunity to grow a tighter relationship with customers and tackle an unmet need of a more intimate, tailored training relationship."
The company's foundation is built upon several predecessor companies including ProFlight, Opinicus, Mechtronix and AAI, which helped TRU quickly get market traction and geographical reach. The original DNA of ProFlight, which prided itself on custom-tailored training for owner-pilots, is evident in TRU's approach. As the training partner for Textron Aviation's Beechcraft King Air and Citation products, about 80 percent of its customers come from one to three aircraft operations, which encompasses small flight departments and owner pilots.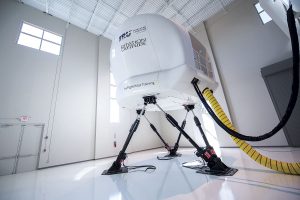 Smith said the key is offering highly individualized instruction that allows the client to choose the learning approach that works best for them. "We don't believe in the cookie-cutter approach. We take the time to understand where our clients are at in terms of skill and experience and shape their program appropriately," he said.
The company has also leveraged distance learning technology to allow the student to complete the ground school at their own pace and schedule before arriving for simulator training.
"About 80 percent of our clients do the online ground school at home. That way they immediately can go into the simulator once they get here," Smith added. "Our on-premises ground school – if a client chooses to go that route – are designed to be flexible and focus on the needs of the students in that particular class. None of our classes are ever the same."
In addition, TRU strives to differentiate itself through the quality of its instructors. "All of our instructors are pilots first and instructors second. We encourage them to spend as much time as possible flying the products they teach in. Being proficient, experienced pilots gives them authentic knowledge of the aircraft," Smith added.
Although the company is eying new locations and in "a state of major growth," Smith said it intends to stay true to its roots. "TRU ProFlight was born from the owner-operator market and it's where we will always be closely aligned. As we grow, it's important that we sustain that great core differentiator: always consistently excellent, always engaging and always offering something new to learn."