Whenever I am interacting with owner-pilots, I'm interested in hearing how they became interested in flying. I find it fascinating to learn how people with diverse backgrounds discovered aviation. Research has shown people find their way to the left seat three primary ways: Would-be pilots are introduced to aviation by a parent, relative or friend who flies. Others are drawn to flight by some unexplainable inner force that quietly and incessantly beckons them; an epiphany of sorts. And for others the spark of interest came through exposure at school, scouting, or other organized opportunity. 
I would add a fourth to the list: For some, they learned to fly because aircraft can be a powerful business and lifestyle tool; an incredibly efficient way to get from point A to point B. They appreciate the benefits they gain through flying but have no burning passion.
I would venture that my last category represents the minority group among pilots. While there is no singular path that brings each of us to that moment when we first break free of earth's surly bonds, the majority of pilots share a common passion. Why else would we endure hour after hour grinding around the pattern, perfecting our skills? Sweating under the hood while your instructor fails your primary flight instruments and still expects you to nail that ILS? 
For me personally, the answer is straightforward. I grew up around an airport where my mother kept her plane. It seemed inevitable that I would fly. But for my mother, it wasn't inevitable; it was improbable. How did she – in 1962 at the age of 19 – end up at a rural municipal airport taking a flying lesson? No one else in our family was a pilot. Certainly, gender roles were more strictly defined in the 1960s. In fact, before my mother arrived, there hadn't been a single woman pilot in her small Missouri town. But something about that airport and those brightly painted Aeronca Champs and Piper PA-12s lit a fire inside her. As they say, wild horses couldn't have kept her away.
The path wasn't easy. She summoned the courage to call her high school science teacher who flight-instructed in an old Cessna. He told her if she could get a third-class medical certificate, he'd consider teaching her. Thinking he would never hear from her again, he was surprised when she called a week later to report she had her medical. Still skeptical, he took her up and did a number of maneuvers to see if she would be scared or sick. At the end of the lesson, she surprised him again by asking for another lesson. After eight and a half hours, she soloed in an Aeronca Champ. She went on to earn her private and commercial tickets and became the proud owner of a succession of aircraft.
So, I asked her, what was it that gave her the passion to pursue flying, especially considering she had no role models to follow or previous exposure to aviation? Her answer: "I went to an air show and watched Marion and Dewayne Cole perform the most amazing stunts. Then I convinced my father to let me take a ride in a plane. I came away mesmerized and resolute that this is what I wanted to do."
She continued, "I was never discouraged to try new things and pursue my dreams. When I told my dad I wanted to fly, he said, 'do it,' although he knew very little about airplanes. And when I soloed, he was there cheering me on."
Nineteen years ago, I took my two daughters to their first Oshkosh. In an article I wrote for Twin & Turbine then, I wrote: "As we walked among those amazing flying machines, I couldn't help but sneak peeks to see if the seeds of interest were beginning to germinate. Only time will tell if that interest will blossom into passion." 
Today, both daughters love aviation, but the oldest we discovered, had a love that did blossom into a passion for flight. As I write this in early September, this daughter (and granddaughter), with an aeronautical engineering degree from the Naval Academy and a private pilot certificate in her pocket, just learned that the Navy has selected her to fly jets, meaning the T-45 now and perhaps the F/18 Super Hornet after that.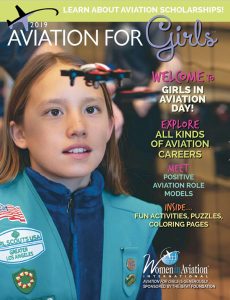 She confessed to me recently that it didn't all click for her until she got to Corpus Christi and began flying the Navy's T-6B. After weeks of studying, briefing and dual instruction, it was time for a series of solo flights. "Once I got in the air, it all changed. It's so motivating to know that I know every aspect of the airplane and to be in complete command of it. This, to me, is flying."
I recently received the 2019 edition of Aviation for Girls, an annual magazine produced by Women in Aviation International and distributed on WAI's Girls in Aviation Day. The goal of the magazine is to provide the girls with information that will inspire them to explore aviation further, both as a career and as a lifestyle. I was struck by the wonder and excitement captured in the young girl's face featured on the cover. Perhaps the spark of passion has been ignited – I hope so!
Regardless of what brought you to the left seat, we all owe it to the future of general aviation to open as many doors as possible for the next generation. This is a world of distractions and social media obsession, but it's also a time of great opportunity. All it takes is someone to pull up the hangar door and show them the way.