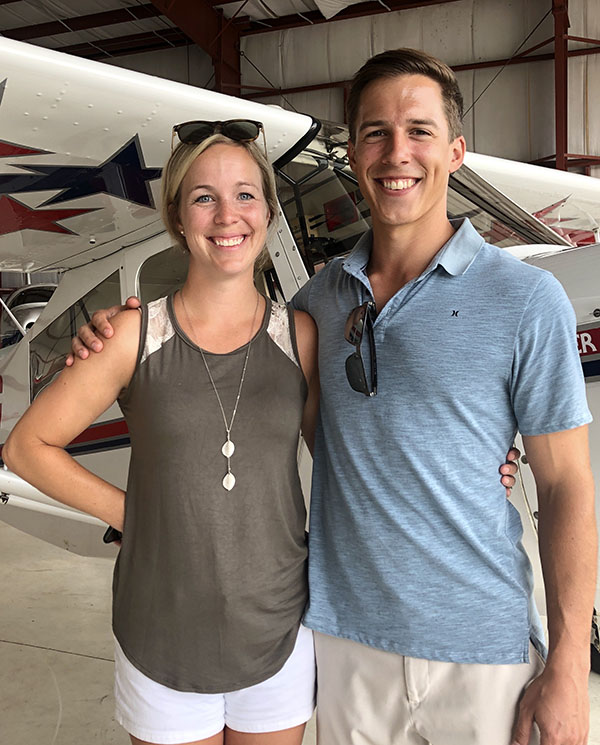 It's official. My husband Jared and I are in the market for an airplane!
We have discussed (dreamt of) owning an airplane for years, but I always swiftly dismissed the idea – we are too young and they are too expensive.
Well, my mindset shifted this year. We are financially stable, well-connected and commercial travel is even more unappealing due to COVID. Another huge motivation behind the investment is the ability to fly ourselves to visit our family scattered around the Southeast – a far distance from Wichita, Kansas.
That distance became especially apparent following a road trip this past summer to see family members in Arkansas and Florida. In all, the trip equated to 48 hours of driving (~3,000 miles). It was a worthwhile adventure, but by the end, we were flat-out exhausted and seriously talking about airplane ownership.
You could say the experience was our tipping point, leading us to where we are today – scouring airplane listings every night. And let me tell you, judging by what we have seen, the used market is hot right now!
Main Considerations
We need a cross-country machine. The 1,000-nm haul to Florida is far from a light jaunt, and we currently make the trek (via airlines) three to five times per year. I anticipate that frequency to continue once we have our own set of wings, plus a trip or two to North Carolina and other multi-state journeys.
Though there are single-engine pistons that could make the Florida flight nonstop, we do not see the need to sit in the airplane for 7 to 8 hours at a time. So in reality, we are looking for an aircraft that excels in 600-nm legs, providing us with a single fuel stop. (And I already know our halfway point – Meridian, Mississippi. Land of the free hotdogs, popcorn and sweet tea!).
Jared: We are also looking for an aircraft capable of 150 KTAS at a minimum. By the time you add in pre-flight duties, a fuel stop, weather deviations and headwinds, the day becomes very short. Any slower than 150 and we are on the edge of spilling over to a two-day trip – time we could otherwise be spending with family.
Of course, behind every investment is the mighty dollar. Twin-engines are (sadly) out of the question. Maintaining and feeding two thirsty engines is more than our wallet can afford. Finding an aircraft that can produce speed while maintaining a decent fuel economy (10 to 15 gallons per hour) will allow us to enjoy our aircraft of choice all the more.
Jared: We are open to exploring the different options available to accomplish this prerequisite: small engines that pull a small and sleek airframe; or larger engines with sophisticated engine monitoring and tuning to allow for fine-tuned fuel flows and even lean of peak operation. And while I haven't completely written off the turbocharged engines, the upkeep costs seem to outweigh the efficiency gains, especially when most trips will be flown east of the Rockies.
The Candidates
The perfect airplane for us may not exist (at least not in our budget), but we do have an idea of what features the ideal aircraft will offer. Logically, at the top of the wish list is a newer engine and updated avionics.
Jared: Spoiled by a job in which I exclusively operate the latest in avionics, I would feel much more comfortable in an aircraft with some panel upgrades. I have no illusions of this airplane being an all-weather machine, but when covering the distances we are trying to, the chance of running into IMC goes up. Garmin and Aspen upgrades are at the top of the list but seem to be hard to come by, so the possibility of adding those after the purchase is real.
Also, low to mid-time engines will hopefully allow us to enjoy the aircraft longer before encountering a frightening overhaul bill. Purchasing an aircraft with minimum time before the overhaul is due, or even beyond the recommended overhaul seems risky.
Jared: Of probably the most value to me and easily the hardest feature to come by is finding an airplane that has been loved – maintenance performed above and beyond the bare minimum, meticulous logs, hangered, upgraded…real cherries that jump off the page when you see them. I've had the pleasure of speaking to two sellers of such aircraft so far, and you can hear it in their voice when they talk about the airplane. These airplanes were their pride and joy, and they tend to fly off the market in short order.
With all of that said, here are our top prospects today:
Mooney M20J – Fast and efficient, the only potential downside is the size of the cabin. By far the "newest" airframe in our budget.
Bonanza 35 (M, S, P models seem to be in our price range) – Flying in style in a roomy cabin with a decent ability to haul. Plenty of upgraded engine options that bring the speed up, though at the cost of more fuel.
Debonair – A potentially more affordable option to the Bonanza.
Cessna 210 (D or E models) – Long time competitor to the Bonanza, the Centurion would give the flexibility to bring friends along for the ride.
Certainly, the pace of the market right now adds pressure on us to jump to a decision. But as first-timers, we feel it is important to take some time to thoroughly research our options and the many components that come with aircraft ownership (finance, insurance, maintenance, etc.). We are truly fortunate to be surrounded by supporters – people who have owned numerous aircraft, aircraft salespeople, A&P's, avionics specialists – all chipping in to answer questions and provide advice.
And what better avenue to welcome additional insights than right here – in a magazine that speaks solely to aircraft owners and operators. If you would like to share any sage airplane purchasing advice (or know of a special gem we should consider!), we would love to hear from you: email me at rebecca@twinandturbine.com.
I look forward to keeping you all posted on this exciting new chapter.