The annual mid-summer celebration of aviation, absolutely the greatest airshow on earth, will be staged in Oshkosh, Wisconsin from July 25 through July 31. If you haven't been there, make it a priority to attend. If you haven't been to EAA AirVenture for a while, make this the year. And if you go every year, don't miss this one.
Airshow season, that late-spring to early-autumn period in which you might encounter a NOTAM for aerobatic airspace, or find yourself part of the attractions when you land, is a time for renewing our enthusiasm for flight. Maybe you could care less about watching a smoke-belching loop being flown over the runway, or eating a tired hot dog while standing in the sun. I identify, but you need to look deeper into the airshow phenomenon, and take a look at the people around you.
As pilots, and airplane owners, we're a shrinking minority of the total population. If we cling to elitism and exclusivity, we will find fewer and less-welcoming runways to land on, and we'll be strapped with more and more ill-conceived regulation. The general public loves to watch airplanes fly, and they like to get up next to them at an airshow. These open houses and entertaining extravaganzas are a way to get our support renewed.
What makes EAA AirVenture unique is the broad sweep of its attractions. Nearly every aspect of flight is on display for the week at Oshkosh. And every year you can see something you will not be able to see anywhere else. Among airshows, Oshkosh (to use the popular tag) holds the premier title.
The management of the Exper-imental Aircraft Association is probably closer to its constituency than most alphabet organizations, because of its Chapter affiliations and the volunteer participation required to put on its annual convention and exhibition. EAA AirVenture could not happen with mere hired labor. So, when you are waved back by a sun-burned teen or turned away from a crowded shuttle tram, remember that these folks are not getting paid; in fact, they are expending considerable personal funds for the privilege of working at the show. Dedication to the cause starts with an enjoyment of aviation. And that's why we all come to AirVenture – for one reason or another.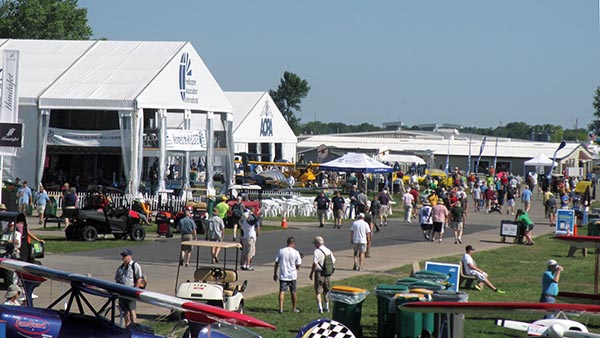 What To See This Year
Some of the special themes for EAA AirVenture's 2016 edition are commemorations of the 100th Anniversary of the U.S. Coast Guard's aviation division, the 75th Anniversary of World War II's Pearl Harbor attack, the 100th Anniversary of World War I aviation, and the Centennial of the Boeing Company.
Monday, July 25, opening day, is traditionally marked by news announcements from exhibitors releasing new products at the show, and there will be an evening music concert by San Francisco band Third Eye Blind. Tuesday is Innovations Day, showcasing the latest flying technology and the finals for the Founders Innovation Prize. Wednesday is Pearl Harbor Day, with a massive afternoon airshow and a night airshow as well. It's also WomenVenture Day, when female aviators gather. Thursday will honor Coast Guard aviation and the Two-Millionth Young Eagle introduced to aviation by EAA volunteer pilots. Friday will be a Salute to Veterans Day, with a Yellow Ribbon Honor Flight trip to Washington DC via American Airlines, courtesy of Old Glory Honor Flight (www.oldgloryhonorflight.org), award-winning swing band Big Bad Voodoo Daddy will perform that evening, and it will also mark the 25th Anniversary of Operation Desert Storm, featuring aircraft of that era. Saturday is the Salute to World War I aviation and a tribute to the 100th Anniversary of Boeing Aircraft Company; another night airshow will be presented that evening. Sunday is Fox Valley Day, thanking the local area for its support as the annual pilgrimage reverses itself.
The Big Boat, And Other Sights
Spectacular aircraft are a tradi-tion at Oshkosh, and this year attendees will have a chance to see the last flying example of the huge JR2M-1 Martin Mars four-engine flying boat, of which seven were built in the closing years of World War II. It's billed as the largest operational warbird ever built; among waterbirds, only the Hughes H-4 was bigger. The U.S. Navy operated them as transports between Hawaii and California from 1945 to 1956, and afterward they have been used as wildfire-control water bombers. The last two are owned by Coulson Flying Tankers of British Columbia, whose "Hawaii Mars" is scheduled to land on Lake Winnebago, next to Oshkosh. The music of its four Wright R-3350 engines will be heard, cruising over AirVenture.
Some of the other notable airplanes slated to appear are a rare Douglas A-20 Havoc World War II attack bomber,
a 100-year-old Curtiss Pusher antique, and the Commerative Air Force's "Fifi" B-29 Superfortress. Back by popular demand are the STOL demonstrations by airplanes from the Valdez, Alaska competition; for this year, the super-STOL activities have been relocated to the Ultralight airstrip at the south end of the flight line.
On July 30 and 31, the Canadian Forces Snowbirds jet demonstration team will be part of the afternoon airshows, after a 33-year absence at Oshkosh. The Snowbirds fly ultra-close formation aerobatics with Canadair CT-114 Tutor jet trainers, presenting a spectacular display of precision flying with up to nine ships in formation.
Given the building shortage of qualified pilots and technicians in aviation, a week-long Job Fair is being held in AirVenture's Aviation Gateway Park, where job seekers and employees can connect. Assisted by JSfirm.com, an aviation career website, the job fair will operate from 9 to 5 each day.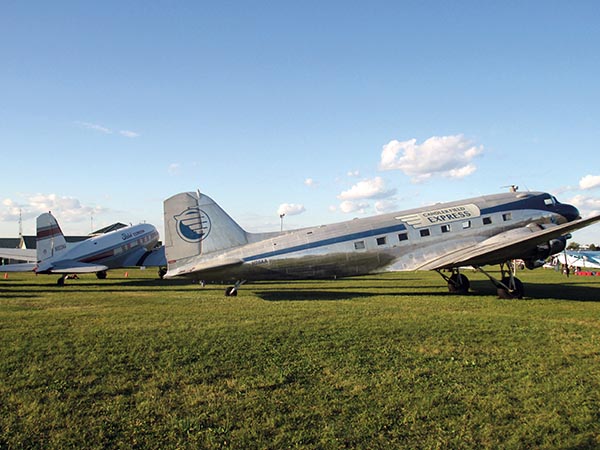 Getting There
It happens every year. Some clueless individual will decide to "fly to Oshkosh" without availing himself of the extensive NOTAM and will create a major headache for controllers and pilots. An entertaining narrative in the news section at the http://www.eaa.org/en/airventure website, titled "Bubba Goes To AirVenture," tells of an actual arrival by such a pilot in 2015; if you read it, you'll be motivated to download the actual NOTAM from www.airventure.org. There are some changes this year, including taxiway closures on the north side and new departure frequencies.
Flying into the show isn't difficult, if you're prepared. Coming in VFR, using the Fisk Arrival, is the preferred method, but operating IFR or on the Turbine/Warbird Arrival is possible, as long as you can accept being worked into the string of widely-varying aircraft at the end. You may be sharing airspace with a World War II fighter, a Ford Tri-Motor, an aerobatic biplane or a no-radio antique. During VFR arrival, transponders are to be turned off within 30 miles of Wittman Field, since they would be essentially useless in the swarm, and you just join up to follow the old railroad roadbed from the town of Ripon, 15 miles southwest, staying in nose-to-tail spacing at 1,800 or 2,300 MSL. If there's a weakness in the system, it's negotiating the split into two different streams of traffic at Fisk, a hamlet 5 miles southwest of Oshkosh. Fisk Approach will assign either an east-west or north-south runway at that point, requiring attention to navigation and frequency selection as the string of aircraft diverges.
When landing, be prepared to demonstrate a bit of precision; you can be asked to land not just on the runway (or a parallel taxiway pressed into service for the show) but to touch down on a literal spot on the runway, to help maintain the special spacing allowed for the show. Aircraft under 6,000 pounds are expected to exit the runway without delay, which can mean rolling off into the grass along the side, used for a taxiway controlled by flag-persons. When departing, follow the flaggers to the runway in use, monitor the appropriate frequency, and follow the NOTAM routing out of the area to avoid incoming flights. Windshield cue-cards are to be displayed for the marshallers.
Avoiding the AirVenture horde is best done by landing at Appleton (KATW) or Fond du Lac (KFLD). Slot reservations are required for IFR operations during AirVenture, so if you are coming in unexpected, anticipate an early IFR cancellation, perhaps with a landing at Madison, Green Bay or Juneau. Rental cars will be booked months in advance, as will lodging; planning for AirVenture must start early.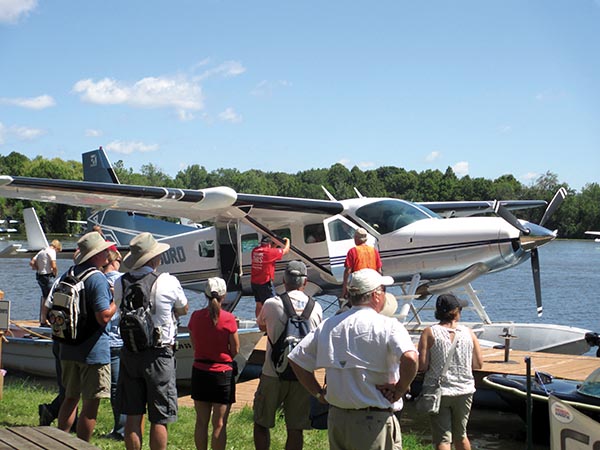 It Is Worth It?
Most definitely, it's worth it; mere description does not prepare one for the spectacle of thousands of people with their eyes and hearts on the sky, experiencing aviation in a dozen forms. Whether it's homebuilt aircraft, light sport and ultralight flying, antiques and classics, aerobatics, warbirds, seminars, construction, flea market bargains, commercial displays and booths, avionics and engines, or even drones, it's all at AirVenture.
If you've attended other mass gatherings, like motorsport events, music concerts and rallies, you'll find EAA AirVenture a tame, family-oriented affair. Aviation people are, in general, decent sorts that you can invite into your home. Trash is deposited into containers, theft is unheard of, your dropped sunglasses will probably be turned into the lost-and-found booth, and a call for security is a rare event. Considering that this is a small temporary city, set up for one week, it works amazingly well.
So, if you can leave your rest-of-the-year workaday manners at home and join the Oshkosh contingent, come to AirVenture, even it's just for a day trip. You can't see it all, even in a week, but you can find your niche with like-minded people. Remember, what happens at Oshkosh, DOESN'T stay at Oshkosh. Instead, it goes home with us, to keep us going the other 51 weeks of the year.