Known as King Air landing gear overhaul experts, Aerospace Turbine Rotables challenges dependability and costs with its pool stock of repaired components and 46 years of MRO solutions.
Dave Seavey walks through the 72,000-square-foot Aerospace Turbine Rotables facility in Wichita, Kansas, like a kid on a playground, fascinated by one shiny object after another. Aircraft parts have been in his blood since his first aviation job: the second shift in the parts department at United Beechcraft. He was a "Beechcrafter" from 1974 until 2002, when he went to work for one of the suppliers he'd worked with throughout his career.
He knew the people at Aerospace Turbine Rotables and liked their MRO (maintenance, repair, and overhaul) solutions that tackle the rising costs, long lead times and uncertain availability that many owner/operators face. The company started in 1972 and cut its teeth on Wichita-born Beechcraft and Cessna fleets. By the time Seavey joined as vice president and general manager, Aerospace Turbine Rotables had grown alongside the expanding King Air fleet.
Two-thirds of the company's activity supports the turbine owner-operator, either directly or through their maintenance provider or parts distributor. With an estimated four King Air aircraft coming due for their 6-year inspection every business day, there's a steady flow of operators looking for alternatives to new part replacement.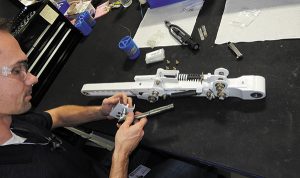 Seavey recently took us on a tour of the facility, which the firm moved into in 2015 to double its square footage in south Wichita. Here's what he shared about the MRO business:
Twin & Turbine: You first experienced Aero Electric, the company that eventually became Aerospace Turbine Rotables, as a customer, correct? 
Seavey: Yes, I worked with Phil Rapp, one of the founders of Aero Electric, when I worked at United Beechcraft. We needed some help with landing gear overhaul programs, flap actuators and gearbox overhauls. That was in the 1970s and these are the programs that eventually grew to become an essential part of what is now the Aerospace Turbine Rotables business.
Twin & Turbine: So, you played a part in the company growing from an electrical MRO facility primarily serving the piston market to a business providing a wide range of MRO solutions for the King Air family of airframes?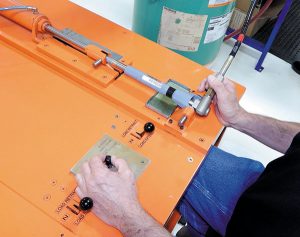 Seavey: We are the largest King Air landing gear MRO shop in the world, and we have developed many additional product lines with the landing gear in order to provide the owners/operators of this great aircraft with more robust solutions. We provide MRO services for the drag legs, retract actuators, retract motor/gearbox, wheels, brakes, flap motor/gearbox, flap actuators, mechanical trim actuators, control surfaces, radomes, exterior lights, tach generators, O2 cylinders, O2 regulators and crew O2 masks. Our Parker Stratoflex hose shop builds and ships King Air engine hose kits for every King Air/Super King Air model. In addition, our sister company, Piedmont Propulsion Services in Winston Salem, North Carolina, provides MRO services for the propellers and prop governors for a wide range of turboprops.
Twin & Turbine: First Aviation Services acquired Aerospace Turbine Rotables in December 2009. How has that changed the business?
Seavey: A decade ago, our company was well recognized and appreciated for our diverse capabilities on the King Air. Today, we have expanded our portfolio to include Global Express, Challenger, Gulfstream, Learjet, Pilatus and Phenom. Not only do we provide landing gear overhaul services for these airframes, but we also offer solutions for hydraulic system components, flutter dampers, safety equipment, lighting products and structures.
Twin & Turbine: Can you explain how your team embraces the concept of keeping operating costs down and flight hours up?
Seavey: In our segment, cost-effective repairs and healthy repair part supply chains are critical to success, and have been important elements of our business. We have made significant investments in both our pool stock of repaired parts and our OEM (original equipment manufacturer) and PMA (Parts Manufacturer Approval) parts inventories. In fact, our company holds FAA/PMA approvals on more than 200 articles that support our MRO activities and enables our rapid turn times and competitive flat rate pricing. We believe that lowering operating costs improves residual aircraft values, which in turn helps the original equipment manufacturer.
Twin & Turbine: Your engineering team has designed an entire family of PMA parts for the King Air?
Seavey: We had found it necessary to go out and approve a part that was either unaffordable or unavailable for us to use. For example, a ring used in all three of the struts of a King Air landing gear suddenly became a shortage item. So we reverse engineered it, developed a replacement, received FAA approval through the PMA process and had them built by a quality supplier. Today we exclusively use our PMA ring. Even though it was designed just to eliminate a gap in supply for a very important part, once designed it was a fraction of the OEM cost and it was reliable.
Twin & Turbine: And, your pool stock contributes to delivering fast turnarounds?
Seavey: If you look at a King Air in the 6-year landing gear inspection, the plating process typically takes a week to have cadmium plating restored, and it takes two weeks to have chrome plating restored. So, if you have a part where the upper half is chrome and the lower half is cad, it takes three weeks to go through the entire process. Most King Air operators would rather not ground their aircraft for three or four weeks to have their part reconditioned. Instead, they may opt for the $24,000 piston axle so they can fly. We have invested millions of dollars into the repairable parts that are part of the landing gear assemblies. There's almost nothing that a customer needs on a landing gear that we can't provide out of our pool stocks.
Twin & Turbine: What savings can an operator expect when choosing to repair or exchange versus replacing with new parts?
Seavey: Recently we had a call from an operator who had received a quotation from his maintenance provider for the overhaul of his nose landing gear. The quotation was for more than $70,000. The customer was rightly perplexed with the expense of the quotation but understood that the three primary components on the King Air nose landing gear were found to be unserviceable on his unit. His brace had a worn bore, his barrel had worn internal bushings and the beginnings of corrosion in the lower neck, and his chrome had pitting on the forward surface. The OEM price of the new replacement parts were $26,000 for the brace, $11,000 for the barrel and $30,000 for the piston/axle and that was without labor. We examined the gear and found the components to be repairable. Our final invoice was under $9,000 and included repair of the worn bore in the brace, reconditioning of the barrel correcting both the worn bushings and eliminating the corrosion, replacement of the repairable piston with a reconditioned unit with new chrome, and installation of a reconditioned axle.
Twin & Turbine: You've amassed quite a bit of data during 46 years in business. Any trends you're noticing among the parts you receive from King Air operators?
Seavey: Our experience provides us with a unique perspective on the value of proper maintenance and reconditioning. For example, the barrel on the nose landing gear of the King Air is a $14,000 part. We recondition them for $2,500 to $3,500. That reconditioning occurs at the 6-year cycle. Skipping the reconditioning can render the barrel unserviceable at the next 6-year interval due to corrosion, which could have been treated and corrected at the previous inspection. Not being aware of the reconditioning process can result in a $10,000 to $12,000 cost. Our experience is focused on reducing BER (beyond economic repair) items. We reduce premature failures, unscheduled maintenance requirements and cost. Every time we eliminate an in-service failure of a component, we have eliminated a risk and a potential safety event.