Superior Air Parts, Inc., is making its popular book "Engine Management 101" available as a free flip-book download. Written by Superior's VP of product support Bill Ross, who has been an FAA A&P/IA for 32 years, the book covers all aspects of piston engine maintenance, operation, leaning and preventative procedures.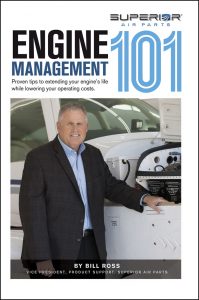 "I've spent my entire career around piston aircraft engines, either as a charter pilot, A&P/IA or working for an aircraft engine manufacturer," Ross said. "I've see just about everything an owner can throw at their aircraft engine and have learned the right ways to operate and maintain an engine to avoid all the major problems. That's the insight I've put in this book."
Ross explained that Engine Management 101's 144 pages packed with valuable information on subjects ranging from choosing the right mechanic, to improving engine operations, to cylinder compression testing, to how PMA parts help owners save money, and much more.
The company received an overwhelming response at AirVenture Oshkosh where they handed out 700 copies to forum attendees. To get your free flip-book copy of Engine Management 101, send your request to: EngineManagement101@SuperiorAirParts.com.