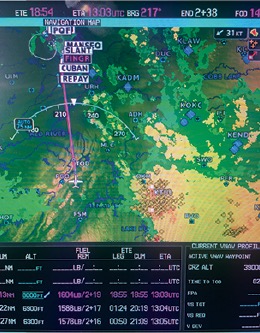 Hello sim tech, this is Dewaine, instructor in the M2 sim. We have all sorts of problems here. The simulator is frozen, airspeed is inoperative and we need a reset."
Such was the situation Larry King and I found ourselves in on day three of our recent recurrent in Wichita. Our planned 6 p.m. departure from the service center seemed a long shot now as the sim seemingly had a different plan for us.
Soon, a perky technician poked her head inside the monster and said she would make it right. We took a break and within ten minutes, all was well. Until it happened again.
We both began to envision another day in Wichita. We telepathed expletives.  
Minutes later, however, we were back in the simulated air. I finished my two hours. Now behind the time allotment, Dewaine suggested we switch seats and keep going. Six-foot-four Larry attempted to comply and got his foot stuck in the red emergency stop button buried in the center console. Lights flashed, bells rang and we quickly settled to the ground in a simulated simulator emergency descent.
"Ah, sim tech, this is Dewaine again. You are not going to believe what is going on here," he barked into the phone. More delays. 
Against all odds, we actually finished on time. We were tired and spent from the distractions, and ready for home. All we had to do now was drive to the Cessna service center, do a thorough preflight on Larry's M2 and return to Dallas. Or so we thought.
"Looks like a few cells west of Dallas that we should be able to deviate around," commented Larry as he reviewed his ForeFlight app. 
The destination forecast predicted scattered thunderstorms and 10-mile visibilities. But as we checked all the switches in the M2, my phone started buzzing. A Cessna 172 had just crashed on takeoff from Addison, injuring three. And 16 more were hurt in a wind gust at an outdoor concert 70 miles north of Dallas. Within minutes, massive storms began developing right over north Texas.
I counted 34 aircraft holding into DFW and DAL on FlightAware. Ground stops were issued for all inbound aircraft. Surface winds at Addison were 90 degrees to the active at 21 gusting to 49. I decided to get a local weather report.
"I just got soaked going to get tacos," reported my wife Patty on the phone.
Larry and I decided to wait it out for a couple of hours and then depart. Sitting in the M2 cockpit, we had a marvelous weather department right in front of us; NEXRAD, pilot reports, SIGMETS, lighting strikes, tops, cell movement, TAF's METAR's – you name it.
It was clear that we could make it home after a three-hour delay, but at what cost? 
Finally, it dawned on me. "Larry, let's think this through. We are exhausted. We just spent 10 hours in ground school and training. We won't be home until midnight. I want to get home as much as you, but I think we should punt and try this tomorrow morning." 
"But did you see the line of weather building in western Kansas?" Larry asked. "It's forecast to be in Wichita tomorrow morning." 
Despite this concern, we agreed that fighting the weather in the daylight, fully rested, was the safer decision. While second guessing our decision, we dragged ourselves back to the rental car, found a couple of rooms near the airport and called it a night.
Indeed, as the picture illustrates, we were very busy the next morning. But safe.
Fly safe.