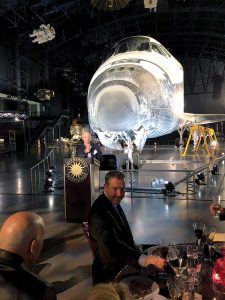 The following recent, fairly long trip in the Mustang nicely illustrates just how many different factors come into play when flight planning.
A group of Citation owners including myself were invited to the Steven F. Udvar-Hazy Center at Dulles (KIAD) for tours and meetings. To top it off, we would walk alongside the space shuttle Discovery with former astronaut Charlie Precourt as he conducted a preflight inspection of the vehicle on prominent display at the museum. (The same preflight he gave the vehicle when he commanded it on missions to the International Space Station!)
My flight to Dulles would be pretty close to the Mustang's published range. As planned, 1,022 nm. Forecast winds were a 44-knot push and temperatures at FL410 all ISA minus. Both important numbers for a max range trip. We would arrive after 3+04 with almost 1,000 pounds in reserve. The Mustang could do the trip if the weather was decent and if we did not descend too early on the arrival. But what if D.C. shut down for some unusual event?
I began to plan a midpoint stop in Nashville.
The night before departure, a low-pressure system parked itself right over our route with low ceilings and rain covering much of our path in and out of Tennessee. The weather at Dulles? Clear and perfect. It made more sense to try the non-stop and land short of the destination if necessary. So, I had the fine folks at Addison Million Air fill the tanks to the very top, giving me 2,700 pounds instead of the normal 2,580.
Once airborne, however, the winds were not living up to forecast. Instead of an initial 35-knot push, I had 10. But the great Garmin G1000 weather depiction page showed increasing tail winds east
of Nashville. 
We pressed on.
Temperatures aloft went from ISA-2 to ISA+5 as we topped the low-pressure center. Slowly, tailwinds began to increase. Dulles weather stayed clear. The predicted fuel on arrival numbers indicated 850 pounds. If I didn't get vectored too far off the arrival, all would be fine.
"November Four One Six Delta Mike, I have an amendment to your routing," came the call from Indy Center. "You are now cleared direct Hotel Victor Quebec (HVQ) and the Gibbs two arrival into Dulles." That reduced the landing fuel another 50 pounds. Everything was still okay. "Center, be advised that Six Delta Mike will be unable to reach the 280 knot speeds on the arrival. We are limited to 250 knots," I replied. 
About five minutes later, "Six Delta Mike, I have an amendment to your routing. You are now cleared direct to DOCCS intersection and the DOCCS 2 arrival." More button pushing. Predicted fuel reserves were still good.
The ATIS was calling for a landing to the north and with Dulles' three runways, it was unlikely that I would be unable to land. Tailwinds increased to 60 knots and Indy Center was accommodating on the descent as well. After 3+18 (due to the re-route), we exited Runway 1R with 900 pounds remaining. 
As it was, we were the last airplane to arrive at the gathering. But on this day, the little Mustang was all I needed.
Fly safe.