On April 14, I found myself in Clearwater, Florida planning a return to Dallas with Citation M2 owner Larry King and our wives. 
Springtime weather in the Southeast can be challenging as you can see from the lightning strikes along a massive cold front that morning. Indeed, the storms that we needed to cross had just ravaged Texas, Louisiana, Mississippi, Alabama and Georgia, spawning 24 tornadoes, killing nine and injuring more than 30.
The type of airplane you fly plays a big part in how you tackle the go/no go challenge. If you have the performance to get on top, it is often possible to make the trip safely. On this day, tops were above FL450, while the M2 tops out at FL410. Tornado watches and warnings were numerous. But there was a 50-mile hole between cells in the Florida panhandle.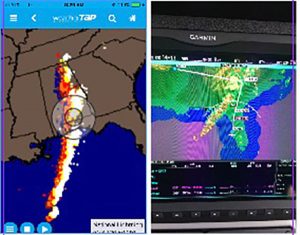 So, from our hotel room, I started my research project to decide if we were going to stay another day in sunny Florida.
My first stab was to look at the FlightAware tracks of actual flights through the weather. A few airliners were getting through a gap at FL380 to FL400. Only one or two corporate jets were even attempting to penetrate the area and those were at FL430 and above. 
What were the airlines doing? I clicked on departures from Tampa to Dallas and quickly saw that almost all of them were planning a huge deviation north, almost to Kentucky then west to Dallas. 
The live broadcast of tornado damage on The Weather Channel was making Patty anxious. I texted Larry, "We may need to punt today," I said.
I then listened to the ATC Live feed from Jacksonville Center on my iPhone app. The north deviation was working. If we departed and flew 300 miles north, we could turn west and have enough fuel to stop at Little Rock before flying on to Dallas.
It might just work. 
We headed for the airport while Larry used ForeFlight to file a new flight plan to PETON intersection. On departure, JAX Center did a wonderful job assisting everyone on a very busy frequency. 
"November niner two one X-ray Tango requesting "wrong way" flight level four-one-zero for weather," I said. Almost immediately it was approved, and then a suggestion that we could turn left when able and direct to Little Rock. 
After some quick calculations revealed that we could make Dallas with 700 pounds of reserve in clear weather, we made it back nonstop.
All in all, a great day of flying.
Fly safe.