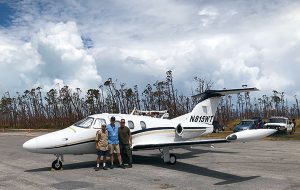 On September 1, 2019, Category 5 Hurricane Dorian made landfall on Elbow Cay in the Abaco Islands chain of the Bahamas with a predicted path northwest over Grand Bahama. With winds up to 220 mph and rainfall measured in feet, not inches, it was forecasted to be a catastrophic weather event, and unfortunately, the forecasters were correct.
I have visited the Abaco Islands several times, including a recent stay just three months earlier on Elbow Cay. After more than 50 trips to the Caribbean, with many including a stay in the Bahamas, I have seen the impact of previous hurricanes on the area. But what I was about to view during relief missions following
Hurricane Dorian was worse.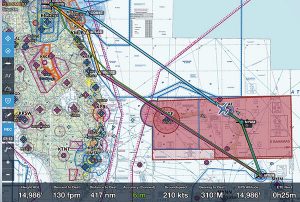 The Game Plan
In preparation for Hurricane Dorian's impact, many aid organizations quickly sprung to action. My first call for help came from a longtime friend from the Haiti earthquake relief efforts, Sam Bloch, now with World Central Kitchen (wck.org). I flew over 120 hours in support of the Haiti earthquake in 2010 and saw firsthand the impact of general aviation in providing critical disaster relief support. At the time of Sam's call, Dorian had not yet made landfall and he was in Nassau looking for a helicopter to do an aerial assessment after the hurricane hit. 
Other groups, including aviation-affiliated organizations such as AERObridge, PALS and FBOs in the Southeast, were making contingency plans with the approaching storm. The FBOs, also in the path of Dorian, were nonetheless making initial plans to help others. I worked extensively with Banyan Air Service at Fort Lauderdale Executive (KFXE) on previous relief efforts, and they were again offering assistance with the distribution of donated supplies and pilot support along with Yelvington Jet Aviation in Daytona Beach (KDAB) and others. 
Air Unlimited, a Part 135 operator in Sanford (KSFB), has an established business flying daily flights to Marsh Harbour and Treasure Cay in the Abacos. Led by founders Mark Neubauer and Chick Gregg, they promptly started collecting supplies and preparing their King Air 200s for relief flights. The company transformed from carrying passengers on vacation to volunteering their airplanes to help those on the same islands who were such a large part of their life. Donated supplies began arriving at their hangar as the hurricane made landfall, and later, Air Unlimited crews conducted some of the first flights to Marsh Harbour.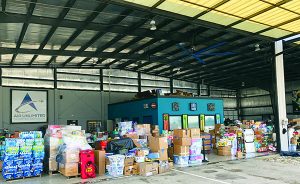 Surveying the Damage
The devastation they saw was extensive. Entire communities were damaged and important infrastructure destroyed. Thankfully, the new power plant on Abaco was operational, however, there were no transmission lines and towers left to distribute the electricity.
The aircraft owner association forums immediately became virtual war rooms, with owners communicating on how and where they could help. A Facebook group was also created to support communications. Owners with aircraft from small single-engine piston airplanes to large corporate jets and airlines offered their assistance. Rotorcraft were especially important with a storm surge more than 20 feet over parts of the island. For some airports, helicopters became the only option. The runway at Treasure Cay (MYAT) initially had a river of seawater several feet deep that inundated the airport.
On the southern tip of Abaco, Sandy Point (MYAS) appeared to be usable. And as the water receded, the damage to the other airports became visible. Treasure Cay was heavily hit, with all the buildings, including the garage for the airport firetruck, severely damaged. Just to the southeast, at the Marsh Harbour airport (MYAM), the main terminal was damaged as well as hangars. The FBO and Customs building was in usable condition and provided some shelter. The airports on Grand Bahama were similarly hit hard. The storm also impacted communication: cellular, landline and ATC, including radar. With the importance of aircraft search, rescue, and relief efforts, the U.S. Navy placed an AWACS aircraft in orbit to assist in communications. Aircraft, both civilian and military, quickly saturated the area. 
While essential, the same aircraft delivering supplies and personnel created a potential safety issue. The Bahamian National Emergency Management Agency (NEMA) requested a TFR over the affected area in an attempt to control traffic. Pilots looking to fly into the area needed to obtain permission from NEMA, which was also overwhelmed with responding to the disaster. While the TFR decreased the flow of relief aircraft and supplies, it did have a positive impact on airspace congestion. With only a few viable landing facilities and little to no airport infrastructure in place, it made sense.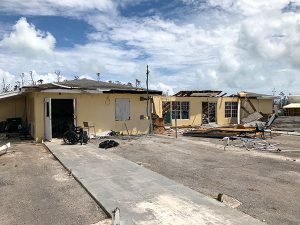 Joining the Effort
I flew my Eclipse 500 from San Diego to Florida and helped Air Unlimited for several days flying missions. They had a large team of volunteers sorting the donated supplies, and pilots flying the King Airs to the islands daily. Obtaining clearances took extra time as the Bahamas airspace was still congested, and there was limited ATC communications in the area. But Sanford Airport controllers were very helpful in obtaining clearances for my flights. 
On my first flight, the delay for my IFR clearance to Marsh Harbour was 3 hours, so I filed to North Eleuthera (MYEH) and reversed my planned flight. North Eleuthera was outside of the TFR and the hurricane damage. Miami Center was extremely helpful and honored my request to fly at FL350 so I could extend my range, even though the usual routing was lower. With limited radar coverage over the islands, it made their job even more difficult. Descending and canceling IFR, I entered the pattern for Runway 14.
I dropped off a large load of medical and food supplies at MYEH, which was then sent by boats, volunteered by their owners, to the remote islands in the Abacos – the only way to deliver critical supplies to the smaller islands. 
A volunteer relief worker needed a ride back to Florida, so we started up the Eclipse and departed for Marsh Harbour VFR. In flight, I contacted the AWACS, call sign WARLOCK, on 122.4, and requested their assistance with traffic advisories and provided my NEMA authorization number. The airborne controllers were an impressive group and made me proud knowing fellow
aviators were orbiting the islands, unseen above our plane, helping us.
Approaching the Abacos from the south, we could see the increasing damage flying northwest towards Marsh Harbour. The once verdant forests were brown, with trees stripped of their branches and snapped like toothpicks. The homes and Harbours were damaged, with a large number of capsized boats. I flew near the resort I had stayed just a few months prior and saw widespread damage. After landing, I taxied to Cherokee Aviation, the FBO and only building not destroyed. The hangar adjacent was collapsed with damaged aircraft inside. The ramp was busy, and I located two more relief workers who needed a ride back to Florida. One was Brian Doonan of the non-profit Fuel Relief Fund (fuelrelieffund.org). This organization is generously funded by companies in the fuel production and transportation industry, as well as individuals, and has provided fuel in a number of disasters for several years. When I mentioned to Brian that we might need to stop before our final destination at Sanford, he quickly went to his team, and in no time, they were putting Jet A into my plane. Taking just what we needed, we departed Marsh for Sanford.
Another mission took me to Treasure Cay, where we were working with local first responders to search for a potential storage location for relief supplies. An A&P and aircraft owner joined us to repair a Piper Archer that had been damaged by the storm, with the hope to ferry it back to Florida. Sanford airport controllers were again helpful and found a way to get me an immediate clearance directly to Treasure Cay Airport. The damage there looked even worse than I had seen at the Marsh Harbour airport, with all buildings significantly damaged. With no power, water or communications at the airport, the Bahamian officials sat in camping chairs under a 10-foot standup awning. I walked across downed power poles, lines and fences, helping to secure a temporary communications tent while I waited to return to Sanford. I could see through the nearby pine forests since most of the branches were gone, and trees were broken.
Just before landing at Treasure Cay, I noticed a voicemail from a number I knew to be the U.S. Customs office at Sanford. It usually isn't a good thing to have a call from Customs. Without cell communications, I used my satellite communicator to text my wife and have her call them on my behalf. They needed my overflight permit number for my last flight and the problem was quickly resolved. The U.S. Customs and Immigration officials were amazing and helpful just as they had been in my interactions with them during other disaster missions.
Coming Together
The aviation community once again generously provided essential transportation and hope to those affected by a significant disaster. Whether it is flooding, tornado, fires, or hurricanes, aviators and an untold number of volunteers continue to help those affected by such disasters. While the Abaco Islands and Grand Bahama experienced direct hits, the remaining islands of the Bahamas were not impacted and still as welcoming as ever to visitors. They truly are a gem and easily accessible.
In my 11,000-plus flight hours, my small participation in helping with disasters and public-benefit flights has been the highlight of my aviation career. If other aviators have the opportunity to do the same, I know it will have the same impact on them.