The bar has been raised for lightweight Active Noise Reduction (ANR) headsets. Bose made its first major public debut of their new ProFlight aviation headset at EAA AirVenture 2018. I stopped by for an in-booth demonstration and ultimately walked away impressed and with a headset in-hand to try in real world scenarios. I have since tested the headset in a CJ3, Eclipse 500 and Cirrus SR22.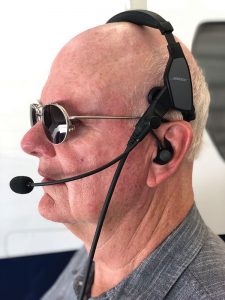 The Design
Weighing in at 4.9 oz. compared to approximately 12 oz. for the Bose A20 headset, the ProFlight presents Bose fans with a much lighter weight option yet retains exceptional noise cancellation the company is known for – specifically when flying turbine and quieter turboprop aircraft.
Designed with ear buds instead of over-the-ear cups, the ProFlight makes easier use of sunglasses or prescription eyewear. To accommodate different ear shapes, the headset offers three different sizes of ear buds. The silicon ear buds are molded to a soft "wing" that enhances retention in the ear. Two pads are located above each ear along with an overhead arch which provides support for the wired ear buds and mic boom.
Though the ProFlight's ear buds provide some passive noise attentuation, it does not match the same level of passive noise reduction of the full size, over-the-ear headsets like the A20. This is one reason Bose does not directly market this headset for noisier aircraft.
Where the ProFlight shines is in its unique ANR design for lower noise cockpits found in turboprop and turbine aircraft. I've found through my testing that the noise level in most light jets is around 80-86 dB, while turboprops like my Meridian are 96 dB and high performance pistons, such as the SR22, are closer to 100 dB.
The ProFlight headset achieves its proprietary noise reduction by incorporating three acoustic profiles, each tuned to a particular combination of frequency attenuations or cancelling. Rather than a flat reduction of sound levels across the frequency sound spectrum, each profile is customized to provide attenuation at specific frequencies. In the "Low" setting, external bass frequencies are attenuated while med and voice frequencies appear to be enhanced or amplified. In the other two settings, "Med" and "High," the attenuation profile changes progressively, with maximum attenuation of all frequencies experienced in the "High" profile.
Tap Twice for Your Passengers or Co-Pilot
Now, for probably the coolest feature. Bose incorporated instant ANR reduction by way of double tapping either ear piece. If your ANR settings are set to "Med" or "High", tapping twice on either ear bud instantly lowers the ANR to "Low", allowing for easier hearing of any sound such as a passenger talking. This eliminates the need to remove your earbud or fiddle with your noise reduction settings. Once you are ready to return to your previous ANR setting, simply tap twice again on the ear bud.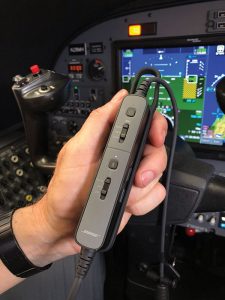 Comfort
Frankly, if a headset isn't comfortable, pilots aren't going to use it for long – no matter the whiz-bang features it proclaims to offer. Over my career, I've used an assortment of designs and brands: earplugs, regular over-ear headsets, ANR. I've owned or tested almost all makes of Bose, Lightspeed, David Clark and others. My over-the-head headsets perform great, even for my longer 10 to 13 hour flight days. However, Bose's promise of a lightweight ear bud solution with high quality ANR for turbine aircraft still caught my interest.
During my initial demo at AirVenture, Clay Pipkin, acoustic engineer at Bose, set me up with the headset and walked me through all its features while simulating cockpit noise conditions. As we quietly talked amidst the roar of a turbine engine simulation, I was quickly impressed with its lightweight, comfortable fit. I've found that no matter how comfortable a full-cup headset is, when you wear sunglasses or prescription eyeglasses, you will eventually feel the pressure of the earpieces on your temples. I frequently remove my sunglasses during my flight to communicate with my passengers or simply for comfort during long flights. To be able to comfortably wear sunglasses with a headset is a big plus for me.
This is possible because the ProFlight incorporates a unique set of side pads connected to the headband that sit about one-half inch above the ear, allowing for easy removal or placement of eyewear. Neither the side pads nor headband touches most glasses and eliminates pressure points that can be caused by over ear headsets. I've also found that when faced with turbulence, the side pads aide in keeping the headset in place while the headband's lower profile reduces contact with the cockpit ceiling. An important feature for taller pilots.
In-Flight Performance
Since procuring my demo set, I've tried the ProFlight on several flights including my return trip to California in a Citation CJ3 from AirVenture. I generally fly and instruct while wearing my Bose A20 or David Clark Pro X and was impressed with how easy the ProFlight was quick to adjust. I found that it fit me better if I moved the headband slightly forward on my head when wearing a baseball cap. I rotated the ear pads into their horizontal position and placed them slightly above my ears.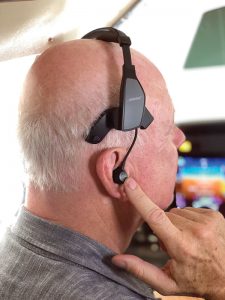 The earbuds with the molded silicone wings fit securely in my ear. A nice trick for fitting them in: slightly rotate the buds when placing them in the and ensure that the cords are in the 2 o'clock position. As you adjust, you may inadvertently place them in the tap to talk mode, however I quickly learned to avoid that action. When not in use or storing the headset, the side pads have a handy clip to hold the ear bud cord in position to avoid catching and or damaging the cord.
Overall, the ANR performance in-flight is amazing. I have tested it in all three profile modes, with High being my preferred setting. During my flights, I even swapped with my Bose A20s to better analyze the difference in nose reduction. I was expecting to find an appreciable difference between the two, but was surprised to find it was marginal in the CJ3. I used a decibel meter to determine the perceived reduction. During cruise, it measured 82 dB and in a low altitude descent, 90 dB (for any sound experts reading this, I used type Z frequency weighting).
I have also tested the ProFlight in an Eclipse 500 and Cirrus SR22. The Eclipse is as quiet as the CJ3 and as expected, the headset worked very well. The surprise came when using the ProFlight in our SR22, a fairly loud example of a high-performance piston airplane. On takeoff, I measured 102 dB yet found the ProFlight still performed exceptionally well. I even alternated between the A20 and ProFlight during the remainder of flight and found them both to be more than adequate for the job.
Bluetooth Connectivity
Like the A20, the ProFlight supports Bluetooth connectivity to an external phone or music device with the connection process being the same. The only difference I noted was the lack of an auxiliary 3.5 mm input option. I personally prefer two methods of connection for flexibility, however, most external devices now have Bluetooth so the functionality shouldn't be an issue for the majority of pilots.
The audio quality while using an external music source on my iPhone was very similar to what you would find in high quality ear buds you might use on the ground. Bose uses the same audio profile in the ProFlight as their other ear buds and headphones, and streaming various albums showed a good frequency response, whether I was listening to Lady Gaga or Tubular Bells. The bass was full, with good clarity of the higher frequencies, and possibly some attenuation in the vocal bands which might be expected in an aircraft environment.
Conclusion
If you are in search of a super lightweight headset, especially for turbine flying, the Bose ProFlight is a great choice. If flying in higher noise environments, I would recommend demoing the ProFlight first and see if it fits your needs in those aircraft.