Thanks to investment by avionics manufacturers, there are a plethora of new advanced autopilots that bring safety features and capabilities to older generation aircraft.
It's all about to change. The future for general aviation, and especially for those that operate twin and turbine airplanes, is super bright. There are many reasons for my optimism: One of the best reasons is the huge advancements that have recently been made in autopilots. 
For decades, operators of aircraft that carry six to 10 people have had to choose between buying an expensive new version of a particular airplane to get the latest avionics or accept the lesser avionics and lower price-point that come with an older version. It's not just that the newer is nicer, the newer aircraft will assuredly have some serious upgrades that really do improve safety and functionality. For instance, you can now buy a new (or newer) Piper Meridian with the exceptional G1000 avionics suite and spend $1.5 million to $2.3 million. You could buy an earlier Meridian for $750,000 and accept a lethargic autopilot with virtually no safety features. Both Meridians will have identical performance, but the newer version comes from the Piper factory with a robust avionics suite. The same situation exists with the King Air 200: The avionics in a 2018 King Air 200 will do everything but cook breakfast, and a 1978 King Air 200 will have steam gauges and an autopilot that is questionable in the most serious of IFR conditions. But, things are about to change.
Just over the horizon are a bunch of very intuitive, actually affordable autopilots that pack a LOT of safety features. Plus, they will fly an approach like the airplane is on rails – incredibly exact. For the owner who operates an older airplane, options will soon be available.

The GFC600: A Game-Change
Heretofore, avionics manufacturers have focused on supplying the OEMs. Want the best new avionics? You will have to buy new. Now, the autopilot manufacturers are investing real money in the upgrade market. And, this is all about to be available. For some aircraft, it is already available.
I was recently contacted by Garmin to test out their newest autopilot, the GFC600. Based on the fabulous GFC700 autopilot that is found in the G1000 installations, the GFC600 is singularly outstanding.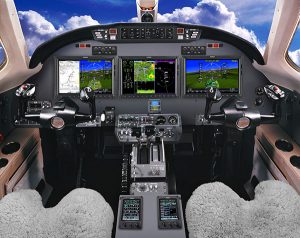 I test-flew the GFC600 in a Beechcraft Bonanza A36 owned by Tom Hass with Park Rapids Avionics. Tom allowed me to put the GFC600 through all sorts of flight regimes. From just after takeoff to just before touchdown, I never had to touch the controls. And, I flew the airplane from one end of the envelope to the other. It provides complete "envelope protection," has the "straight-and-level button," and it will fly a go-around (missed approach) with the pilot only having to advance the power and clean up the airplane. I was completely blown away by the features, precision and affordability.
And it's not just Garmin. An owner of a Cessna 300/400 series airplane can look forward to Genesys Aerosystems soon having STC approval for the fully-digital STEC 3100 autopilot. I fly the STEC 1500 autopilot often in the Piper Meridian, and if the STEC 3100 is anything like the STEC 1500, it is going to an excellent autopilot. The STEC 3100 will have envelope pro–tection, a "straight-and-level button," a
built-in AHARS, and some versions will be three-axis (meaning, it will keep coordinated flight in a turn; not just a yaw damper). 
To make it even sweeter, Genesys Aerosystems is launching a deal that will extend the warranty on existing parts of the system to owners who buy into the package early. Imagine buying a new autopilot and having the existing trim servos (which are still used in the installation, making it much cheaper to install) being included in the warranty.
I am excited for the Cessna 300/400 market; those are great airplanes that have recently languished because Cessna doesn't make them anymore. Someone needed to step in and help that market, and that someone is Genesys Aerosystems.
Remember that older King Air 200 mentioned earlier? The owner of that airplane can install the G1000 NXi and have an unbelievably nice airplane, arguably better than a factory-new. Own an early TBM 700? The GFC600 is on Garmin's list to receive the STC. A whole bunch of Cessna Caravan drivers are about to be smiling as the GFC600 should have STC approval this year.
Honeywell (Bendix/King) Avionics is also readying themselves to enter the market. They expect to have a drop-in replacement for the KFC150 in the very near future and should have the KI-300 attitude indicator fully STC'd soon. Nearly every KFC150-equipped Malibu (which I think is a fabulous airplane) owner will consider this very cheap option for upgrade.
What does all of this mean? It means that some really great older airplanes are about to have a new lease on life. A wise buyer can soon consider an earlier version of an airplane, install a virtually new avionics panel, and have an airplane that has nearly all of the safety features and amenities that a new airplane would provide. 
I suspect visionary investors will purchase a good airframe with low-engine hours, add a new interior and paint, remove the entire panel and install the latest avionics and autopilot, and will then own a very capable and good-performing aircraft. The 1989 Mirage (earliest year for a Mirage) goes just as fast and climbs just as quickly as a 2018 Mirage, but it has suffered on the market because of steam gauges and an autopilot with no safety features (KFC150). Many owners will still want "new," but there are plenty of pilots who will realize the cost savings of buying an older airframe with low hours and upgrading.
I see a sunrise on the horizon of aviation, not a sunset. Avionics providers are spending serious cash investing in retrofit products, and those of us who fly Twin & Turbine airplanes are about to benefit. The future is looking bright!