The fastest time to fly from one airport to another.

The top payload carried in a type of aircraft.

The shortest duration to reach an altitude.
These are just a few examples of the thousands of recognized flying-related records out there. In terms of "powered aircraft," current records date back to the infancy of flight. While some obviously cannot be broken, such as the Wright Brothers' first flight, there are many other feats to be created and records awaiting a challenger to rewrite history.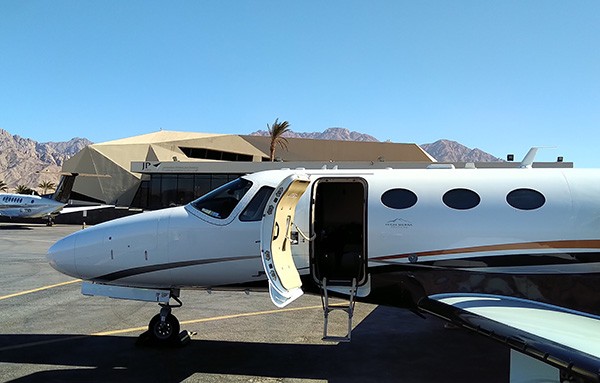 Background & Qualifications
The Fédération Aéronautique Internationale (FAI) was founded in 1905 and is the certifying body for the ratification of world and continental records and the organization of international competitions in aviation. Also known as The World Air Sports Federation, the organization consists of associates from more than 100 member countries. "Athletes" – those in competition and looking to set new records – compete in sports that include aeromodelling, amateur-built and experimental aircraft, ballooning, drones, gliding, microlights and paramotors, paragliding, power and glider aerobatics, rotorcraft, skydiving, space, as well as general aviation.
The organization's General Aviation Commission (GAC) is responsible for powered aircraft-related feats. Overall, there are more than 800 records in the turboprop category and almost four times as many in the turbojet category under the GAC's governance. Examples of such records falling under the merits of "Speed Over a Recognized Course" can be seen in the table on page 20. Speed Over a Recognized Course records represent the fastest certified speed of an aircraft flying between two cities or geographical features. Records may be flown between any cities or geographic features designated for that purpose, and any time spent on the ground counts as flying time.
The minimum distance between the start and finish points for airplane world records must be at least 249 statute miles (400 kilometers) in length and 125 statute miles (200 kilometers) for U.S. national records. The great circle distance between the start and finish points is used to calculate the certified speed, regardless of the route of flight. For airplanes, the start and finish points must be located within 38 statute miles (60 kilometers) of the town or town centers. However, the distance between the start point and finish point shall be no less than 98 percent of the distance between the city centers. To qualify as a record, the certified speed must be equal to or greater than the minimum steady flight speed (stall speed with flaps up) of the aircraft. Records are organized based upon the aircraft, which are placed into classifications, groups and sub-groups based upon the type of aircraft, its engine, and its weight. For example, a Beechcraft Duchess is classified as a "C-1c" (landplane, internal combustion engine, takeoff weight of 1,000 to 1,750 kilograms).
The National Aeronautic Association (NAA), affiliated with the Fédération Aéronautique Internationale, is the official record keeper for United States aviation. NAA provides observers for many record attempts and compiles the data necessary to certify aviation records through the FAI. Art Greenfield is the organization's director for contest and records and is the primary contact for American pilot records. For those with aspirations of having their names in the chronicles of aviating, Greenfield recommends careful review of the organization's "Speed Over a Recognized Course" Record Attempt Kit found within the "Downloads" section of their website (naa.aero). The 10-page resource lists a variety of important information:
Record Description and Requirements
Special Rules for Very Light Jets
Transcontinental Speed Records
Membership and Sporting License Requirements
Official Observers
Documentation Submission Procedures
And more…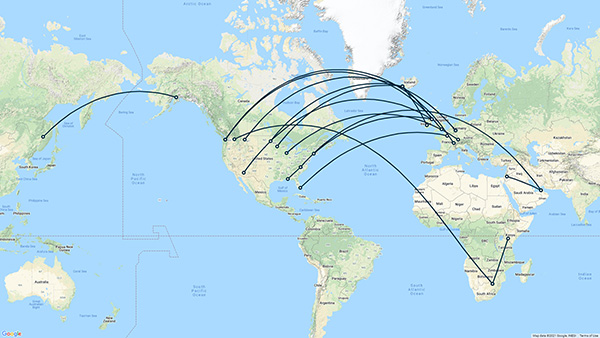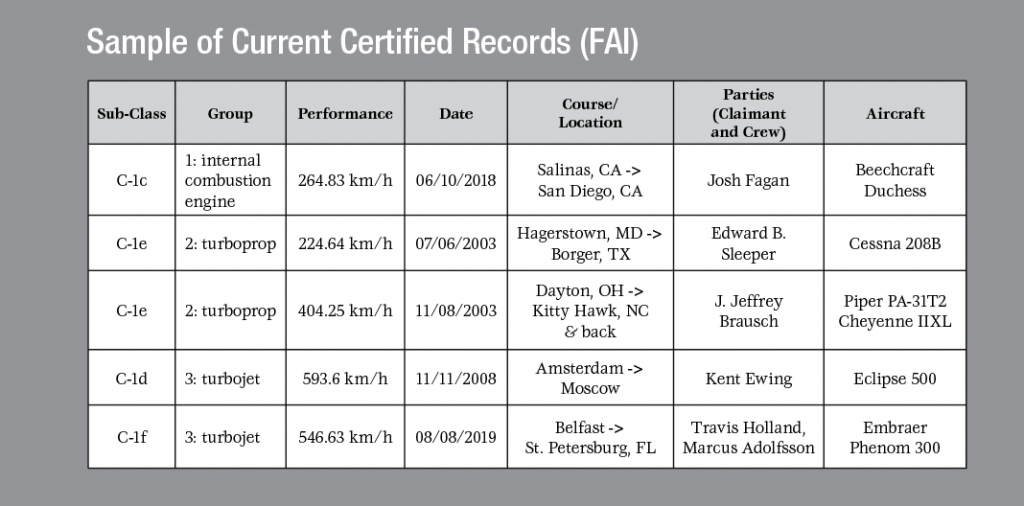 Meet a Record Holder
Travis Holland, a multi-typed ATP-rated pilot and president of Shepherd Aero, holds around 20 certified records in several different aircraft from a JetPROP to a Gulfstream V.
Holland notes that most of his records and record
attempts have taken place concurrent with relocation flights he has taken alongside his company's pilots or clients. Many of these records have either have been fully or partially accomplished outside of the United States, which comes with a greater set of challenges. The paperwork portion of the flight(s) typically being the "most challenging part," which becomes increasingly complex internationally. This is because all times (arrivals, departures, etc.) must be submitted by the control tower, if available. This can be tougher in other countries where tower operators have occasionally been hesitant or unwilling to sign paperwork.
In several instances where the paperwork has been completed efficiently for Holland, there have been some hitches. "We [my crew and I] tried to establish a record between Khabarovsk, Russia and Anchorage, Alaska. The air traffic control operator had noted the departure time before our departure, delivered the form to us, then granted takeoff clearance at exactly the time on the form. This was not accepted by the NAA and FAI. Ultimately, this record flight, although flown, was not granted record status."
While Holland commented that sometimes it feels his failed records are the most memorable, he also has many fond memories of his successes. One particular string of records was related to his December 2019 to January 2020 self-titled "Ferry Pilot Ironman," in which he flew three separate turbine aircraft around the world over a nine-day period.
"The first flight was from Wichita to Dubai in a Cessna Mustang. One portion of this flight was with Jade Hofeldt, a sales director with jetAVIVA, as my copilot (who was recognized on the FAI's record documentation as a crewmember). We had a red-eye flight to Greenland so we could take advantage of their operating hours to keep the record attempt's timeline tight. From there, the Middle East was next, as well as a change in planes. From Dubai to Indonesia, I flew an Embraer Phenom 300, which was traded for another Embraer Phenom 300 for the last portion of my 'Ironman' – Singapore to Seattle."
Thanks to his experience seeking and earning records, pilots consistently seek Holland's counsel on how they too can make an attempt themselves. One piece of advice he gives to those interested aviators is, "Safety is always more important than the record, and I have personally scrubbed many attempts when it has not been safe to do so."
As for possible flight ideas, the NAA maintains a "Ten Most Wanted Records" list. According to Greenfield, "Some of those records have not been challenged in a long time, so we have highlighted them as 'Wanted' to be broken."
There are many long-held records awaiting their newest challenger – maybe it will be you.
For more information, visit fai.org or naa.aero.