With the approach of summer, thousands of pilots and aviation enthusiasts begin to count down the days to the mother of all airshows: AirVenture Oshkosh. One
performer whose show is a don't-miss, 10 minutes of aerobatic artistry combined with aggressive, edgy maneuvers is Kirby Chambliss. An aerobatic champion and Red Bull Air Race star, Chambliss will bring his signature flying style back to AirVenture this year, along with a few new jaw-dropping moves.
What airshow fans don't typically see is businessman and owner-pilot Kirby Chambliss. To make those 10 minutes of outrageous flying happen requires a Rube Goldberg-like sequence of events that require organization, logistics and timing. One tool essential to the success of Team Chambliss is his 2005 Piper Meridian.
"When you own a racing team with a group of dedicated team members, you are constantly managing and making decisions. It's a business and my life is much more than simply flying an airplane," he said. "The Meridian allows me to be spend more time at home with my family."
All Consuming Dream
A native Texan, Chambliss grew up with the innate hunger for flying. "My dream of becoming an airline pilot consumed me," he recalled. "While a lot of kids grow up having no idea what they want to do with their lives, I was fortunate in that I knew exactly what I wanted from a very young age."
His father was a private pilot and skydiver, but he was reluctant supporter of his dream. Together they build a Davis Aircraft, an angular-looking, two-place experimental. Beyond that, he was skeptical that his son could reach the upper echelons of the pilot profession.
"To him, (flying for the airlines) was like winning the Olympics – extremely hard to do," Chambliss said. "But I was going to do it no matter what, and I did."
Working odd jobs – everything from hard labor to fueling airplanes at his local airport – he chipped away at his ratings and built time as an instructor, freight pilot and at 21, and a corporate pilot for La Quinta Motor Inns. Three years later, Southwest Airlines hired him as a pilot. He eventually made captain at the ripe age of 28.
Discovering Aerobatics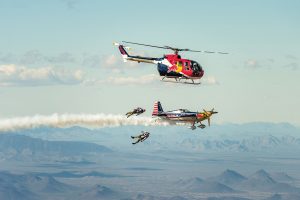 Back when he was still working as a corporate pilot, his boss, the chief pilot, was a strong believer in aerobatic training in the event the Citation they were flying ever experienced an upset. The company hired famed aerobatic performer and instructor Duane Cole to give 5 hours of dual to each company pilot in a Super Decathlon.
"This experience changed my whole life. At that point, I was bored with straight and level flying, and couldn't get enough of aerobatics. As soon as I was hired on at Southwest Airlines, I bought a Pitts S2A," he said.
Immediately, he realized two things: He couldn't afford the $38,000 he paid for it, and no one wanted to ride with him anyway. He sold the plane and bought a single-seat Pitts S1S for half the money. "The S1S was a lot of bang for the buck. You couldn't beat it. Monoplanes were just starting to make an appearance, but the Pitts was still an all-around great airplane."
As Chambliss built his aerobatic resume, he worked closely with Zivko Aeronautics in the development of the Edge monoplane, even serving as the test pilot from 1993 to 2005. He owned the prototype and today flies a stock Edge 540 powered by a Lycoming IO-540.
Chambliss went on to earn a spot on the World Aerobatic team, where he was a mainstay competitor from 1997 to 2005. Aerobatic championships fed his competitive spirit and propelled him to podium finishes including the 2000 World Freestyle Championship and five U.S. National aerobatic titles.
"I am a really competitive person. I raced motocross when I was little so maybe it all started there, but my saying has always been 'second place is the first loser.' Whatever I do, I do it to win," he said.
In 2003, the Red Bull Air Race held its inaugural contest, securing its place as the fastest and most challenging motorsport series in the world. In 2004, Chambliss won his first Red Bull Air Race World Championship, a feat that he repeated two years later. Chambliss has competed in every Red Bull Air Race since its launch in 2003.
"At its inception, you had to be one of the top 15 aerobatic pilots in the world to compete. I fell into that category, so I got an invite. I'm an adrenaline junkie and have always had a need for speed. Low-level flight, passing through air gates at 230 mph seemed appealing. There was still some elements of aerobatic flight involved. I think all those elements rolled into one are what really got me involved," Chambliss explained.
The air race took a three-year hiatus starting in 2013 for safety improvements and reorganization. Chambliss returned to the Air Race and has been competing ever since. His race airplane is a modified Edge 540 V3 powered by a Lycoming IO-540 engine and sporting a maximum speed of 265 mph.
"The race plane is always a work in progress. Our team has an aeronautical engineer on staff that designs mods and we are constantly tweaking to gain performance from the plane," he said.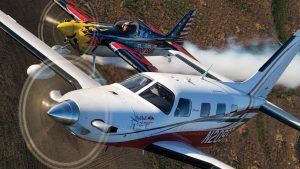 As the races take place at venues around the world, Chambliss' race plane must make the journey to the next location, sometimes halfway around the world. "That's probably the No. 1 question I get: How do you ship a race plane?" he laughed.
After the team takes the plane a part, the wing is placed in a cushioned box that resembles a giant suitcase. The tail goes into its own suitcase and the two fuselages are wrapped in bubble wrap and strapped to what Chambliss calls a steel "cookie sheet." The components are then shipped via air or sea freight to the next locale where the team is waiting to reassemble the plane.
Air show performances are yet another dimension to Chambliss' aerobatic pursuits. While the point is pure entertainment, he said that air shows allows him to tap into his artistic side. "I always say my airplane is like a paintbrush and the sky is my canvas. It allows me to paint a picture for everyone to see," he said. "What keeps me flying air shows is the ability to share my passion with people."
As most performers agree, AirVenture Oshkosh is the pinnacle of the air show circuit. "What I enjoy most about performing at Oshkosh is that it's not an average show. Most of the people there know what they are looking at when I perform. It's an honor to fly in front of so many of my own peers in aviation," he added.
Ever the perfectionist, Chambliss is working on new elements for his air show performance. "The Red Bull Air Force skydivers will be flying with us this year. We've been working on different gyroscopic maneuvers that are going to be super cool. We're also bringing back the helicopter program, bringing all three aspects together in one show. We're hoping that this will be ready for Oshkosh this year, but definitely for 2018," he said.
Meridian Carries & Connects
"The Meridian is a mini-airliner. It is very weather capable and very reliable. These two characteristics allow me to depart for an airshow later than previous aircraft I own, which means I can spend more time at home with my family," he said. "It's the most economical cabin-class single-engine turboprop available."
Chambliss didn't seriously consider any other airframe before buying the Meridian. He said the Meridian fits into a great niche between piston and twin-turboprop aircraft. Chambliss and his team flies the Meridian anywhere from 200 to 250 hours per year. It is also used for media rides, allowing reporters to observe and video Chambliss performing aerobatics and close formation flight.
"It is probably one of the most tested and researched airframes out there. We operate it out of our 2,000-foot private airstrip in Arizona. It's never hiccupped once on us," he said.
He strongly urges Meridian owners, or those considering the purchase of a PA46, to join the Malibu/Mirage Owners & Pilots Association (MMOPA).
"For a small fee, you get a great support from the membership and the gurus. If you post a problem on the Forum, there's a good chance someone out there has had that problem too and can provide advice. If not, the Meridian gurus who have been maintaining these airplanes from the start will jump on and help. MMOPA also offers a hotline for things like maintenance and avionics," he said. "The knowledge you gain from MMOPA can keep you from making a mistake someone else has already made, and it allows me the opportunity to talk to people that are just as passionate about the Meridian as I am."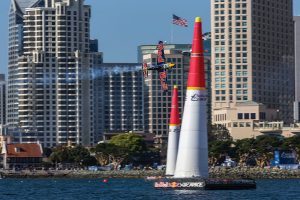 The things he wishes were better on his Meridian – endurance and integrated flight deck – are greatly improved on Piper's new M600, the latest iteration of the airframe. The M600 has better takeoff power, 260 gallons of fuel, and Garmin G3000 integrated flight deck.
"Two more hours of fuel is a huge difference," he said. "And I'd love to have that Garmin suite."
A typical week for Chambliss involves a several practice flights in his airshow plane to keep his skills sharp. "Normally the race plane is on its way to the next race and I have an aerobatic airshow plane here at home that I can practice with. I still practice my airshow routine regularly. When you are cartwheeling an airplane at 800 feet, you better be up to speed with it. I have waivered airspace at my private runway so I can practice maneuvers right here," he said.
The balance of his week consists of administrative tasks related to managing sponsorships and his race team. He also is hands-on with any issues, modifications, and repairs that are required with his fleet of aircraft. In addition to his Extras and Meridian, he also owns a Piper J3 Cub and a Fieseler Storch, which he calls a dirt bike with wings.
He also finds time to take a few skydiving jumps, a sport that he is just as passionate about. With nearly 1,000 jumps, he enjoys perfecting his skills and trying new tricks. All this fun is only a few steps from Chambliss' home at Flying Crown Ranch airpark where he lives his wife and fellow pilot Kellie and daughter Karly.
"I love making flying 3-D. I am literally the limitation in what I do," Chambliss said.