The Miniature Cabin-Class Twin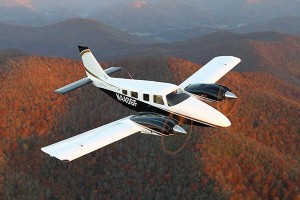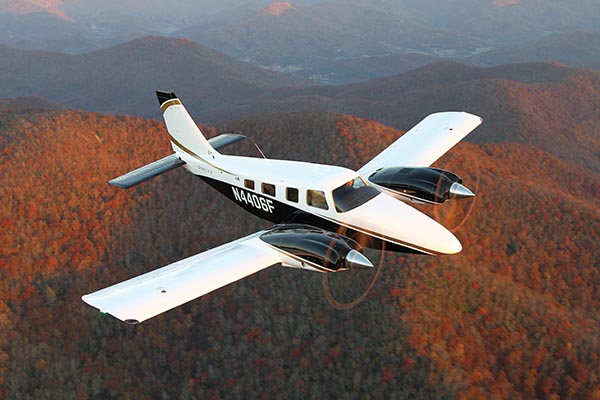 Just over 50 years ago, a genius mind at Piper Aircraft considered the possibility of widening the fuselage of a proposed six-seat derivative of the single-engine Cherokee. Another seven inches of width, he reasoned, would make it possible to squeeze three people into the second row of seats. Charter operators would love being able to haul three couples with a 260-hp engine.
And so began the very-successful PA-32 Cherokee Six wide-body series, which subsequently begat the Piper Seneca twin and the Lance retractable single (later the Saratoga), capable airplanes in their own right. The fortuitous lateral enhancement of the stretched PA-28 fuselage made it possible for the Seneca to have a roomy twin-engine cockpit, complete with co-pilot instrumentation. And the cabin's rear-door layout easily lent itself to a club-seating arrangement, with some entertainment and refreshment accoutrements, and even a bit of aft-cabin baggage.
Today's Seneca V is, like most legacy designs, a far cry from the original PA-34 that appeared in 1972. A steady march of capability development and tremendous advances in instrumentation and avionics have created a Seneca that far outclasses its forebears. With a full Garmin suite of integrated avionics, the current Seneca V carries a complete turbine-like cockpit.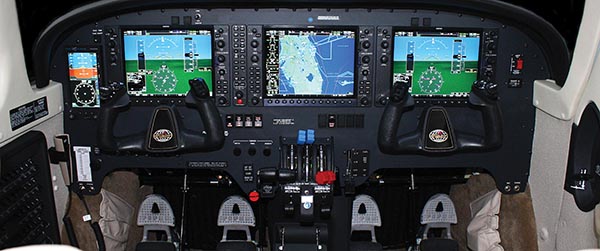 Five Decades Of Advancements
In the beginning, the Seneca was to be a plebeian replacement for the Twin Comanche, whose final demise came in the summer of 1972, when Piper's old Pennsylvania factory was inundated with hurricane-induced floodwaters. Rather than replace the damaged Twin Comanche tooling, it was considered wiser to let the Florida-produced Seneca carry the company's light-twin flag.
The first Seneca (which actually made it to market four years ahead of the single-engine Lance) used a pair of counter-rotating 200-hp IO-360 four-cylinder Lycomings, right out of the Cherokee Arrow. Given the airplane's 4,000-lb gross weight (increased to 4,200 pounds after the first year), the little normally-aspirated engine did not allow for much single-engine performance, a trait similar to the T-C the Seneca replaced. Two-blade props, straight-ahead seating for six (or seven, if slim), and a manually-actuated flap system kept the price down to an astounding $49,900. Piper, as always, was able to produce "more airplane for the dollar" than just about anyone.
The cure for the Seneca's lackluster engine-out performance was turbocharging and, rather than bolt on RayJay aftermarket blowers like the Turbo Twin Comanche had used, the nod was given to counter-rotating versions of Continental's TSIO-360 engine, with six cylinders and automatic wastegate controls. However, the engine's power output was limited to 200 hp in the PA-34T. The resulting Seneca II, introduced in 1975, could reach 13,400 feet on one engine, even with gross weight up to 4,570 pounds. Its aft cabin was also enhanced by club seating.
The Seneca II's Achilles' Heel was its 4,000-lb zero-fuel weight restriction, which didn't allow for more than 700 pounds or so of cabin load, even if fuel was limited. Additionally, standard fuel capacity was only 93 gallons, although another 30 optional gallons was soon made available. A beef-up to handle more bending moment in the wing carry-through structure resulted in the 1981 Seneca III, grossing 4,750 pounds and, more importantly, offering an increase in zero-fuel weight to 4,470 pounds. The Seneca III also offered a boost in takeoff horsepower to 220. By this time, the base price had ballooned to 2 1/2 times that of the 1972 model, but the Seneca was coming into its own; a one-piece windshield and better fit and finish were now in place. During its production, the Seneca III saw changes like electric flaps in 1985 and a 28-volt electrical system in 1989.
After a 12-year run, the Seneca III was replaced by a slightly-upgraded Seneca IV in 1994, sporting circular cowling inlets and sculpted nacelles. The base price was now over eight times that of the first Seneca, a factor shared by the rest of the industry as sales became scarce and aircraft production rates plummeted. Nevertheless, a much-improved Seneca V appeared in 1997, with the intercooled -RB engine variant and 220 continuous horsepower available. Although numerous changes have since been wrought that would warrant a new Roman numeral designation, it is a Seneca V that remains part of the Piper lineup today.
Now equipped with a Garmin G1000 three-display electronic panel and a GFC-700 autopilot, the latest Seneca V can be thought of a mini cabin-class business airplane, more than capable of filling the role of a light company plane, for those trips that are too short to justify a jet or turboprop. It can easily carry 1,000 pounds in the cabin with enough fuel for a two-hour VFR mission.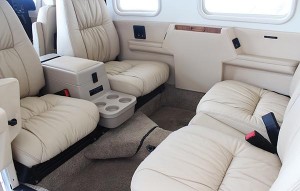 Systems Details
Construction-wise, the Seneca V is primarily an aluminum airplane, with composite non-structural components like cowlings and fairings. The engines are tightly cowled, with a manually-adjusted cowl flap underneath. Polished spinners house the 76-inch swept-tip McCauley props. The three-blade props turn at only 2,600 rpm for takeoff (versus 2,800 rpm in the old Seneca III). The left engine will normally have a retractable door and louvered outlets for an air conditioner installation.
The combustion-type cabin heater is mounted in the tailcone, instead of in the nose. Baggage capacity is 200 pounds, 100 in the nose compartment and 100 behind the rear seats, where a swing-up door is provided for access. The 122 gallons of fuel is carried in interconnected wing tanks, requiring no pilot management, serviced by filler ports in the outboard tanks. The wingspan is less than 40 feet and height is under 10 feet.
The landing gear system is hydraulically-actuated, electrically powered by a powerpack in the nose. All three gears carry a 6.00 x 6 tire. The wide-span flaps are electric, and the tail sports a stabilator pitch-control surface, as pioneered by Piper on the 1960 Aztec. It and the rudder have anti-servo trim tabs.
Boarding the rear seats is accomplished via a low slide-in entrance, through a door on the left rear fuselage. The two front seats are reached through an over-wing door on the right side. Most of the cabin is four feet wide; there's a foldaway worktable between the CEO's right-rear seat and the facing chair.
Underway
Up front, the darkened G1000 screens await activation with power-up; redundancy is provided by primary and backup batteries. Starting differs from normal Continental fuel-injection procedure, in that the boost pump is switched on while mixture is in idle cut-off, advancing the mixture to prime the engine, then cranking with mixture full-lean until light-off. This works well, hot or cold. With both fans turning, taxiing is enhanced by the low glareshield and sloping nose. Run-up is performed at 2,300 rpm, with feathering checks done at 1,500 rpm. With trim and controls verified, cowl flaps open and boost pumps on, the airplane is ready for takeoff.
Power is gradually applied to the 38-inch redline limit, even though the wastegate controllers should restrain full-throttle manifold pressure to that number. Vmca is a low 66 knots with either engine failed, Vxse is 78 and Vyse is 92. Rotation begins at 81 knots, flying away around 90. Gear-up, a normal cruise-climb is established at 110 knots, tweaking the power back to 35 inches and 2,500 rpm. While best-rate climb will generate 1,500 fpm, the cruise-climb gives 1,100 fpm with a lower deck angle.
As with most turbocharged piston planes, the Seneca V can scoot along at nearly 200 knots if flown up near 18,000 feet, but normal flying will be done at non-oxygen altitudes, since the cabin is unpressurized. At 10,000-12,000 feet, 175 knots is a typical max-power cruise figure, using 30 inches m.p. and 2,500 rpm. That requires about 30-gph fuel consumption, while 70% power of 25 inches and 2,300 rpm knocks around 10 knots off the speed but lowers fuel burn to 24 gph.
Handling at cruise speed requires more muscle than during climb and approach, but the Seneca V is properly responsive and quite stable, even when flown manually. Slowed down, the stall speed is a very un-twin-like 64 knots in landing configuration, so a 90-knot approach is more than adequate, and one can even use 80 knots over the threshold for short fields. A 10-degree flap setting is allowed at 140 knots, which easily slows the aircraft to the gear-operating speed of 128 knots. Full flaps can go out below 113 knots, and 15 inches m.p. holds a glideslope nicely. If passengers are not in the back, the Seneca is a bit nose-heavy in the flare, but it's easily managed with some additional trim applied. Runway lengths of 3,000 feet are adequate.
Facing only the Textron Aviation Baron G58 as competition, the Seneca V is 20 knots slower but less expensive to purchase and supply with fuel. Now well into its fifth decade of production, the Seneca V remains a dependable and flexible load hauler. With the latest instrument panel enhancements, it's ready to continue its faithful service.
SPECIFICATIONS: Piper Seneca V
Powerplants
Seats6-7
Fuel122 gallons
Performance
Certified ceiling25,000 feet
Single-engine ceiling16,500 feet
Max. cruise speed197 kts.
Stall speed64 kts.
Takeoff distance
(50 ft. obstacle) 1,707 feet
Landing distance
(50 ft. obstacle) 2,180 feet
Max. range
(w/45-min reserve) 828 n .mi.
Climb rate-2 engines1,250 fpm
Climb rate-1 engine225 fpm
Weights
Ramp4,773 lb.
MTOW4,750 lb.
Zero Fuel4,470 lb.
Landing4.513 lb.
Empty, std3,442 lb.
Useful load, std1,331 lb.
Dimensions
Wingspan38.9 ft.
Height9.9 ft.
Length28.6 ft.
Cabin length10.35 ft.
Cabin width4 ft.
Cabin height3.5 ft.
Baggage200 lb.
2015 base price$1,031,550
Information: www.piperaircraft.com