In 1972, "American Pie" by Don McLean, "Rocket Man" by Elton John, "Saturday in the Park" by Chicago and "Go All the Way" by The Raspberries were hits. My hair was shoulder length, shoes were platform, pants were bell-bottom and I did not yet have 100 hours flying time. I ventured to Oshkosh that year with six flight instructors by resting my scrawny, 110-pound physique on the seventh (jump) seat of a Seneca I. Back then, the first Cessna Citation (delivered to American Airlines) had been around only seven months, Vans Aircraft was only a year old, the convention's Wisconsin venue was only two years into its 50-year reign, Burt's VariViggen was brand new and the VariEze didn't yet exist. You could buy red 80 octane fuel everywhere, get a ride in a Breezy and Bob Hoover was the star of the airshow. Now the largest annual fly-in in the world, last year's EAA AirVenture Oshkosh officially hosted some 600,000 people from 87 nations, along with over 10,000 aircraft. But it's much more than a fly-in; it's a family reunion complete with a flood of memories. 
Dream On  

Half my life

Is books, written pages

Live and learn from fools and

From sages

You know it's true, oh

All these feelings come back to you 

– Aerosmith, 1973
My dream of flying to Oshkosh in an F-16 or as captain on one of my carriers S-80's or a 737 is fading fast. But since my first visit in 1972, I've arrived not only in a Seneca but a Piper Arrow, a Cherokee Six, a 235 (Charger), a Cherokee 140, the Duke (multiple times), a Honda 350 and 550 motorcycle, a station wagon, a Ford Explorer and this year the Jeep. I've attended the show for one day many times and when overnighting, I've slept in a car, an airplane, a tent, an apartment and in hotels. I've attended as a teenage student pilot, a private pilot, a fighter pilot, a Duke owner, an airline pilot, a Wings of Mercy pilot and as a writer for Twin & Turbine. We've been rained on (one year was nicknamed "Sloshkosh"), blown over, seen severe thunderstorms, a water spout, been carried off by mosquitos, scorched to the point of heat stroke and cold enough to wear extra layers. I've sported very long hair, an Air Force/airline crew cut and now barely any hair at all. And I wouldn't trade any of it for the world.
It Smells Like Fun
Unlike the structured IFR and VFR arrival procedures into the greatest family reunion at Wittman Regional, and in a departure from the traditional military writing protocol, this month I'm taking my own advice, riding in the back and taking a break from standard procedure. And, in accordance with the fighter pilot motto, a shoot-first and let God sort it out philosophy is my defense. I'm teaching a lesson to myself: Slow down and smell the avgas. I could say slow down and smell the jet fuel, but I burn Jet-A at work and the smell has become more like, well, work. For me, avgas has always been the smell of fun, especially at Oshkosh when it smelled like Mennen aftershave. Thanks, Ed Mahler and your Special AeroSport. I needed that. 
Regular readers of this column have likely noticed that I employ a certain format. First, I tell you what I'm about to tell you with a salivating introduction. Next, I actually tell you the information, story or event. And finally, we review what was told with a chest thumping, head-shaking or tear-jerking summary. Well, this article is going to deviate from the USAF format but not far from the level of sarcasm and wit that you've grown to recognize and expect. This month, I'd like to wax poetic about airplanes and Oshkosh – and don't worry, wax poetic was a euphemism, there will be no poetry. While humor, sarcasm, use of Elizabethan tongue, historical quotes, run-on sentences, made up words and even poetry ("Gettin' Hitched," T &T February 2019) are not used in official military correspondence, they often find their way into the writings of this ex-fighter pilot – don't tell Tactical Air Command (now Tactical Air Control). But the overriding formula has been one in which there is (eventually) a lesson applicable to aviation. The lessons applicable to aviation are usually summarized in a final hair-raising or tear-jerking Faulkner level of quality paragraph seldom seen in modern published periodicals. Did thouest notice the humor, sarcasm, sentence architecture and fighter pilot arrogance? That was the theme of the show this year after all.
Pilots not only have to learn, memorize, remember and keep track of massive amounts of information, but fly with hand-eye coordination beyond the ability of the average non-superhero – all while maintaining an even strain when the poo impacts the rotating impeller. Plus, we do the office job work thing when not in the air. We shovel snow, mow the grass, power wash the deck, fix the toilet and become a social virtuoso with amazing Saturday Night Fever dance moves during social events. Isn't it curious how everyone asks how we can fly those airplane things with trapeze-like skill despite having dance moves like, um, "that?" 
We Are Good Looking 
We can attribute the aforementioned writing style to the United States Military as well. And yes, we Air Force fighter pilots did more than fly, fight and um, fudge the facts – we had office jobs too. But sometimes we need a break from aviating, writing, shoveling snow and our questionable dance moves. We need to sit in the figurative right seat (or even the back seat) and enjoy the hard work of other superheroes. For me, AirVenture Oshkosh is one of those breaks. And the theme of the convention this year was from my past: fighters and fighter pilots. 
Before I flew prodigious, plodding, people-movers for pay, I flew a single-seat, single-engine, high-g weapon of war. To get a sampling of that F-16 past, read T &T articles "Passing Gas" (about aerial refueling) in January 2011; "Paper Airplanes" (about an F-16 test flight) in May 2011; and "The Van Ride" (about a hippie (me) and a surgeon (Dick Karl) that followed their dream of flight despite the long odds) in March 2014. And it's not just me. All fighter pilots have a similar chest-thumping persona; it's part of our charm. And it's also not that all pilots are unusually smart and good looking – it's just that smart, good-looking people happen to make better pilots.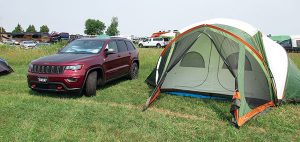 An Aviator Reunion
Each year at Oshkosh, I start by registering at the media credential check-in station before I head over to get a camping permit. After setting up camp, I go straight to the Fly Market. I guess it's the garage sale, hardware store, Tool Time (Tim Allen) guy in me that likes to browse through parts, tools and aircraft hardware. You never know what you may find that you didn't know you needed. Next is a tour of all four of the vendor hangars labeled A, B, C and D. Same rationale as the Fly Market plus a few of the vendor/tenants are friends and acquaintances, so the social bonding begins there. After the hangars, it's time to find some carnival food (that's my description though nowadays there is actually a pretty good selection of grub at the show). The opening night concert, Seaplane base, Wednesday night air show, STOL competition, daily flybys of various aircraft and activities at The Theater in the Woods are all worth attending. And of course, the many forums, speeches, recognition ceremonies and wide variety of parked aircraft all warrant attention. Did I mention there is an air show every day as well? Then, after the daily activities, the nightlife begins.
Oshkosh Caresses the Soul

You ask me if they'll come a time,

When I grow tired of you. Never My Love. 

You wonder if, this heart of mine, will lose 

its desire for you? Never, my love.

– The Association, 1967
I still feel like that long-haired, 110-pound, student-pilot-hippie when at Oshkosh, but now that I'm a balding, professional pilot and writer, I have an image to uphold, right? But the older I get, the more tears of joy and laughter Oshkosh brings to my eyes before and after the show. The avgas-fueled days are topped off with drinks at the campers and tents of fellow aviation aficionados. And after an exciting day and an evening of food, drink, revelry and stories of yesteryear, many folks are filled with plenty of aviation spirit (pun intended). A special thanks to the spirit-filled lady that was yodeling in her best Julia Child voice "hellooooo" from a tent window somewhere. It made me want to break into my Steve Martin Wild and Crazy Guy imitation with both hands alternately pointing skyward while singing "You've Lost That Lovin' Feeling." Well, it almost did. Oshkosh can do that.