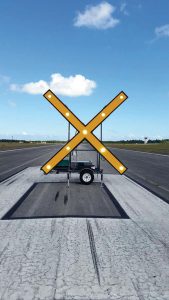 If you haven't noticed, it's construction season. And I'm not just talking about those annoying orange barrels that lead to blood-pressure-raising traffic backups on your local highway. I'm talking about the other annoying construction that has invaded more than 5 dozen airports across the United States. 
I'm personally feeling the pain. My home airport, Johnson County Executive (KOJC) is undergoing a complete rebuild on its sole slab of a runway. Construction is slated to last 120 days, and we all know that is probably optimistic considering the local government is in charge of the project. According to the County, the substructure of the 4,000-foot runway is failing, which requires complete demolition and reconstruction. 
With the runway out of commission, the east-side taxiway, which runs 2,900-by-60 feet, is currently being used for VFR day-only operations. In addition, there are multiple taxiway closures, making the ramp and runway environment resemble an orange-tinted mouse maze. The local FBO's are also feeling the pinch during construction, as the considerable jet traffic that transits KOJC has now moved to another regional airport.
Feel free to send me your condolences, or if you're suffering the same fate, your commiserations.
The FAA wants to help. (I'm being serious now.) It has created graphical airport construction notice diagrams that make it easier for pilots to understand where airport construction is occurring. The diagrams use graphically annotated airport maps to highlight construction areas to help you visualize runway and taxiways that have restrictions or should be avoided. Previously, the information was in text form, which wasn't that helpful at all. 
Diagrams for all airports with construction projects ongoing can be found on the FAA's website and are updated regularly as construction NOTAMs are posted. Type "FAA airport construction notices" into your browser search bar to pull up a listing of the airports. Although these diagrams have been available for years, not many pilots are aware of them.
Also, ForeFlight has made it easier to view these diagrams within its app, which to me is pure gold. Or should I say orange?
Another Helpful FAA Change
We've all been there: Attempting to pick up an IFR clearance at an uncontrolled airport, you dial up flight service, pick your way through the menu tree and then wait on hold for a briefer to come on the line. Then you wait while the briefer coordinates with center or approach control before issuing your clearance and void time. A seemingly huge waste of time and fuel if you're sitting at the hold short line ready to go. This happened to me last year while conducting an Angel Flight to the uncontrolled airport of Sundance (KHSD) outside of Oklahoma City.
Thankfully, the FAA has done something to streamline the process to make it easier for pilots. Check out the chart supplement, formerly known as the Airport/Facility Directory, for a clearance delivery number that puts you in direct contact with the appropriate approach or center facility for your airport. In ForeFlight, you can find it on the A/FD tab on the airport page. These numbers will ultimately replace the current Leidos Flight Service clearances number for all public and private-use airports with a chart supplement entry.
That's big government working for you in a truly helpful way!
In another common-sense move, the FAA is also discontinuing the Hazardous Inflight Weather Advisory Service (HIWAS) in the contiguous United States by the end of September. The reason? The usefulness of this automated recording system is next to nil compared to all the in-cockpit technologies and ADS-B weather products available for free. 
The agency said it asked for comments from the GA community and found that very few still utilized HIWAS. Eliminating this system will allow those resources to be applied in other directions. I bet controllers will also be happy to give up the required HIWAS chant: "Attention all aircraft. Hazardous weather information convective sigmet (insert number) for Kansas, Nebraska, Iowa and Missouri available on HIWAS, flight watch or flight service frequencies."  
For those of you who have been flying a long time and heard that announcement thousands of times: I bet you chanted it along with me. Hearing that declaration break the long silence between radio calls is about to become a thing of the past. 
Finally – in the "thank you federal government" department – if you were planning that once-in-a-lifetime GA flight to Cuba, you've missed your chance, for now. A new federal rule took effect this summer that bans the "people-to-people" educational travel exemption, which allowed private aviation flights to the island country. It's part of the Trump administration's effort to limit non-family travel to Cuba.
Anyone who violates the new rule may face a fine as much as $300,000. What's not affected are commercial, charter and air ambulance operations with authorized travelers on board.
What the FAA Needs is Leadership
As of this writing, the FAA still doesn't have a permanent administrator with the President's nominee facing a number of orange barrels on his way to confirmation. Unfortunately, the process has become politicized, something that has not happened in regard to the confirmation of the FAA and NASA administrators in recent history. If and when an administrator is on board, there will be no shortage of issues to address, especially as it relates to the Boeing 737 MAX grounding. Let's hope our governing agency can find its way through its roadblocks – especially for the sake of GA.