While understanding a starter's "duty cycle" is critical to any piston aircraft pilot, it's twice as important
when you're cranking up a twin.
Occasionally you just have one of those days: You're late getting away from your office. Traffic is a mess. It takes forever to file your flight plan. And to top it all off, your starboard engine just refuses to catch. You crank, and crank, and crank…all while muttering under your breath about beating that @#$&!! starter to death.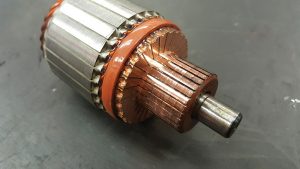 Honestly, a quick beat-down is a much more humane way to kill your starter than the slow and painful demise you are currently subjecting it to.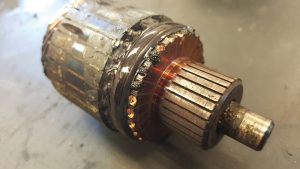 The unfortunate fact is, the vast majority of piston aircraft pilots don't really understand the significant damage we inflict on our starters through improper operations. No wonder so many of us have chronic problems with our starter's performance and reliability. And when you're flying a twin, you've just doubled your potential troubles.
So, what's a pilot to do? To get the scoop on proper operations I went directly to the source of all things starter related: Hartzell Engine Technologies, makers of the Hartzell and Sky-Tec brands of aircraft starters.
According to the company's Director of Product Support, Tim Gauntt, the main cause of most starter problems is most owners don't know how the system works, nor the stresses the starter experiences when you twist the switch.
"One area that the majority of pilots I talk to have little understanding is the importance of knowing and adhering their aircraft's starter duty cycle," he said. "Following the duty cycle guidelines will go a long way toward maximizing your starter's operational life."
What is a Duty Cycle and Why is It So Important?
Gauntt explained that the starter's duty cycle determines how well the starter can tolerate repeated starting attempts. And it includes a specified starter 'cool down' interval between each unsuccessful start.
"Not following specified duty cycle procedures will cause the starter to overheat and severely damage the unit's internal components, leading to premature starter failure," he said.
Most pilots don't understand that violating the duty cycle just a couple of times will do irreparable damage to the starter. In extreme cases, it can render the starter inoperable. Excessive cranking can also overheat the electrical supply system and cause accelerated wear to the wiring, contactor and elevated corrosion rates for the connections in the circuit.
The folks at HET feel so strongly about the importance of following proper duty cycle procedures they produced a short training video on the subject. You can see it at: https://www.youtube.com/watch?v=uvnrbUrPy8Y
Starter Due Diligence
As you'll learn in the informative video, every type of starter has its own particular duty cycle. And it's critically important for you to know which starter is in your airplane and how its duty cycle works. And so you don't have to take notes, here are the duty cycles for the most popular starter types as described in Hartzell's video.
Typical Duty Cycle Times for HET Sky-Tec Starters:
10 seconds of engagement followed by 20 seconds of rest for up to six (6) start attempts;
After that, allow 30 minutes of cool down before beginning the next start sequence.
Typical Duty Cycle Times for
HET E-Drive and X-Drive Starters:
10 seconds of engagement followed by 20 seconds of rest for up to 20 start attempts;
After that, allow 10 minutes of cool down before beginning the next start sequence.
Typical Duty Cycle Times for HET PM-Series Continental Starters:
15 seconds of engagement followed by 30 seconds of rest for up to six (6) start attempts;
After that, allow 30 minutes of cool down time before beginning the next start sequence.
Typical Duty Cycle Times for "Legacy" Starter Models (including the Prestolite and Electrosystems):
10 seconds of engagement followed by 60 seconds of rest;
Then 10 seconds of engagement followed by 60 seconds of rest;
Then 10 seconds of engagement followed by 15 minutes of cool down time before beginning the next start sequence.
"Following the duty cycle procedures may add a few minutes to your typical starting sequence, but understanding and following the procedures correctly will help your aircraft's starter provide you with many years of reliable service," Gauntt said.
Starting Problems Aren't Always Starter Problems
Gauntt said that a weak or slow cranking starter is one of the leading causes of people exceeding a starter's duty cycle. But, those symptoms don't always point directly at a dying starter.
"The starter is actually the last part of a sophisticated, multi-component starting system and problems with any of the parts, whether environmental, mechanical or operator-induced, will show up as 'starter problems,'" he said. "The health of the entire system must be well maintained to achieve consistent engine starting performance."
In addition to individual performance issues with the components mentioned below, if the engines are misadjusted or have a poorly functioning fuel system, they will also be difficult to start.
Battery: Batteries can vary in size and mounting location, either of which can influence the performance of the starting system. The efficiency of your battery can be especially critical in a twin, where the unit may be well away from the engine, requiring more cranking power.
Electrical connectors: They serve as the termination points for the electrical conductors that interconnect all the starting system's various components.
Electrical conductors: Typically, these are highly flexible, insulated copper or aluminum cables. The length and condition of each has a significant impact on the system's performance especially in a twin-engine configuration.
Switching devices: Their primary use is to control the flow of electrical power throughout the starting system.
Starter: The starter is the actual unit that converts the electrical power to mechanical energy in the form of torque, which is used to physically rotate the engine to initiate the starting process.
"No matter what the cause or reason, if any of the system's components are not working properly, the results can run from poor starter performance to outright damage to the starter itself," Gauntt said.
Starter System Troubleshooting 101
As Gauntt explained, the starter is at the end of a chain of components. In its simplified form, the starter converts the battery's electrical power to mechanical energy in the form of torque, which is used to crank the engine.
Cranking requires a significant amount of current (typically ~400A in-rush, ~70A cranking). Voltage at the battery equals the potential or push in the system, but if the system has too much resistance along the path, the battery can't flow enough current to the starter to do its job.
That resistance comes in the form of corroded terminals, dirty or worn contactors and old wiring. And, since they suffer from lower potential already, older aircraft with original 12-volt systems are especially prone to problems.
Also, take time to check the other components of the system to ensure good current flow including the aircraft's switches, relays, and even the aircraft's key or push-button starter device.
Age-related and moisture-induced corrosion can attack the connecting terminals and erode the internal contacts slowing the flow of power. Even the smallest bit of corrosion on a wire or connection point could be the source of a problem.
Gauntt said that a commonly overlooked point of corrosion is the engine-bonding strap. The ground system should be checked for electrical ground integrity using a VOM. A maximum of 0.2-ohms of resistance at any bonding/ground connection is the borderline limit.
While you've got the cowls off, check the condition of the electrical conductors and insulation around the wires for chafing damage. Gaps in the insulation will allow moisture to corrode the wiring, increasing its resistance.
A weak battery will make even the cleanest system struggle. Low voltage will require the starter to turn slowly and remain engaged for a longer period of time. Extended engagement periods will lead to heat build-up in the starter motor and reduce its service life.
And always, when it comes to battery troubleshooting, follow the manufacturer's guidelines for ongoing inspections, real-charge capacity testing and maintenance including checking the terminals for corrosion. Even a well-maintained battery could lose 2.5 percent of its charge in a week.
A Quick Word about Kickbacks
The dreaded kickback occurs when, during the starting process, the engine's crankshaft abruptly changes rotational direction. A significant kickback can displace the crank as much as 90 degrees in 33 milliseconds and cause significant damage to the starter's drive and gear engagement system. In extreme instances, kickback can actually break the starter's mounting pad away from the engine.
Gauntt explained that kickback issues can often be resolved by adjustments to the engine's ignition and fuel systems or through the pilot's 'modification' of engine starting techniques. Always follow the engine OEM's instructions when making changes to the system's settings or starting procedures.
(Hartzell Engine Technologies has introduced a new family of starters that eliminates kickback damage, but that's another story.)
New-Generation Starters
While the functionality of starters hasn't change in decades, Hartzell Engine Technologies (HET) and Sky-Tec currently offer an array of new-generation lightweight and legacy starters designed to deliver optimum performance even in the harshest environments.
For more information about Hartzell
Engine Technologies' complete selection of starters, please visit www.hartzell.aero
or www.skytecair.com.