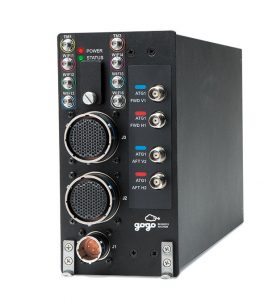 Gogo's latest AVANCE systems quick to be adopted across business aircraft.
What began as Aircell in 1991, Gogo has grown into a household name for airline passengers and business aircraft operators alike. Utilizing a network of cell towers, primarily in the continental United States, Alaska and parts of Canada, users can call, text, email, and browse the internet at 3G and 4G speeds. Their most recent systems, AVANCE L3 and L5, build upon the company's popular ATG product line which recently achieved 4,500 total installations.
Gogo AVANCE
One of Gogo's goals in developing AVANCE was to offer an efficient service upgrade process that could easily expand with user requirements and system capabilities. Both the L3 and L5 can be reconfigured to several different profiles to meet the needs and budgets of operators. If an operator wishes to change their service, they simply call Gogo and their system profile can be changed remotely through their communication link with the aircraft. Previously, an operator would have needed an avionics technician to accomplish the change on the hardware itself. The AVANCE systems can also proactively notify the Gogo support center of technical issues with their systems while airborne. In some cases, they can resolve problems before the aircraft even lands. 
The two AVANCE systems, L3 and L5, differ in capabilities and cost. The L3 is likely more applicable to the T &T audience as it was designed specifically with light to mid-size jets and turboprops in mind. It weighs approximately 18 pounds for the system and dual antennas. Offering the equivalent of 3G bandwidth, passengers and crew can obtain email, browse the web (useful for weather and planning updates), text and conduct voice calls. Users connect through the Gogo dual-band Wi-Fi router which is included with the system. Using this capability, you can connect your smartphone and utilize Wi-Fi testing and calling. This method allows you to use your own phone number, adding to the convenience to continue your conversation on the ground.    
Data Plan Options
To accommodate varied communications needs, Gogo offers a broad selection of data plans. They start by defining the number of aircraft users of the L3 system. The "Core" plan supports five devices, the "Plus" plan supports seven, and the "Max" plan supports up to 25. Each phone, tablet, and computer counts as one device. Whenever I use these systems personally, I remind my passengers only to connect the devices they need, otherwise, the system limit may quickly be reached. Of course, if you consistently need more devices to access the system, Gogo can remotely upgrade your access to the next tier.
For those L3 users who only need a maximum of five users under the Core plan, they can choose between an hourly rate of $99 (which provides light internet use, email, talk and text, and Gogo Vision Information services) or monthly and annual options. This is more expensive than the basic hourly plan offered by BendixKing for their global Inmarsat-based Aerowave system, however, there are some additional services with the L3. If and when stepping up to the Plus and Max plans, users do not have an hourly plan available and must select either pre-paid monthly and annual portions or pay as they use the system. The advantages of the higher-level plans are improved bandwidth and more devices. In talking with installation facilities, the L3 system typically costs $120,000-$130,000 installed. 
For operators of aircraft larger than the turboprops and light-mid jets, the AVANCE L5 builds upon the capabilities of the L3 by offering 4G bandwidth for faster communication. In addition to faster bandwidth, the L5 supports the control of various cabin management systems through their onboard platform. While the L5 does not offer an hourly or monthly and annual subscription plans, it does offer the pay-as-you-go options similar to the L3. The price for the equipment and installation for the L5 is in the range of $180,000-200,000.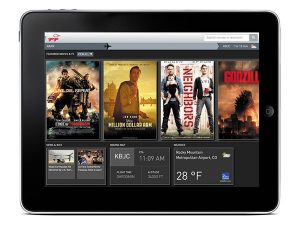 Gogo Vision and the DASH App
Both AVANCE L3 and L5 systems offer "Gogo Vision." Gogo Vision has two components: Information Services and Entertainment. The Information Services feature provides flight progress, weather, Bloomberg news clips, and other capabilities. The Information Services portion of Gogo Vision is included at no additional charge with either system. For those users who would also enjoy having onboard entertainment, they can add these features for an additional $595 per month. With the entertainment option, users can access movies, online magazines, and television shows from the onboard media server. These offerings are updated when the aircraft is on the ground, providing much faster streaming while airborne.
Both systems also offer the Gogo Dash App, a mobile and computer-accessible application that allows flight and ground personnel to monitor the Avance system. You can obtain real-time performance information, diagnostics, and even review your data usage. The latter is extremely important if you want to manage your data costs before they exceed your budget.
Airborne Cybersecurity
With the increased use of the Internet for conducting personal and business communications, users need to be mindful of security even while flying. Gogo has addressed these issues with their systems. Onboard the aircraft, all Wi-Fi communication can be secured with industry standard encryption (which I recommend implementing on any aircraft router). To isolate the growing number of networked aircraft avionics, the Gogo system's only interface is in a receive mode which avoids any potential interference. Gogo uses some of this information to determine flight progress as an example. Airborne users can still be affected by malware transmitted through websites or email, but it is nice to know that the aircraft communications companies are taking cybersecurity very seriously in order to minimize any issues.
Closing Thoughts
It is clear that the adoption of airborne communication systems has grown dramatically in recent years with a number of companies offering various options. Operators have the choice between satellite and ground-based systems, each with their own advantages and disadvantages. While the satellite-based systems are generally more accessible, the air-to-ground options offer some of the highest bandwidth. In some cases, operators can install both types of systems, optimizing the benefits of both. 
The introduction of the Gogo AVANCE line of products offers some of the most comprehensive systems on the market for ATG communication. The L3, in particular, provides another great high-speed option for turboprops and light-mid jets, with reasonable data plan options. For larger aircraft, the AVANCE L3 might still be more than adequate, unless higher bandwidth is needed in which case the L5 may warrant additional consideration.