Photo Courtesy of Textron Aviation
On a rainy Sun 'n Fun morning, I met with Tina Walser of Textron Aviation communications and Alex Chisolm, a factory-direct Bonanza/Baron salesman based near Washington, D.C. We looked at the latest versions of the Beechcraft Bonanza G36 and Baron G58 on display among the piston Cessnas, Caravans, King Airs and Citation M2. Although numerically eclipsed by the Cessna side of the company's offerings, the Bonanza and Baron stand out in the Textron Aviation product line and sat at the very front of the display.
The Beech Bonanza is in its 72nd year of continuous production – an all-time record for aircraft – while the Baron celebrates its 58th year of production this year. Supremely designed and proven aircraft, they are nonetheless continually refined and updated even today. I've personally flown and taught in these fine aircraft for nearly 30 years, so I asked Tina and Alex, "What's new for the Bonanza and Baron?" Here's what I learned.
Avionics
The latest feature for both the Bonanza and the Baron is the enhanced Garmin G1000 NXi, which adds full-time, automatic envelope protection to the fully integrated GFC700 autopilot. According to the Garmin website, the Electronic Stability and Protection (ESP) system is a safeguard that assists the pilot in maintaining safe, stable flight when hand-flying the aircraft. It constantly monitors the aircraft's flight condition, even when the autopilot is not engaged, and applies a control force toward stable flight whenever pitch or roll deviations exceed recommended limits. ESP also recognizes when the airplane is flying more slowly (underspeed) or faster (overspeed) than under normal conditions – such as a stall or spiral – and it makes appropriate adjustments to the controls. If the pilot does not respond sufficiently over time and ESP has been activated for a specified period of time – such as in the event of pilot distraction or incapacitation – the autopilot will engage with the flight director in "level" mode to return the aircraft to wings-level flight without overstressing the aircraft. ESP can be disabled by the pilot who wishes to intentionally exceed activation parameters. 
I haven't yet had the opportunity to fly the new G1000 NXi, but I do fly an A36 Bonanza with Garmin's GFC 600 autopilot with ESP. It activates when the bank angle exceeds 35 degrees, the pitch exceeds 20 degrees up or 15 degrees down, or the airspeed nears VSO or VNE. If I try to fly a steep turn, for example, the controls grow increasingly heavier as I enter the turn, nudging me back toward a shallower bank. If I fight ESP and continue, it will shortly seize control and activate the autopilot in heading and altitude mode. Similarly, when I practice stalls, it will begin to nudge the nose downward as I increase the angle of attack and speed decreases. If I persist, it will again take control in the autopilot's level mode. These protections are designed to prevent Loss of Control – Inflight, the most common fatal accident scenario. That protection is now available in factory-new G36s and G58s.
Interior
Another recent update to the Beech piston airplanes is a series of changes to the cabin interior that provide improved comfort including a sleeker, stowable writing desk in the aft cabin, and about one-inch greater elbow room. My impression is that the seats are a little plusher than in recent years, while still appearing taut, businesslike and sharp.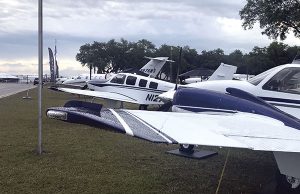 Buyers
I asked sales rep Alex who he sees as the most common G36 buyer. Alex says some pilots move to the G36 from a Cirrus or older Bonanza. But most frequently, in his experience, it's a relatively new pilot who previously purchased a new Cessna 182 and returned to Textron Aviation to buy a new Bonanza. Most buyers, especially those who previously owned a Cirrus, are ultimately aiming for a Citation M2 jet. The most common new G58 purchaser, Alex told me, is that same Citation-bound pilot wanting to get some piston twin time or corporate flight departments wanting a short-haul or backup airplane to augment one or more jets in a fleet. Still, some buyers are buying the G58 and G36 to be the last airplane they'll ever own. 
Why does Textron Aviation continue to produce these airplanes? "Because of the enthusiasm of Beech owners," said Alex. He should know as he was brought up in a Beech family, with his father selling Bonanzas and Barons for 35 years. The airframes are refined to their ultimate, he said, and although newer designs have entered the high-end piston market, the Bonanza and Baron are "still relevant" and continue to enjoy "tremendous public support."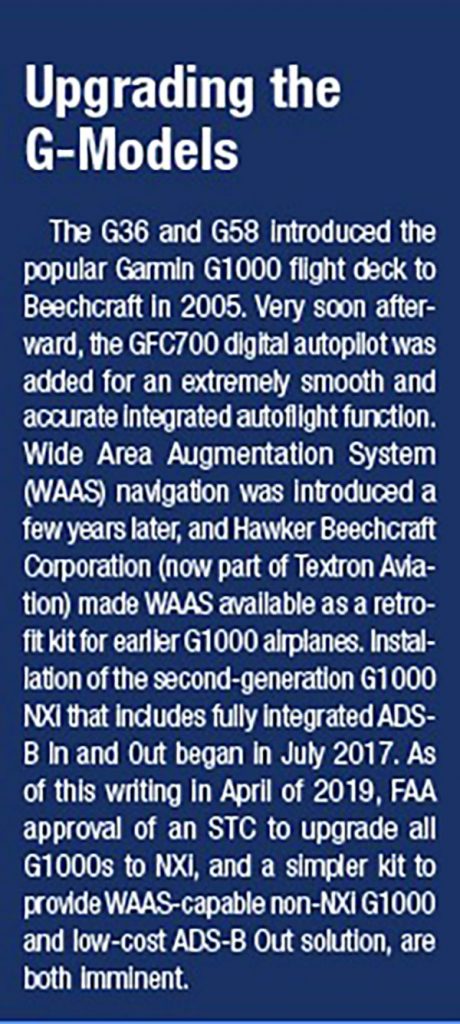 Pricing
The standard list price for the 2019 G36 is $914,000 plus options. Climate control (air conditioning) is standard while options include synthetic vision, active traffic and Sirius XM weather. Iridium is also an option for weather uplinks outside the United States and provides inflight voice and text communications in the U.S. and around the world.
Standard list price for the 2019 G58 is $1.486 million plus options, including all those for the G36 plus a ground suppression and turbulence detection radar enhancement. Climate control is also standard in the Baron G58. Additionally, Textron Aviation's in-house Bonanza/Baron transition training and a subscription to Garmin Pilot come with the purchase of a new G36 or G58.
Summary
Now approaching 15 years in production, the "G" series Bonanza and Baron represent a substantial percentage of Beech production history. Firmly rooted in the Beechcraft lineage, the G36 Bonanza and G58 Baron remain many pilots' first choice as the last airplane they'll ever own, and for others, it is a logical and desirable step along the way to their ultimate goal. All owners enjoy an airplane that is factory supported and continually refined to include the latest amenities and
safety enhancements.