Recently, business aviation stakeholders operating around Las Vegas, NV weighed in on the FAA's obstruction analysis of a proposed University of Nevada Las Vegas (UNLV) stadium less than a mile from McCarran International Airport (LAS), and its potential effects on aviation operations over the city. Following this community feedback, UNLV rescinded its request to have the site near
LAS reviewed.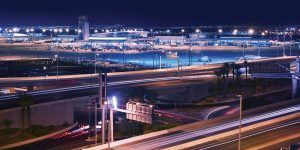 "General aviation, including business aviation, has a significant presence in Las Vegas," said NBAA's Director, Air Traffic Services and Infrastructure Heidi Williams. "NBAA thanks all those who mobilized to submit feedback on this proposed UNLV sports complex site, because the input of the community helped UNLV rethink utilizing the proposed site. This is a great outcome that supports aviation safety in the Las Vegas valley."
The proposed sports facility was centered on a state-owned land plot set aside for use by UNLV located approximately 1,690 feet northwest of the approach threshold of Runway 19R. Local operators disputed an FAA Obstruction/Evaluation (OE) assessment that determined the new building would pose no significant impact to current and future IFR operations at LAS.
"The FAA's determination that this facility won't have an impact on existing or future approaches isn't accurate," said NBAA Access Committee member Keith Gordon, who also serves as co-lead representing NBAA in the FAA's Las Vegas Metroplex airspace reconfiguration project. "We're building PBN [performance based navigation] approaches to Runway 19L and 19R, but those don't appear to have been considered in the OE."
Gordon also expressed concern with the stadium's size, with recent capacity estimates more than double the 28,000 seats initially proposed. "Parking area and stadium lighting, LED scoreboards, fireworks and laser light shows all represent potential hazards [to aviation]," he said. "We've already seen in other locations how troublesome it can be for aircraft operating on approach paths near sports facilities."
NBAA will continue to monitor the issue as the university considers other possible locations for the stadium.