NBAA President and CEO Ed Bolen represented the interests of general aviation (GA) in an appearance before a May 19 hearing by the U.S. Senate Commerce, Science & Transportation Committee focused on the debate over FAA reauthorization, and moving towards a privatized air traffic control (ATC) network.
Like most federal agencies, the FAA's funding and priorities must be approved (or "reauthorized") by Congress every few years. The agency's most recent reauthorization is set to expire in September, and the Commerce Committee holds jurisdiction over the formation of the FAA reauthorization package that will ultimately be considered by the full Senate.
"FAA reauthorization is among the most important issues currently before the aviation community," Bolen noted. "Business aviation is a critical part of the aviation sector, helping generate over a million jobs and more than $200 billion in economic activity each year. As the Senate debates reauthorization, this hearing provides an opportunity to remind lawmakers about the many ways business aviation supports citizens, companies and communities, and to ensure that the concerns of NBAA Members are well understood."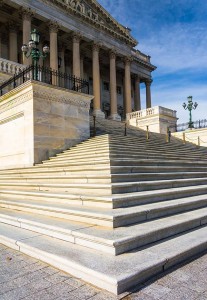 In testimony presented before the committee, Bolen specifically noted misgivings over discussions about transitioning to an aviation system in which Congressional oversight would be removed from aviation policy-making.
Bolen told lawmakers such debate is cause for great concern to the GA community, as it opens the door to agendas promoted by the interests of parties that might place bottom-line business priorities over ensuring that the aviation system serves the public interest – an assurance provided by long-standing Congressional oversight of decisions related to taxes, airport-and-airspace access and other policy matters.
"The question on the table – perhaps the fundamental question in this reauthorization debate – is who is going to ensure that our public airspace is operated for the public's benefit?" Bolen asked lawmakers in his testimony before the Committee. "The airspace above our heads belongs to the American public. It doesn't belong to any private company, or group of companies. It doesn't belong to any segment of the aviation industry, or even the aviation industry itself."
Bolen's appearance before the Senate Commerce Committee followed testimony he has provided to House lawmakers concerning FAA reauthorization. In recent months, Bolen has also participated in a number of Washington policy forums on the issue, including those hosted by the U.S. Chamber of Commerce, the Airline Pilots Association and other organizations.
The committee's hearing was the fifth in a series of panels recently held on reauthorization for the agency.