The National Business Aviation Association's annual convention and exhibition returned to Las Vegas, Nevada in November, a site that's always a popular diversion for business aircraft operators. Held later than usual, just a week before Thanksgiving, the show was preceded by cold temperatures and blustery 60-knot wind gusts that thankfully moderated as the week went on.
NBAA 2016 was a strong, healthy event for the bizav industry, despite sagging new aircraft sales activity. Support for the fleet requires MRO (maintenance, repair and overhaul) and service firms to maintain and refurbish legacy business airplanes to the latest standards, and these always account for a substantial number of exhibitors. Space in the cavernous Las Vegas Convention Center was taken up by 1,100 exhibits; some, like Gulfstream, Hondajet and Jetex, occupied huge volume with impressive structures, while others plied the crowd with showgirls, fast cars, personalities and sports stars. William Shatner, aka Captain James T. Kirk, arrived on the show's opening day in a Bombardier Global, promoting Bombardier's WAVE Wi-Fi system with Honeywell and Inmarsat technology.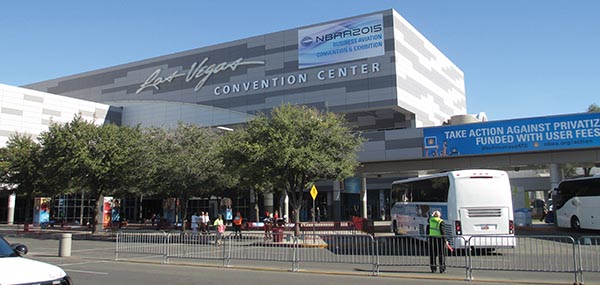 Some 27,000 attendees took in the show's seminars and presentations, which featured many local and national figures. During the opening General Session, U.S. Congresswoman Dina Titus, in whose district the convention was being held, welcomed visitors at the show's opening, followed by Oklahoma Governor Mary Fallin, formerly a Congresswoman herself, who voiced strong support for her state's business aviation and the national bizav system.
FAA Administrator Michael Huerta then remarked about the business aviation segment's recovery after a difficult period earlier. He said he was one of those "airport kids with his face glued to the chainlink fence" (how regrettable that we have to have fences at airports) and reported on the positive results of cooperative safety efforts, saying "aviation has never been safer than it is today." Looking to the future, he noted that GPS-based approaches now outnumber conventional IFR approaches, and that datacom ground-to-air communication is already implemented at certain TRACONs, with en route facilities to follow in 2019. Drones, he said, have the potential to be useful to industry, pointing out that the BNSF railroad has gained approval for rail line patrolling by UAS. An estimated 700,000 consumer drones were expected to be sold over the holiday season; Huerta expressed hope that registration will foster responsibility.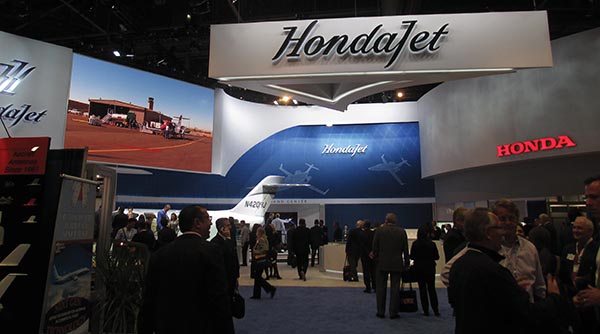 Country music star Dierks Bentley spoke at length about his discovery of business aircraft's ability to make the most of his time at home, with his heavy touring schedule. Already a pilot, he got current again in 2010, initially using a Cirrus and a Baron G58 and recently moving up to a Citation M2. With a professional pilot, he can enjoy some weekend breaks with his three children in spite of being on the road 150 days per year. In his words, thanks to business aviation,"we're now playing the best music we have in years."
Prominently noted at this year's NBAA, the association was calling for united opposition to ATC privatization and user fees, schemes that are once again being promulgated in Washington, after previous attempts by airline interests in 1997 and 2006. As pointed out by NBAA leadership, everywhere privatizing ATC services has been tried, general aviation suffers. Funding ATC through fuel taxes is both fair and efficient.
The second day's general session was equally impressive, sparkplugged by Captain Chesley B. "Sully" Sullenberger's inspirational recounting of the events leading up to the January 15, 2009 ditching of US Air Flight 1549 in New York's Hudson River. His life, he said, had been a preparation for that 208-second fateful moment, through gaining professionalism from his parents, attending the Air Force Academy and Purdue University, serving as a fighter pilot and spending two decades in the airline industry. Typically reserved, he modestly gave equal credit to his fellow crew members for the successful outcome, and stressed that, as pilots, we bear great responsibility and therefore need to foster professionalism in all our endeavors. Because of this dedication, he pointed out, it has been 14 years since a fatal U.S. large-airline accident has occurred, with 28,000 uneventful arrivals taking place every day.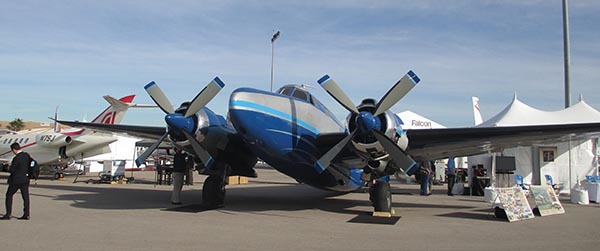 Joe Clark, innovator at Aviation Partners, who reportedly "did more for the environment than anyone in aviation" by developing fuel-saving winglet technology, received NBAA's Meritorious Service to Aviation Award. Bob Showalter, famed FBO owner at Orlando Executive Airport for almost 70 years, received the Jack Doswell Award, and the John H. Winant Award went to Jeff Lee of the Westchester Aviation Association.
News Of The Show
Textron Aviation's Cessna Citation division caused much of this year's NBAA buzz, by announcing a new Hemisphere mid-size jet, an even larger and longer-ranged Citation than the Longitude. The latter aircraft was shown in the form of a fully-decked out static test article at the airport display. The Citation Latitude, now in service, was parked nearby; all three aircraft feature flat-floor stand-up cabins and the latest advanced avionics. The Longitude's engine is now to be the Honeywell HTF7700L; the airplane will be built at Textron's former Beechcraft plant in east Wichita, taking advantage of space and skilled workers there. First flight will be in 2016, with deliveries beginning in 2017.
The Hemisphere, slated to fly in 2019, will be a Mach .94 airplane with 4,500 n.mi. range, targeted to sell for $35 million. Engine and avionics choices are yet to be announced. With the Latitude and Longitude, Cessna will have a progression of choices for Citation buyers moving up the size and performance ladder. Textron Aviation President Scott Ernest also said Textron plans to move ahead with development of a large-cabin single-engine turboprop, to be powered by 1,300 shp GE turboprop, offering 1,500 n.mi. range and 280-knot speed.
New aircraft, of course, abound at every NBAA show. Dassault brought an unpainted Falcon 8X, still in flight test, and Gulfstream showed up with one of the G500 flight-test airplanes. Hondajet showed its perennially ready-for-certification HA-420; FAA certification was subsequently issued on December 10, clearing the way for deliveries to begin after the first of the year. Piper's new M600 turboprop is expected to be available by Q1 2016. Pilatus celebrated the first flight of its second PC-24 "versatile jet" in Switzerland on Day 2 of the show, while announcing significant 2016 product improvements for the PC-12NG turboprop. Bombardier's Challenger 650 achieved FAA certification just a week prior to NBAA.
Big order announcements are also typical of the NBAA show, with Flexjet President Kenn Ricci signing an agreement to buy 20 of Aerion's proposed AS2 supersonic business jets, now projected to be available in 2023. More currently, Flexjet also ordered 20 more Bombardier Challenger 350s, doubling its order size. One Aviation, meanwhile, announced a Chinese deal for 20 of its Eclipse 550 very-light jets.
Retrofitting older airplanes was big news as well. In addition to Nextant's 400XTi and King Air 90XT refurbishing, Elliott Aviation announced its 400E upgrade program for Beechjet/Hawker 400's, which includes a Garmin G5000 panel.
Rockwell Collins and Duncan Aviation announced the availability of a Proline Fusion touchscreen update for the Proline 21 panel in Citation CJ3s, allowing owners to maintain ProLine familiarity while gaining ADS-B and WAAS capability. Sandel Avionics jumped into the flight deck business with an Avilon retrofit suite for the Beech King Airs, to be STC'd by June 2016. Universal Avionics was showing a Citation VII with its Insight flight deck instrumentation, and Innovative Solutions and Support had a Pilatus PC-12 on hand with its Future Flightdeck retrofit package, including an autothrottle installation that can be used with other PT-6A-equipped airplanes.
In the propeller world, Hartzell announced a five-blade composite propeller for the Pilatus PC-12, cloning its successful program for the TBM airplanes, as well as similar props for the King Air line. Not to be outdone, BLR Aerospace has developed a swept, five-blade "Whisper Prop" retrofit for the King Airs 90 and 200, using MT natural-composite propellers. For the first time, BLR also introduced Whisper Props for the King Air 350 at the show, designed to work with BLR's factory-standard winglets.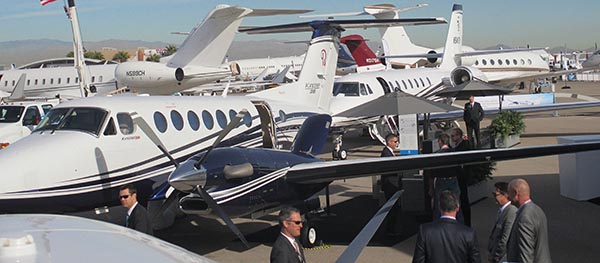 On The Field
The static displays were jammed with the latest new-manufactured offerings and gleaming brokered aircraft. Once again, 18 aircraft were on display in the exhibit hall, towed over from McCarran International, including a King Air 300 from Commuter Air Technology with a high-gross, extended-range fuel system mod. Over 80 airplanes were at Henderson Airport at the south edge of town, everything from a Boeing business jet to the Viking Twin Otter amphibian. Textron Aviation dominated with its combined exhibit of all the Citation and King Air airplanes. The hit of the static show, however, had to be a time-warp Howard 500 executive plane from the 1960s, based on the WW-II Lockheed PV-1 patrol bomber, a hulking taildragger with Pratt & Whitney R2800 radials and wide-chord four-blade Hamilton-Standard props. It could still run a good race with the modern business planes, offering 300-knot speed, stand-up amenities and picture windows.
Once the weather ameliorated, the 2015 NBAA convention was an outstanding event. Despite lagging new-plane sales, worldwide economic malaise and terrorism threats, satisfying the necessary business travel requirements of companies continues to be a major industry; nothing else can bring players together as efficiently and conveniently.
The 2016 NBAA Convention will take place in Orlando, Florida, from November 1 to November 3, 2016. For further information, visit
www.nbaa.org.