Business aviation's biggest event of the year is just around the corner. The 2019 NBAA Business Aviation Convention & Exhibition (NBAA-BACE) returns to Las Vegas October 22-24. Last year, the event attracted around 1,000 exhibitors and attendees representing all 50 states and 90 countries. 
In addition to dozens of education sessions, the convention will feature a variety of keynote speakers and products on display in the exhibit hall and static display. Included in the speaker lineup is recently appointed FAA Administrator Steve Dickson. Dickson will give two presentations on October 24: The first with high school students at the show's Careers in Business Aviation Day. And the next during the NBAA-BACE National Safety Forum, where he will provide his perspective on business aviation safety.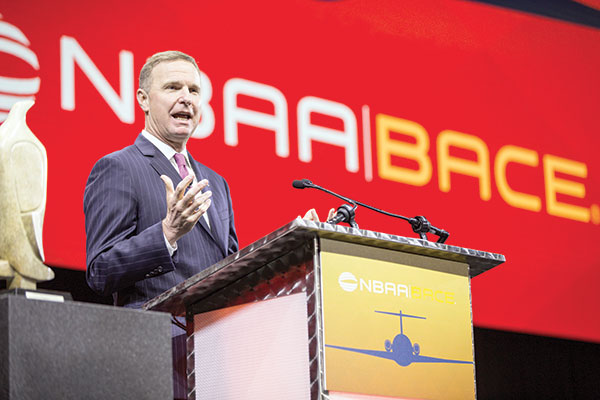 "We are honored Steve Dickson will be with us to inspire young people about the aviation careers awaiting them in science, technology, engineering, math and beyond," said NBAA President and CEO Ed Bolen. "We are equally pleased that he will be a part of the day we set aside at our convention each year to redouble our focus on safety, our industry's highest priority."
Debuting at the show this year is the New Product Showcase, described by NBAA as "a comprehensive presentation of business aviation's newest and most distinct products." On Oct. 22 from 1-2 p.m., 11 companies will present a product either new-to-market or about to be launched. Each of the exhibitors featured in the showcase will have 5 minutes to present a video or PowerPoint, giving the audience a peek into some of aviation's latest innovations. 
The following 11 companies will be presenting at the New Product Showcase:
Aero Crew Solutions
AeroLEDs, LLC
ALLProtect for Aviation
Avinode
CCX Technologies
Foreflight
Gogo Business Aviation
Jeff Bonner R&D, Inc.
Scott International Procedures
Textron Aviation
Thales
For owner-pilots planning to attend this year's convention, we have compiled some of the most relevant education sessions – pulled directly from the agenda found on the NBAA website (nbaa.org).
_________________________________________________________________________
Single-Pilot Safety Standdown
Time: 9 a.m. – 1 p.m.
The demands of piloting a sophisticated aircraft while running a successful business presents significant operational challenges that requires a continuous journey of learning that goes beyond bare-minimum qualification and currency. Just as you need keen insight to make informed decisions to succeed in business, so too you need emphasis on Aeronautical Decision Making (ADM) and Airmanship to safely and efficiently employ your airplane as a business asset. Learn key methods, techniques and resources to go beyond mere proficiency and take you on the path to mastery of your business aircraft.
Small Operator Symposium
Time: 1:30 p.m. – 5:30 p.m.
Small flight department managers have to juggle more than just simply flying the airplane. The Small Operator Symposium (SOS) is a half-day event focused on small flight department management and operations. Small flight department managers will have the opportunity to participate in audience-engaging sessions on how to manage the many responsibilities of operating and managing an aircraft from maintenance, to safety management including finding safe and reliable contract help. Subject matter experts will lead the discussions with ample time for open town-hall style Q&A and interaction with the audience.
 _________________________________________________________________________
Tuesday, October 22
A Collective Approach to Stopping Loss of Control Inflight
Time: 10:30 a.m. – 12:00 p.m.
Despite regulatory guidance and focused risk mitigation training, Loss of Control Inflight (LOCI) remains the leading cause of fatalities in all sectors of aviation. So, what can we do differently? This guided interactive workshop will ask attendees to take an active role in questioning conventional wisdom surrounding LOCI mitigation and recovery. Led by experts in Upset Prevention and Recovery Training (UPRT), attendees will analyze a hypothetical Safety Management System through a question and answer approach that encourages creative thinking and energetic debate, with a goal of forming group consensus about solutions to this grave issue.
Safety and Training in Part 135 Operations
Time: 10:30 a.m. – 12:00 p.m.
Hear from FAA, NATA, NBAA and NTSB about training and safety in part 135 operations. Learn why Improving Part 135 Safety was recently added to NTSB's most wanted list, what is being done to combat illegal charter operations, and efforts underway to improve safety, including an in-depth review of the Standardized Curriculum Advisory Circular expected to be released shortly before NBAA-BACE.
Meet the Regulators
Time: 2:30 p.m. – 3:30 p.m.
This always-popular session will feature key personnel from the FAA and other Federal government agencies that regulate the business aviation industry. After brief presentations highlighting recent and upcoming regulatory developments, attendees will have an opportunity to ask questions about aviation policy matters impacting their operation and the industry as a whole.
Bring on the Future: AI, Urban Mobility and Business Aviation
Time: 4:30 p.m. – 5:30 p.m.
What once was speculation has become fact: the future of aviation will be driven by artificial intelligence and eVTOL machines moving people within cities. These technologies bring
seemingly unlimited potential for reshaping how we interact with the world. How can business aviation safely harness the power of game-changing technologies to produce tangible results and increased revenue? Are there potential unintended consequences to consider? In this ripped-from-the-headlines session, our panel of widely respected
experts will cut through the hype to give you a common sense look at what AI and eVTOL aircraft mean for the future of the industry.
_________________________________________________________________________
Wednesday, October 23
Plane Cents: Increasing Your Aircraft's Life Cycle
Time: 9:15 a.m. – 10:15 a.m.
As aircraft age and go past warranty, obsolescence of parts, maintenance and engineering support are facts of life that generally limit the aircraft's life cycle. But what if you could prolong that life cycle, delivering increased value on your investment? A must-attend session for managers and maintenance personnel, this session will discuss methods and practices to help with aircraft
sustainment beyond warranty, including approaching aircraft modifications with longevity in mind and opportunities to implement repairs on the aircraft to keep it operationally relevant into the future.
Friends & Partners in Aviation Weather (Day 1 of 2)
Time: 1:00 p.m. – 5:00 p.m.
This meeting gives aviation weather information providers an opportunity to hear directly from the user community about their most important short- and long-term weather-related issues. Don't miss this chance to participate in
discussions that will motivate action on these important topics.
Sustainable Aviation Fuels: The Future is Now
Time: 2:00 p.m. – 3:00 p.m.
Sustainable alternative jet fuel is now available and federally approved for use in operations. But contributing to environmental stewardship in a tangible way, what is the incentive for operators to consider this technology when making purchasing decisions? Our panel of subject matter experts will set the record straight, honestly discussing benefits and potential drawbacks of this exciting movement, as well as break down technical elements of SAJF and its approved process for daily operations.
_________________________________________________________________________
Thursday, October 24
Friends & Partners in Aviation Weather (Day 2 of 2)
Time: 8:00 a.m. – 5:00 p.m.
(See description from Day 1).
NBAA National Safety Forum
Time: 9:00 a.m. – 1:00 p.m.
Join NBAA for its fifth annual National Safety Forum on Oct. 24 in Las Vegas, NV. This premier business aviation safety event will focus on the pursuit of excellence in airmanship while operating in our ever more automated world. As noted in several recent mishaps, maintenance and improvement of these skills continue to be critical when automated systems malfunction. Our expert speakers and panels will be conducting a detailed examination of what defines excellence in airmanship, including basic "stick and rudder," effective CRM, automation management, and decision points on when to disengage automated systems, as well as how to set up an effective continuing airmanship education program for your team.