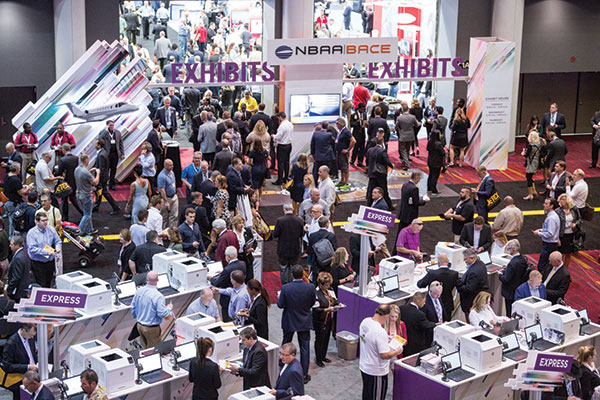 Business Aviation's biggest event of the year is quickly approaching. The 2018 NBAA Business Aviation Convention & Exhibition (NBAA-BACE) will be held Oct. 16-18 in Orlando, Florida. The event will feature a wide selection of education sessions, keynote speakers and exhibitors showcasing the latest and greatest in business aviation products. 
This year, NBAA is promising its largest and most diverse lineup of business aircraft. Approximately 110 fixed-wing aircraft will be on display between the main outdoor static display at Orlando Executive Airport (ORL) and the indoor static display on the Orange County Convention Center (OCCC) exhibit floor.
In addition, 50 education sessions are planned throughout the week, covering areas like operations, human resources, business management and leadership. The Innovation Zone, dedicated to hot industry topics, will feature discussion on technologies like remote-piloted VTOL aircraft, electric propulsion and artificial intelligence. Panel discussions will also highlight young professionals among the industry and explore strategies for developing young talent.
For owner pilots, NBAA 2018 has a number of relevant educational seminars. Here are a few sessions to take note of.
Monday, October 15
Single-Pilot Safety Standdown
Time: 9 a.m. – 2 p.m.
Single-pilot business aviators will have the opportunity to expand their knowledge and skills, while exploring practical tips to enhance operational safety and risk mitigation. Scheduled presentations include: a detailed analysis of single-pilot business aviation accident data; interactive discussions on mitigation best practices and leadership briefings from NBAA President and CEO Ed Bolen, Aircraft Owners and Pilots Association (AOPA) President and CEO Mark Baker and Experimental Aircraft Association (EAA) CEO and Chairman Jack Pelton.
Small Operator Symposium
Time: 2 p.m. – 5:30 p.m.
The inaugural Small Operator Symposium will specifically address issues facing operators with two airplanes or less. In the "Do You Like My Hat" session, the discussion will focus on the many roles played by someone managing a small flight department. The "Scaling the SMS Mountain" session will look at where small flight departments can learn how to properly address safety issues on a practical basis, and how a safety management system can help an operation of any size. 
Tuesday, October 16
Real Stories of Loss of Control:
When Upset Training Saved Lives
Time: 2:30 p.m. – 3:30 p.m.
Hear true stories of aircraft inflight upsets and how upset prevention and recovery training (UPRT) has helped pilots avoid catastrophe. Learn about contributing factors to loss of control, advantages and disadvantages of both in-aircraft and simulated UPRT, and how to create a persuasive business justification for your company to invest in this critical training.
Meet the Regulators
Time: 2:30 p.m. – 3:30 p.m.
Join for a discussion with FAA, DOT and DHS representatives for insight on timely topics relevant to business aircraft operators. Past topics at this session have included sharing safety data, FAA compliance philosophies and upcoming avionics mandates.
General Aviation 2025
Time: 3:00 p.m. – 4:00 p.m.
The convergence of technologies, such as electric propulsion and artificial intelligence, is shaping the future of transportation. This session will explore the challenges and benefits these game-changing technologies present, and look forward to how they will affect the next generation of general
aviation aircraft.
Wednesday, October 17
Friends & Partners in Aviation Weather
Time: 1:00 p.m. – 5:00 p.m.
Day one of two, this meeting gives aviation weather information providers an opportunity to hear directly from the user community about their most important short- and long-term weather-related issues.
___________________________________________________
NBAA-BACE Exhibit Hours
Exhibit Halls and Indoor Static Display of Aircraft
Tuesday, Oct. 16 • 10 a.m. – 6 p.m.
Wednesday, Oct. 17 • 9 a.m. – 5 p.m.
Thursday, Oct. 18 • 9 a.m. – 4 p.m.
Static Display of Aircraft at Orlando Executive Airport
Tuesday, Oct. 16 • 9 a.m. – 6 p.m.
Wednesday, Oct. 17 • 9 a.m. – 5 p.m.
Thursday, Oct. 18 • 9 a.m. – 3 p.m.