"NASCAR looks at private aviation as a necessity. We just could not succeed without it."
Within just a few minutes of our interview, it is clear NASCAR driver and entrepreneur Brad Keselowski is a big advocate for private aviation. Not for the flash and luxuries his fans might relate to jet ownership – but for the obvious increase in efficiency and capability his Lear 45 allows.   
"NASCAR looks at private aviation as a necessity. We just could not succeed without it," said Keselowski. "We also look at it as a cost savings tool, which is hard for the general public to understand. But because we are able to be more places and do more things, we actually drive down our cost. This week alone, I am in eight or nine different cities over a seven-day stretch. I just could not achieve that flying commercially." 
Each year, Brad's team logs approximately 250 hours of flight time, or 200 trips. While the majority of flights are to races and promotional events, he is also busy building his new company Keselowski Advanced Manufacturing (KAM), which specializes in additive manufacturing and CNC machining. 
During a recent stop in Wichita, we caught a moment to sit down with Brad to discuss NASCAR, the launch of his company and how his Lear 45 makes it all possible.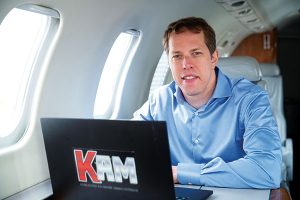 The Perfect Match
After upgrading from a Lear 31 to the Lear 45 in 2011, Brad felt he found the right airplane for his mission.
"This is almost the perfect airplane for what I do," said Keselowski. "We can get outside the weather, fit eight people comfortably, operating costs are relatively inexpensive and I can land on short runways which is critical so I can get close to my final destination. The capability of the Lear 45 changed my life for the better."
Each NASCAR race, Brad requires one or two teams of around 20 people each. To accommodate everyone, team members also fly on aircraft operated by Team Penske – the professional motorsports organization Brad races for.
"In our sport, there is a bit of a disconnect. Fans see you fly in a private airplane and they think you came from a fancy vacation when in reality, we came from another event or test session," said Keselowski. "As I've gotten older, I've embraced the fact people are not going to understand it, and that's okay. But it's nice to have publications like Twin & Turbine that do understand the majority of private aviation is not for leisure travel but for business."
Keselowski Advanced Manufacturing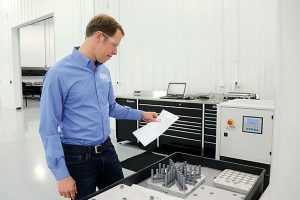 Additive manufacturing, also known as 3D printing, is a process that uses computer-aided design and hardware to build up or add material layer upon layer to create an object. By contrast, subtractive manufacturing is the traditional means of subtracting material from an object through milling, machining, carving or shaping. While additive manufacturing is not a new concept (it has been around several decades), it continues to evolve and the use of the technology is becoming increasingly common across many manufacturing industries.
Motorsports, for instance, frequently utilizes additive manufacturing in the construction of race car components. After noticing the benefits of such technology, Brad recognized its potential for widespread use and felt compelled to get involved in what he envisions will be the next industrial revolution. In January, he officially launched Keselowski Advanced Manufacturing (KAM) based in Statesville, North Carolina. His goal: Blaze a new trail for the next generation of American manufacturers by making additive technology more widely accessible.
"Motorsports tends to operate ahead of other sectors in technology and time because of its competitive nature. When I saw this technology firsthand, I thought to myself this should be available to the mass market," said Keselowski. "It's on the fringe of doing just that, and I want to help lead the way to make sure it does. I think it's got huge opportunities to improve the world we live in." 
Currently, KAM is comprised of a team of about 30 engineers and machinists, with plans to scale up to 100 within the year. They have also partnered with companies like ALSCO, BIG KAISER, GE Additive, Mazak Corp. and Pinnacle X-Ray Solutions. With tens of millions of dollars in equipment, KAM specializes in laser powder bed fusion – the process of creating a full component out of a bed of powder and metal by way of laser power. The company expects customers to come from several industries including medical, automotive, defense, oil and gas and aerospace.
"There is a big, big interest in aviation. The response has been very strong, and you are seeing companies like General Electric and Honeywell who have put a huge emphasis on it," said Keselowski. "Additive manufacturing has opened up doors and opportunities for them in both capabilities and supply chain management that didn't exist before." 
KAM is also involved in aviation projects, however, Brad explained it is hard to give examples because most of the areas are highly confidential or classified such as defense programs. But he foresees growth across the entire aviation spectrum in the coming years.
Adding Up the Benefits
So, what are the benefits of additive versus subtractive manufacturing in general aviation specifically? Brad explains there are many such as lighter, stronger parts with less hardware and tooling required.
"For new aircraft, additive allows for weight reduction and longer performance from the parts," said Keselowski. "It's also beneficial for prototyping new designs as you can get parts into a test environment much quicker than traditional manufacturing processes."
When asked what KAM's relationship could look like with aircraft OEMs, Brad says KAM is not a competitor but a partner – offering those companies the ability to move faster than they could on their own without sacrificing quality or the need to invest in the expensive equipment and in-depth training themselves.
"At this point in time, I would say aircraft OEMs are already using additive technology, but most of the components are coming from engine suppliers who built an engine using additive parts," said Keselowski. "In the future, more parts will come from self-driven initiatives and we will be there to help them."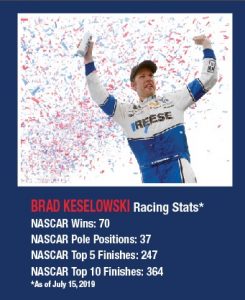 One example of additive's entrance into aviation is GE Aviation's Advanced Turboprop (ATP), which will power the new Cessna Denali single-engine turboprop. With advanced manufacturing techniques like 3D printing, GE engineers were able to reduce 855 subtractive manufactured parts to 12 additive manufactured parts. According to GE, this reduction in complexity speeds production, reduces fuel burn and weight, and increases durability with fewer seams and tighter tolerances. 
Additive technology is also growing among maintenance and repair applications. For example, if an aircraft owner requires a rare replacement part – particularly for an aircraft no longer produced – additive methods can re-engineer and construct the part without the costs of traditional tooling and fixturing. This can especially be advantageous on the smaller scale when only one or two pieces are required. 
Case studies can already be found of private owners experimenting with additive manufacturing on their personal aircraft. In one example, an owner enlisted the help of an additive company to re-engineer, print and replace the exhaust stack for his P-51 Mustang. The 3D part is stronger, more durable and reduced the part from four pieces to one.
While recent progress and momentum is evident, the question remains to what extent will additive technology be accepted and implemented in the highly conservative, safety-driven aviation industry? Brad predicts it is happening faster than some might think.  
"Only a decade ago, having a cell phone was nice but not a necessity. Now, it's an absolute necessity. It happened incredibly fast," said Keselowski. "The same thing will happen with the fourth industrial revolution. What exactly will come out of it is hard to predict, but the opportunities are abundant."    
To learn more about KAM's mission, visit www.KAMsolutions.com.