The inside story of watching the 2,000th CitationJet coming to life
I didn't start out knowing that I would be the owner of the 2,000th CitationJet produced when I decided to buy my next plane, but that's what happened. More on that later.
When I started flying in 2001, I had absolutely no idea the impact it would have on my life and my ability to do more with my time. Shortly after my first lesson, I bought my first airplane, a Cessna 182 Skylane, with two other friends. I was flying for pleasure and using it for business travel. As I gained experience and wanted more capability, I moved from the Skylane to a Mooney Ovation 2, then to a Piper Mirage (PA46), on which I later did the Rocket Engineering JetProp conversion powered by a Pratt & Whitney PT6.
After about 400 hours of JetProp time, I took over as CEO of a company that was in desperate trouble, and that meant I stopped flying for four years. Once the company was on a winning track, I decided to start flying again and was drawn by the desire to go farther, faster, while carrying more. I moved up to a TBM 700 but soon wanted still more speed and to be over most weather. That led to a Cessna Mustang, my first jet.
My Mustang was simply incredible. Cessna's design philosophy was clear in that the Mustang would exceed every single number in their marketing materials or AFM. The Citation M2 was released a little later, though, and so I moved from a Mustang to the M2, which also outperforms every number in the book.
Amid all of this, I retired, and continue to serve on boards of directors and occasionally consult for companies to help them with their operations. Using my own airplane to get to meetings and engagements has been like the proverbial "magic carpet." Today, I am as busy as I was when I was CEO of some past companies.


What Would Give Me More Range?
I have said it many times before, I simply cannot live my life as it is without my airplane. Many of my trips take me to various parts of the country from the southeast United States where I chose to retire. That led me to look for a plane with even more range. I knew that if I did so, I was moving into the category of biggest, most capable modern airplanes that still allow me to fly single pilot. Like many of us, I had also always harbored aspirations of buying a brand-new airplane and decided now was the time.
With each plane I have bought, I did detailed comparisons of all the available alternatives. I enjoy the process since all aircraft design represents a set of compromises intended to appeal to a target audience. I considered all the top contenders to determine which plane best fit my needs. That comparison document ended up being more than 60 pages.
One of the distinguishing features for me was the ecosystem surrounding the airplane. I was familiar with the Textron Cessna service centers, and I had never experienced a service organization that took better care of me and my plane. I have recounted story after story of the great experiences with the Cessna service group, and my own stories became pertinent in my analysis. Additionally, I had joined and participated in the Owner and Pilot Association (OPA) for every one of my plane types. For Citations, none is better than the Citation Jet Pilots (CJP) Association. My exposure to CJP gave me even more insight into the tremendous value it was bringing to owners and members and it allowed me to develop relationships with Textron management. So, when my technical analysis was complete and I was done weighing all factors, I decided to buy a new Cessna Citation CJ3+.
Textron Aviation was great to work with during the investigation and negotiation stages. At every step, my Cessna sales rep was ready with the materials I wanted to review to understand every aspect of the plane and the purchase process. I weighed every available option against my current and perceived future needs and discussed my impressions with Cessna's technical resources to ensure I was making informed decisions. With my preferences outlined against the resulting costs, at the end of 2016, I struck the best deal I could with Cessna and became the owner of a new CJ3+ with the forecast delivery date being end of May 2017.
Now the Real Fun Begins
From that point, the fun quotient only increased. One of the first things that made it real was that Textron sent me a package containing sample boxes of all the various interiors I could choose if I wanted standard materials and designs. I laid out all the various choices in groupings all around the house and my wife and I compared and decided on what the interior would be.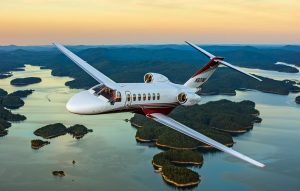 Similarly, with the exterior paint scheme, I could choose from 25 different templates with a wide range of colors or develop my own scheme. I was convinced I was going to use the same blue paint that I had on my M2 since I had received compliments almost every time I have pulled into an FBO. I selected some of the templates, various colors, decided where to put the registration number and any other markings, and Cessna's paint scheme team pulled together numerous looks from which I could pick. When I visited the facility, I met with the interior design team and paint scheme designer and saw all my choices on large screens, making it even easier to visualize.
I thought that whole step was behind me. However, when I was on the ramp at another airport some weeks later, I saw an amazing paint scheme and color on a much larger airplane. I took a picture and sent it to the scheme designer who came up with five different combinations to incorporate the colors that had so struck me. Right then, I changed the color choices and went with a brilliant red as the primary color.
Cessna management made sure I knew that I was welcome at any time on the production line, and that I was made to feel a part of the team as well. They assigned a dedicated customer account manager (CAM) as my primary interface for any questions, but the sales team, sales management, production department, and program management remained close throughout. I got pictures of my plane being built at least every week and often much more frequently. I set up a shared online photo album because of all the people that had interest in following along with the progress as my airplane took shape.
I visited the Wichita plant many times and met the people that were building my plane. They took obvious pride producing this incredible machine and loved meeting its prospective owner. I was invited into every step of the process, encouraged to visit often, and was shown every step they were undertaking when I was there. The production staff were so accommodating that I found I missed being there whenever I was away for weeks on end (see sidebar). The pictures did make that distance bearable, though.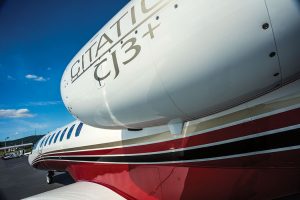 I don't want to give the impression that everything went smoothly. For instance, when I had decided on my options, I had wanted Wi-Fi capability and selected the GOGO ATG5000 unit. In reviewing the data plans, I had misunderstood their webpage and believed I was able to choose either a data-based package (pay by how many MB of data are transferred) or a time-based package (pay by how much time the system is explicitly turned on).
That turned out to be incorrect and the ATG5000 only permits data-based pricing, which is exceptionally expensive. I took this concern to Cessna management and we worked through a solution to find a win-win. The ATG5000 is the only unit approved for the production facility to build into a new airplane under their production certificate. So, we got the Cessna service group to come in after the airworthiness certificate was issued and replace the different components of the ATG5000 for those of the ATG2000 that permits time-based pricing with the same data throughput.
When I consider that I selected just about every system I could think of installed on this airplane including Sirius XM weather and radio, onboard radar with turbulence detection and ground clutter suppression, Wi-Fi, passenger briefing systems, TCAS II, TAWS-A and so on, it caused me to reflect on how far this platform has developed. That interest was piqued even more since shortly after I had placed my order to buy the plane, I received a call from Textron Aviation's worldwide senior VP of sales and marketing informing me that my plane was going to be the 2,000th CitationJet produced. Now, I was the visible beneficiary of all the prior CJ's that had been designed and built to put in place the means to produce the CJ3+.
CJ Line Benefits From Manufacturing Improvements
Textron Aviation's investment in the "Factory of the Future" for its larger cabin planes is trickling down to each of the CJ's. For instance, Textron has invested tens of millions of dollars in better fabrication machines that not only demonstrates their commitment to building airplanes locally, but have also resulted in savings of 20 to 30 percent when compared to outsourcing the parts. And they produce higher first-pass inspection results. They have also invested in robots where it makes sense, starting with the production of the aft pressure bulkheads of numerous models.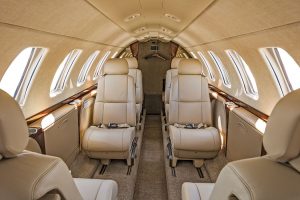 Those quality and production system improvements are evident when you walk through the production facility. Gone are the days of poor lighting and jig design that didn't account for workers' human factors. Now, everywhere you see, the conditions are well lit, well ventilated and well designed. All this translates to happier workers, higher quality work and more predictable schedules.
On April 10, right on schedule, the plane left the production facility to enter the Completion Center for paint and interior. It was thrilling to receive a video of my plane being pulled out into the sunlight for the first time! Now, the pictures I was receiving continued and even accelerated as the changes in the airplane's appearance were dramatic from one day to the next.
The most amazing pace of progress was during the installation of the interior. With that done, fuel filling and calibration along with P-static checks of bonding through the entire plane were prerequisites to start flight testing. That begins with simple engine starts, then ground runs, and finally taking to the air.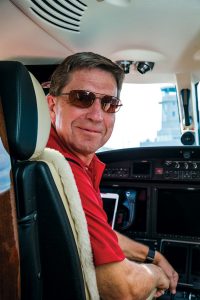 The last couple of weeks are the most painful. With all of the production, paint and interior complete, there is little tangible progress to report as the plane goes through all of the various test stages to ensure it meets the high-quality standards that aviation, and Textron specifically, demand.
Finally, the day arrived and I was able to see what being the 2,000th Citation Jet truly meant. A key presentation ceremony was held with hundreds of people, and I was asked to address the group.
Time to Fly!
When it came time for me to fly it, Twin & Turbine had arranged for world renowned aerial photographer Paul Bowen to take the pictures that you see accompanying this article. We met at Hot Springs, Arkansas airport (KHOT) to take advantage of the beautiful backdrop of Lake Ouachita and Arkansas mountains. We briefed the formation flight and planned out each minute over a period lasting about six hours.
Time to go flying again!
Mike Smith: A Member of the CJ Legacy
One of the people I met on the production line was Mike Smith, an Army veteran and now an aircraft structure mechanic that helps oversee the initial assembly of every CJ3+. He happily showed me the work he and other team members were doing assembling the fuselage. Mike has worked at Cessna for 18 years and his father, mother and brother also worked there, totaling more than 100 years of experience in the company.
Mike has witnessed the evolution of the CJ production and is keenly aware of care and meticulousness that must go into every step. He emphasized the focus on quality but also wanted to stress that they are always looking for ways to improve efficiency, accuracy and safety. Mike told me that "Attention to detail is a must. The entire team really works together to ensure we're putting out the highest quality possible."
I'm glad Mike is on Team CJ to help build my CJ3+