The rugged Ozark Mountain region of Arkansas and Missouri is not an easy area to serve with specialized medical care. Roads often wind through wooded hills, adding distance and hours when you have to travel between the small cities dotting the territory. Providing advanced health care in this setting is a challenge. To make the most of their time in clinical service, neurosurgeon Dr. Mark Crabtree and his associates make their rounds across the Ozark expanses to take care of patients by using a King Air 200 turboprop.
Far from sparse and desolate, the scenic Ozarks have attracted a burgeoning population of newcomers in recent times, folks who have discovered the numerous lakes, easy lifestyle and mild climate. Many are retirees, stepping off the treadmill but still active and living their dream. When health care is needed, at a level beyond that of the excellent community hospitals, traveling to a bigger city, like Little Rock, Arkansas or Springfield, Missouri, is a doable, but challenging, task.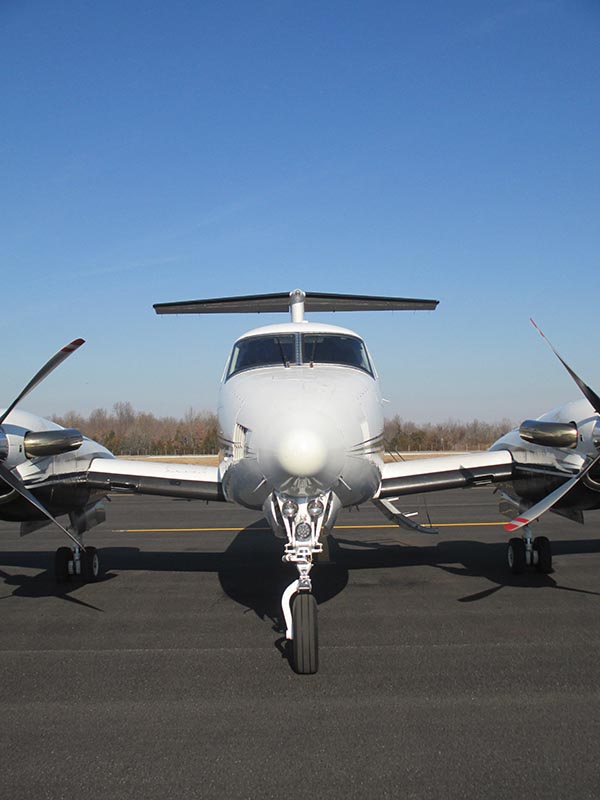 A Better Way
For Dr. Crabtree, the answer is to bring his team to the patient, using the roomy King Air. Built in 1981, BB-820 came off the production line very close to the change to the B200 version; it is, with several Raisbeck Engineering modifications and an upgrade from PT6A-41 to – 42 engines, the equivalent of a B200. The Raisbeck aft-fuselage strakes and Crown Wing lockers add stability and capability and the curved four-blade props create special ramp appeal, along with a performance boost.
Added in 2013, the Raisbeck swept-blade Power Prop propellers are noticeably quieter, according to chief pilot Jack Reynolds, and he says they also make stopping easier on the 3,500-foot runways he sometimes uses. This versatile flexibility is what makes the big King Airs so successful. With the gross weight limited to 12,500 pounds, no type rating is required and operating rules are simplified, yet the cabin can hold up to eight passengers. In addition to making the Ozark-area circuit, the aircraft also makes occasional trips to Colorado and to the West and East Coasts from its Springfield, Missouri base.
The King Air's panel still carries stock Beech-installed equipment, built around Rockwell Collins FD-108 mechanical gauges and AP-105 autopilot, but it's been supplemented by modern conveniences like a Sandel HSI and two GPS-supported units, a Bendix/King KLN90B and a Garmin G-500. Reynolds, a retired Center controller, has been flying for over 50 years, so the comfortable, familiar equipment suits him just fine. In addition to his other duties, he is currently the President of the United States Pilots Association (uspilots.org), a national pilot organization run entirely by unpaid volunteers. USPA, Reynolds says, is all about safety, promoting regular accident-prevention seminars, and having a good time with your airplane.
Dr. Crabtree's King Air does not have high-floatation maingear or bleed-air heated brakes, neither of which are needed in their usual operation. On longer trips, Reynolds says he likes to get the airplane up to FL270 or 280, where it holds an 8,000-foot cabin altitude and zips along at 270 knots while burning less than 80 gallons per hour. Utilization averages around 200 hours per year, and the airframe had accumulated 10,500 hours at the time of our visit, a fact belied by its immaculate interior and paint job. Simcom Aviation Training is used to maintain pilot proficiency.
Off To Make Some Rounds
We met Jack Reynolds and copilot Jan Hoynacki at dawn to tag along on a day trip around some of their usual Ozark stops; Reynolds tugged the big King Air out of its private hangar at Springfield-Branson National airport and supervised its fueling. Today's mission carried five passengers plus two crew, for a takeoff weight of about 11,000 lbs. Dr. Crabtree, accompanied by two nurses and a physician's assistant, arrived on schedule with the usual pile of records and equipment, and we were soon off and running.
The PT6A-42's started reliably cool, the first engine peaking out at less than 800 degrees C., well under the 1,000-degree starting redline. With gen assist, the second engine responded even more eagerly, with a 640-degree start, and after governing, rudder bias and autofeather systems were checked we launched for Mountain Home, Arkansas' Baxter County airport (KBPK), a 150-nm hop that would be a considerable distance farther by road.
Cleared to 10,000 feet, the big King Air climbed out at 2,000 fpm before power was reduced to 1,900-lbs torque and 1,900 rpm, delivering a steady 1,500 fpm at 150 knots. With 850-shp per side, the underweight BE200 wasn't even breathing hard. Minutes later, in cruise, we were indicating 210 knots, truing 240 knots with the props pulled back to a quiet 1,700 rpm, on a fuel flow of 350 pph per side.
Very shortly, we were on the ILS approach to runway 5 at BPK, whose 5,000-foot runway is typical of the region's general aviation airport system. The King Air 200's landing gear is an excellent speed brake, deployable at 182 knots; approach flaps can be extended at 200 knots or less, and full flaps can be out at 144 knots or less. The big turboprop maneuvers nicely at just 125 knots and Reynolds crossed the threshold at 100 knots, requiring only a touch of reverse to exit at the three-quarters turnoff.
In the time-honored tradition of business flying, we loitered at the nicely-appointed FBO while the medical folks were occupied with their clinical work. Big Air, an Avfuel service center at BPK, treated us like visiting royalty. The busy FBO's Customer Service rep, Brian Daugherty, says the field regularly hosts business jets up through Hawkers, and several jets and King Airs are based on BPK. As we were departing for the afternoon rounds, a local Citation was leaving for Las Vegas. On a typical day, Dr. Crabtree can visit three or four of the outlying destinations, impossible by any other means of transportation.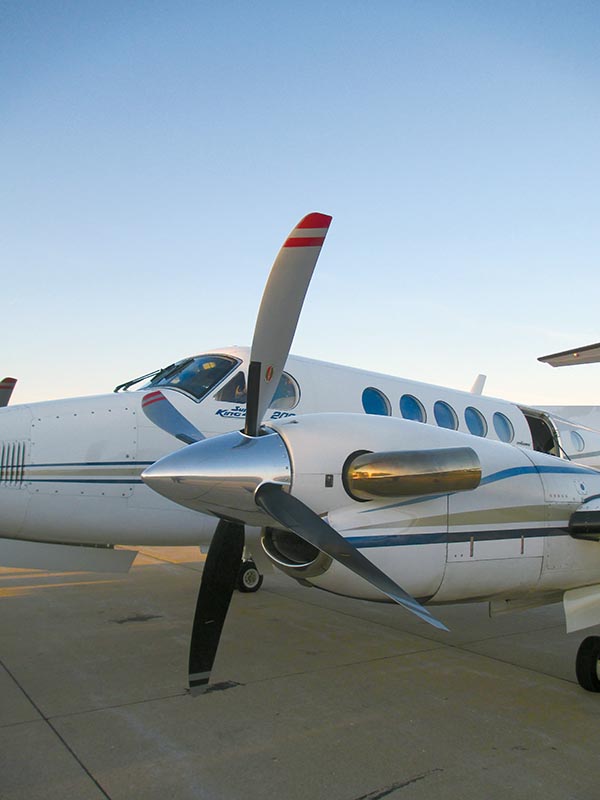 Heading For Home
The day's last stop was Little Rock's Adams Field (KLIT), a long-established business flying center, where we parked at the former Central Flying Service FBO, now TAC Air. After finishing the final business of the day, we boarded for the 240-nm hop back to Springfield. After a full day on the road, it was great to have a fine, dependable airplane to take us home in a hurry. With fuel burned down and one passenger deplaned, the Super King Air accelerated to 100 knots for Vr like it was knew it was heading for its hangar, and the initial climb rate zoomed to 2,500 fpm. Held down to 12,000 feet by ATC constraints, Reynolds pushed the power up to 2,000 lbs. torque for a few more knots of get-home speed, nudging the groundspeed up to 275 knots.
In less than an hour, we were on the approach to SGF's runway 2, where reverse thrust wasn't needed because our hangar was waiting at the departure end. By using the venerable Super King Air 200, the aircraft's owners can squeeze several days of productivity out of one day away from busy practices at their home bases. Like many business aircraft owners have learned, time is precious; the less of it you spend commuting between stops, the more you can grow your business.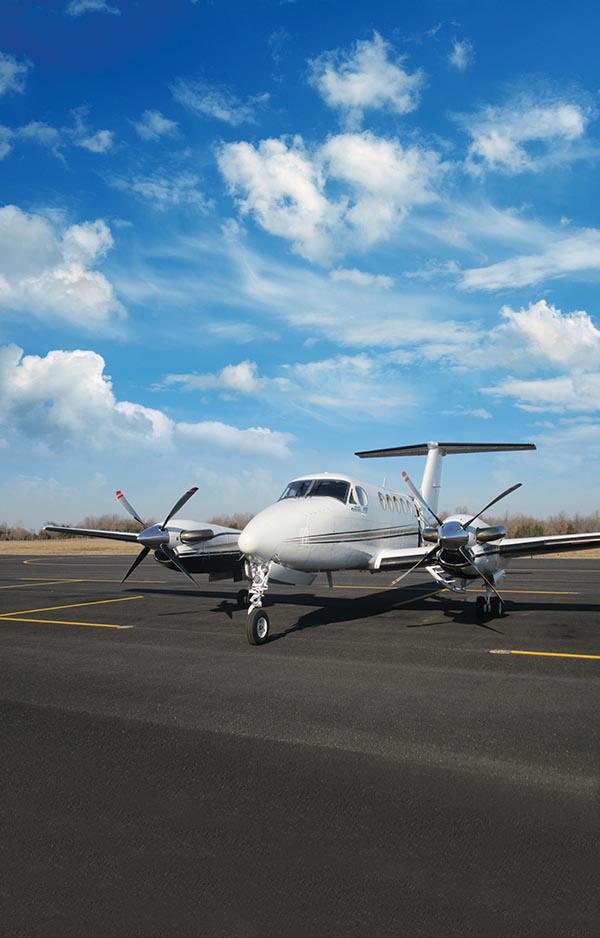 The big King Air 200 may be approaching middle age, but it can still deliver a good day's work.