"It flew like a good B-29."
Six, simple words — representing decades of tireless work.
On July 17, 2016, history was made when a fully restored B-29 named
"Doc" roared back into the sky for the first time in 60 years.
First Flight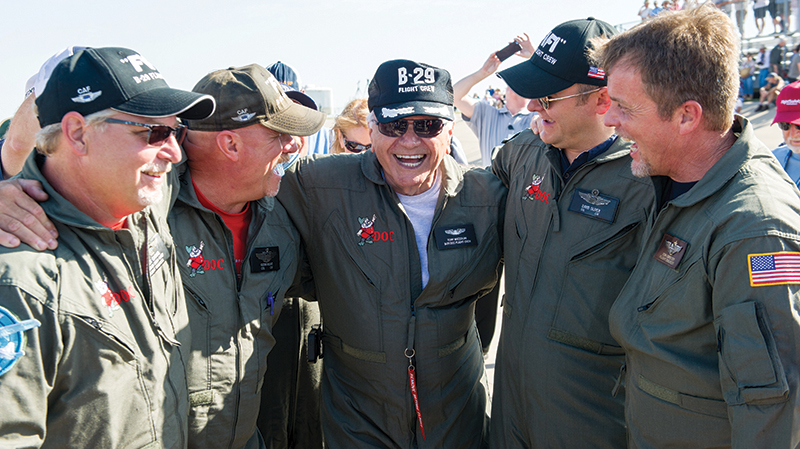 Everyone is in place by 8 a.m. Approximately 250 volunteers, supporters and media crowd the designated VIP watch area — a roped-off grassy strip by the McConnell Air Force Base runway in Wichita, Kansas.
It's flight-perfect weather, with clear skies and light winds from the south. The energy is contagious. Hugs, smiles and high fives are shared all around. A day nearly 30 years in the making has finally arrived.
A few especially popular attendees include Tony Mazzolini, Doc's rescuer, Charles Chauncey, a World War II B-29 pilot, and Connie Palacioz, a real-life Rosie the Riveter (who riveted a portion of Doc's nose over 70 years ago). Individuals who represent the large numbers of airmen, factory workers and patriots this airplane's mission is meant to honor.
"The reason I started this project is to help keep the memories alive and this national treasure visible," Mazzolini later reflected. "After you put in so many years, it's hard for me to put into words how it felt to get to first flight. But it was emotional, there is no doubt about that."
Just south of the fenced runway, more than 1,000 people of all ages have gathered, some who have traveled hours from neighboring states to witness the event. Police have barricaded the street to safely accommodate the masses. 
Additional spectators include more than 65,000 viewers who have tuned in to watch Doc take flight via a live web stream. Over the years, social media has helped Doc accumulate thousands of passionate followers and fans from all over the world.
Nearby, four massive 3,600-horsepower hybrid radial engines roar to life, one at a time. The ground-shaking rumble is the product of Doc's hybrid Curtiss-Wright 3350-95W and R-3350-26WD engines.
The flight crew aboard is primarily composed of B-29 flight crewmembers from the world's only other flying B-29, FIFI, operated by the Commemorative Air Force. The crew made several trips to Wichita to work closely with Doc's Friends restoration team leading up to this moment. Charlie Tilghman, retired Southwest Airlines captain and former Air Force pilot, is pilot-in-command.
"Anytime you are dealing with an airplane as big as a B-29, it takes lots and lots of people. It is a joint effort," explained Tilghman. "This is an airplane with no pilot amenities: no nose-wheel steering, no anti-skid brakes, no reverse, no boosted controls, no yaw damper, no autopilot. It takes a little muscle to fly … but it's a good-flying airplane."
Cheers suddenly erupt. Doc has begun to taxi. The world is about to gain its second flying B-29 Superfortress.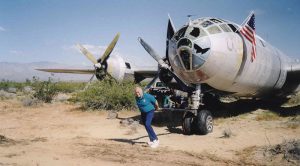 B-29's Role in WWII
The Boeing B-29 Superfortress made its way to the drawing board in 1940 after a request was released from the U.S. Army Corps for a long-range heavy bomber aircraft. Tensions were rising overseas; continental Europe had fallen under Axis control and the need was becoming urgent for an aircraft that could reach Europe from the United States.
The request crossed the desk of Phil Johnson, president of the Boeing Aircraft Company. By June, Boeing approved the Model 345, and a wooden mock-up was completed by the end of the year. The urgency of production soon catapulted.
On Dec. 7, 1941, the Empire of Japan attacked Pearl Harbor, and the United Sates was violently thrown into war. Immediately, military and industry representatives hammered out a plan for B-29 production and determining Wichita would be a base for manufacturing and assembly. Incredibly, the prototype B-29 successfully flew just nine months later. At this point, 1,650 B-29s had already been ordered by the military.
Double in weight, payload and range of its predecessors, this was the most technologically advanced aircraft of its time. It was also the first pressurized warplane with automatic gun turrets (state-of-the-art innovations that ultimately made the B-29 the most expensive weapons project of World War II, surpassing even the Manhattan Project).
Flight test faced numerous issues, most notably the engines. The 2,200-horsepower Wright 3350 18-cylinder radial engine was simultaneously in development and designed to be the most powerful of its time. But incredibly, Boeing still met the military's pressing deadline and the B-29 was combat-ready.
Thousands then flew to airfields in the Mariana Islands and prepared to embark on grueling bombing missions. By the end of 1944, hundreds of aircraft departed these fields at 30- to 45-second intervals to fly missions of over 14 hours and 3,500 miles almost entirely over water.
Infamously, it was the B-29 named Enola Gay that dropped the first atomic bomb on Japan, ultimately leading to the end of the war in August 1945 and sealing the airplane's importance in history.
Doc's Story Nearly Ends on a Bombing Range
Doc's chronicle began in December 1944 when it rolled off the Boeing Wichita assembly line (Serial No. 44-69972) and was delivered to the U.S. Army Air Corps the following March. The giant bomber earned its name when it was assigned to the "Snow White" radar squadron, each of whose B-29s were names after one of the seven dwarfs.
During World War II, radar squadrons were used to train the navigator bombardiers on the latest radar equipment used for bombing and routing. Radar was exceptionally important because most of the bombings took place at night.
Over the next 11 years, Doc would serve in various noncombat roles before being retired to China Lake, California, to be used as a target for Navy missile testing and bombing practice. For 42 years, it sat in the Mojave Desert until Tony Mazzolini and a team of local volunteers were finally able to rescue the relatively unscathed warbird from its resting place in 1998.
Doc Restoration a Massive Volunteer Effort
Deplete of the necessary resources to piece the giant airplane back to operational status in California, Tony Mazzolini soon contacted Doc's birthplace, Boeing Wichita. Boeing executive at the time, Jeff Turner, welcomed the opportunity to have the World War II hero return to its home. So the rescue team in China Lake, led by Tony, disassembled Doc and shipped to Wichita on seven flatbed trailers in 2000.
"People were just thrilled to see the airplane, regardless if it came in parts or not, because it was a Wichita product … and they knew the mission. Restore the airplane and bring it back to flight again. A lot of people wanted to be a part of that program," said Mazzolini.
Since the day Doc arrived, thousands of aircraft parts have been donated and refurbished in kind, and more than 350,000 volunteer hours have been invested toward bringing Doc back from the brink of destruction. Local mechanics, engineers, electricians and other technicians came together from neighboring manufacturing plants — several dedicating their retirements and even their final years to the project.
But the restoration could not have been possible without the numerous manufacturers supplying custom components. Next door, Spirit AeroSystems machined one-of-a-kind parts and airframe structures in the very factory Doc was built.
"We did not just restore the airplane, we remanufactured it," said Murphy. "We literally took every piece apart, inspected it, cleaned it and put it back together. Structurally, we kept as many components as we possibly could. But all systems and glass are brand-new. The list of companies to thank is a long one."
The team was able to recover and recertify most Doc's original cockpit instruments. The instruments are back in the airplane, but not without a few modern additions. The B-29 panel is also outfitted with Garmin's GTN 650, GTX 33 and GDL 88 (all removable for show display).
In 2013, Doc's Friends was formed by Wichita business leaders to financially support and complete the final stretch of the restoration of the B-29 Superfortress. The group continues to manage events, fundraising and communication efforts meant to ensure and protect Doc's future.
Doc's Future
Currently, flights are on hold due to the low temperatures. Similar to many warbirds, it is impractical to operate Doc in winter conditions. However, in the months following first flight, the crew logged multiple flights around the Wichita area. The crew says the airplane performed beautifully and Doc will resume flight checks in the spring.
So, what are the new obstacles in Doc's future?
"The biggest upcoming challenge will be recruiting the next generation of volunteers to help maintain the airplane," Murphy said. One is to build up the flight crews, but the other is to transition the invaluable knowledge from our longtime volunteers to this new generation — which will become a lot easier once we relocate to our own hangar."
Doc's Friends is finalizing plans and fundraising for a permanent hangar space to be located at Dwight D. Eisenhower National Airport. A hangar will allow for much-needed protection from the elements and serve as a public museum where Doc's story can be told, and the memories of World War II
kept alive.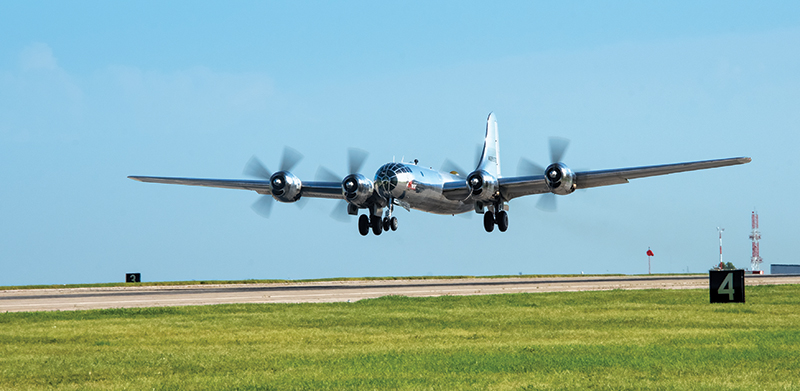 Meanwhile, Back on the Runway…
At McConnell Air Force Base, Doc has rumbled out onto the runway for a second time. The first attempt was met with an issue with the bomb-bay door closure. Now with the doors securely latched, the crew readies for takeoff.
The pilot applies full brakes and instructs the flight engineer to set 30 inches of manifold pressure. The flight engineer obliges, running the power up on each engine, all while checking temperatures and pressures. He announces when everything is stabilized, and Tilghman eases off the brakes and pushes his own throttles — advancing them asymmetrically to maintain directional control based on the winds.
The airspeed comes alive at about 65 mph indicated. Tilghman then applies slight back pressure on the yoke, lightening the nose tire and allowing the airplane to accelerate until it chooses to fly off the runway, which occurs at about 105 mph indicated and 3,500 of ground roll.
"In jet airplanes, you rotate the nose at 15 degrees and go blasting off into the sky," explained Tilghman. "But in the B-29, you establish a flying attitude and wait for it to lift off and maintain a very shallow rate of climb while the landing gear comes up and flaps retract. Then you start thinking about climbing."
The landing gear is kept down on first flight, but the modern hybrid Curtiss 3350 engines easily lift the B-29 skyward. Much lighter than its former self due to less armoring and fuel, the airplane is capable of climbing and traveling faster than it did on its previous missions more than six decades before.
On the ground, cameras are rolling and the crowd is cheering and shedding tears. For the first time since 1956, B-29 Doc
is airborne.
As the thousands watch, the warbird smoothly soars to 1,000 feet and cruises around the pattern. Seven minutes later, Tilghman greases a beautiful landing and taxis, greeted by continuous, loud cheers.
The crowd is soon informed the flight was cut short due to a chip detector light. But the crew is confident the alert is likely false and a result of breaking in the new engines (which was later confirmed).
B-29 Doc's first flight is a success.
Flying Museum
Although Doc's permanent home base is Wichita, the aircraft will serve as a traveling museum and exhibition. Doc's Friends is currently negotiating 2017 tour dates and locations.
"This year, we have a lot to learn about touring and operating the airplane economically," said Murphy. "In the next few years, we will expand and start offering rides and more of a complete schedule. Certainly, one of the main events will be to fly with FIFI. No one since 1956 has seen two B-29's fly in formation."
The group will release tour information on its website and social media accounts once a schedule is confirmed. Soon, people around the country will be able to see Doc in person and gain a richer understanding of our aviation history.
"There were certain things that happened along the way where you say to yourself, it's like it was meant to be," said Mazzolini.