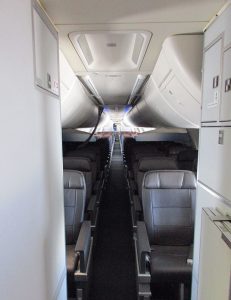 The swine flu (H1N1 from Mexico), bird flu (H5N1 from Asia), Ebola (from The Congo), and the seasonal flu (influenza A or B) kill a half-million or less every year. The Spanish flu of 1918 (H1N1 from Kansas) killed 50 to 100 million of us and was the last time humanity faced such an attack on a planetary scale. We have yet to calculate the worldwide physical and economic toll of COVID-19 (SARS-CoV-2 from China). 
In our attempt to lower this toll, we have new terms in our collective vocabulary: flatten the curve, stay-at-home, social distancing, N95 mask, ventilator, essential worker and Wall Street's historical marker: "The Great Lockdown." All of which describes our efforts to lessen the number of infections, hospitalizations and fatalities. All segments of society have been affected and transportation is getting clobbered.
Yep, Still Here
While a foreboding and indiscriminate virus has been pursuing and pruning our planet's population, some of us continued to fly. Annual recurrent training in the Duke was due, so I flew to Kentucky and completed mine just ahead of a thunderstorm. My first-class medical due in March was completed just as lockdowns were implemented (more about exemptions for medical exams and other FARs coming). And since the airlines must maintain essential air service, another chunk of B-737 time hit my logbook in April. But the terminals and flights were empty, airport restaurants and many TSA checkpoints closed, and the airways void of contrails. After flying in the U.S. airspace system for a few decades, you get a feel for sector boundaries, or at least how long you talk to each of them. But because of the empty skies, I've found myself querying ATC more often: "Still there?"  "Yep, still here" comes the reply. FL 400 is even more solitary than before.
No is the saddest experience you'll ever know.
I just read "Endurance" by Captain Scott Kelly (USN, ret.). It's the life story of F-14 test pilot/astronaut Kelly and centers around his year-long research mission aboard the International Space Station. The isolation Captain Kelly endured is similar to our new normal. Most notably, the reduction in person-to-person interaction and revocation of civil liberties. Many of our routines have the word "no" attached to them: no, you can't do that; no, you can't find any of that; no, you can't touch them; and no, you can't go there – including places of work and worship. It's a sad experience. 
As of this writing, golf courses are opening as are businesses in some states. But a few major events and activities have already succumbed to the pandemic: Sun 'n Fun, the summer Olympics, the Kentucky Derby, the Boston Marathon, NFL, NHL, MLB, Disney theme parks, Burning Man, the Tony Awards and the Cannes Film Festival, just to name a few. While some have been tentatively rescheduled for the fall, at T-minus three months, on May 1, aviation's largest family reunion, Oshkosh AirVenture, was canceled as well. Between now and the fall, things will be weird.
Out in the Country
Our load closeout (the Part 121 version of weight-and-balance) numbers have to be fudged in order for the flight planning computers to compute. They don't understand if the passenger count is zero; so, we lie to it and tell it "one" passenger. EDCT's (Expect Departure Clearance Time) don't exist; there is no waiting to push back from the gate due to traffic, and taxi time to the runway is short. Pitch attitudes during segment one of the takeoff (first 1,000 feet or so) have rivaled that of fighters. Traffic on SIDs, en route and on STARs is sparse. Vectors for spacing and speed adjustments are scarce. Because of our very low gross weights, approach speeds are within 15 knots of what I use in the Duke. 
The company's automatic parameter recording system, FOQUA (Flight Operational Quality Assurance – pronounced "Foe Quaw"), has noted longer touchdown points and higher pitch attitudes in the flare due to extremely light loads. And idle thrust after landing has resulted in 30 to 40-knot ground speeds. We don't have to wait for an open gate, and we exit the airplane into another empty terminal. Electricity to public lighting, escalators and TVs has been reduced. To say that hotels are apocalyptically abandoned is eerily accurate. Many times, my crew and I are the only guests in the hotel. Coffeemakers and microwave ovens have been removed from the rooms. With no one else in the hotel, enough time must be allocated to let the shower run for 10 to 15 minutes for the hot water to travel from the basement to the 15th floor. Uncertainty abounds, which causes consternation among not only crew members but their families.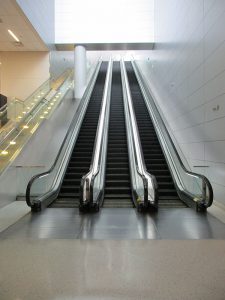 Two can be as bad as one; It's the loneliest number since the number one.
While we are on the road, the families of aircrews worry that moms, dads and spouses are being exposed to COVID-19. They ask about the virus, the ATC system, our future at the airline and the people we carry. At $25 per ticket to just about anywhere, we are flying some "once-in-a-lifetime" customers. On a leg from BOS to ORD, my FO's daughters, Ayannah and Aheli, sent along toys to keep us safe from the virus and "unique" passengers. We always need to wear our PIC hat, but during this crisis, the captain hat takes on additional importance. Passengers and crew need to be reassured that we're following CDC recommendations, the airspace system is functional and that their pilot is healthy. 
Complying with curve-flattening techniques in a Gemini-like, two-person cockpit, however, can be problematic. We're wiping down our seats (that would be the airplane seats), the throttles, yoke, thrust reversers, oxygen masks, steering tiller, hand mics and all cockpit switches. We wear gloves and masks while using sanitizing wipes on everything subject to our touch from shopping carts and groceries, to door handles, toilet seats and aircraft controls. Crew briefings, hellos, goodbyes and conversations are void of hugs and handshakes. As different as this flying is, many in GA are not flying at all.
It's Just No Good Anymore Since You Went Away
As we forecast the fate of our population and economy out the backside of the pandemic, we're reminded that neither us nor our airplanes do well when inactive for a month or more. For our airplane it means piece-parts may become sticky, dry out, go flat, act weird or just plain not work at all. For us pilots it can mean expired medicals, late training, loss of landing and instrument currency and for some, a leave of absence or furlough. Since many of us are away from flying due to lockdowns and social distancing, the FAA has granted some exemptions to the FAR's:
Airmen whose medical certificate expires at the end of March, April or May, but was unexpired as of March 31, 2020, are permitted to operate flight inside and outside of the United States using their current medical until June 30, 2020. The FAA will take no certificate actions due to expired medical certificates. The FAA determined that those subject to this temporary measure may operate beyond the validity period of their medical certificate but all standard prohibitions for medical deficiency still apply.
The requirement to don O2 masks when one crew member is out of the cockpit is now only when below 41,000 feet.
Flight attendants may relocate from the seats they would normally occupy so they can observe social distancing. FAs are also excused from having to demonstrate the use of certain emergency equipment including life preservers and oxygen masks.

 

Recurrent training due dates for designees, Flight Standards Organization Designation Authorization and Part 121 crew members is extended and may temporarily use alternative methods to conduct certain emergency procedures that require pilots to don protective breathing equipment or oxygen masks in recurrent training, checking, or evaluation.
Air carrier personnel may temporarily perform flight dispatch and flight following duties from their homes.

 

Pilot training schools may use distance learning programs or suspend operations.

 

Multiple GA groups were signatories on a letter to the FAA requesting the following additional exemptions during the pandemic:

 

Extension of 14 CFR Part 61 pilot currency requirements, e.g. flight review, IPC, PIC/SIC proficiency checks.

 

Guidance that reexaminations or paperwork inspections in person (such as logbook inspections under 61.51, or maintenance record inspections under 91.417) be held off or at least be conducted electronically during the current social distancing safety protocols and directives regarding non-essential activities.

 

Extensions for certified flight instructor certificate renewal, expiration, and endorsement periods, knowledge and e-exams, practical exams, filing of documents under 14 CFR Part 13 and aircraft maintenance and continuing airworthiness requirements.
The Show Must Go On
As of this writing, except for some Part 121 landing currency rules and an SFAR for instrument proficiency (Special FAR for COVID-19 relief pilots only…within the nine calendar months preceding the month of the flight…and the pilot must have logged, in the preceding six calendar months), the FAR's for landing currency, flight reviews and IPC/PIC/SIC proficiency checks for most of us have not changed. So, in order for the show to go on: 
No pilot may act as pilot in command of an aircraft carrying passengers unless that person has made at least three takeoffs and three landings within the preceding 90 days in an aircraft of the same category (airplane, glider, rotorcraft, balloon), class (SEL, MEL, helicopter) and type (C-525, G650, B-737) if a type rating is required, and if tailwheel airplane, the landings must be to a full stop. Night currency also specifies category, class and type and the three takeoffs and landings must be to a full stop during the period beginning 1 hour after sunset and ending 1 hour before sunrise. 
And: 
A person may act as PIC under IFR or in IMC if within the 6 calendar months preceding the month of the flight, that person performed and logged at least the following tasks and iterations in an airplane, powered-lift, helicopter, or airship, as appropriate, for the instrument rating privileges to be maintained in actual weather conditions, or under simulated conditions using a view-limiting device that involves having performed the following: six instrument approaches, holding procedures and tasks, and intercepting and tracking courses through the use of navigational electronic systems. 
On The Road To Shambala 
No matter where the virus came from: bats, monkeys, mice, men or aliens; whether it's engineered or naturally occurring; whether it escaped or was released; whether a conspiracy or complacency, and whether it's here to stay or gone by Christmas – like when in the cockpit, keep your wits about you, make good decisions and work the problem. History will allow for analysis, reflection, blame and lessons learned. In the meantime, let's get through it, get back on the road and back into the air. The mantra of the day is that we are all in this together, and so it is. Be safe, my friends. 
Authors note: A grateful nod of appreciation to Three Dog Night for the title and subtitles.