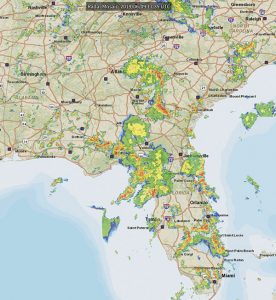 A spring bomb cyclone hits the Midwest. Historic flooding swamps the Midwest and Southeast. Heat waves smother Florida and the Southwest. A stuck pattern in the jet stream creates a trough over the western United States, which allowed systems to push further south than typical for late May into June. 
If you were anywhere near the left seat of an airplane this spring, you know all too well what I'm talking about. Normally June ushers in quieter weather patterns and better flying weather in general. Not this year.
After spending a glorious week aviating and relaxing in the Out Islands of the Bahamas in early June, my husband and I reluctantly turned our attention to flight planning our way back to the United States and eventually home to Kansas City. A quick look at the weather showed that our flight to Fort Pierce, Florida (which has the best customs experience and fuel prices) would be a breeze. But the rest of the trip home, maybe not. 
With our eAPIS and flight plan filed, we launched the first leg of our journey. One frustration, which we accept willingly, is that flying out of the Bahamas rarely runs on your schedule. Ramping, refueling and getting through Bahamian customs requires a healthy dose of patience. In addition, the U.S. customs office at KFPR doesn't open until 10 a.m. This means that we rarely are able to launch home from KFPR as early as we would like. 
On this day, the weather was quickly turning ugly across Florida, Georgia and Alabama. A mid-level trough persisted from the Tennessee Valley to the Gulf of Mexico, creating a deep, juicy southwesterly flow of moist warm air over the Florida peninsula and adjacent states. The conditions were ripe for a prolonged convective scenario with accompanying LIFR ceilings. Although we may have been able to pick our way through, there weren't a lot of "outs" if we were to launch.
As we stood in the Tiki Hut at Ft. Pierce, iPads in hand, this was the moment of truth and decision. After nearly two weeks of traveling, we were anxious to get home. The plane was fueled and ready to launch. We had two qualified and very-current pilots. My sister, who was traveling with us, needed to get home to her daughters. The sky was growing darker in the west with an approaching cell. Having two pilots to talk through the decision is infinitely helpful, as opposed to making the go/no-go call alone.
We made the call: no-go. I quickly arranged a rental car and red-eye airline flight from Orlando for my sister. My husband found reasonable hangar space at the nearby Stuart airport. We popped the plane over to Stuart and headed to the nearest Marriott. Two hours later, with cold drinks in hand and a thundering storm outside, we resolutely toasted to our delay. It was the right call. 
One day prior, a JetPROP owner-pilot departed south Florida with four on board for a trip to Maryland. Faced with crossing the same "stuck" weather system, he ran into trouble over North Carolina and tragically crashed, killing all on board. While the investigation is underway, it appears an encounter with convection contributed to this accident. It makes you think: What were the motivations and pressures that the pilot was feeling that he had to make this flight? Why did he choose that route? What chain of actions and choices boxed him in and eventually dealt him a losing hand?
With all the excellent weather products now at our fingertips, we don't need to guess or take chances. The batting average of those who test Mother Nature is not good. In the end, it is YOU and I who choose our course of action. 
As a friend and Piper M600 owner told me when I related our no-go decision: 
"There are no extra points for pictures about how much ice we take on or how close we can get to a cell. There are no extra points for landing with a 30-kt crosswind. There are no extra points for how fast we can fly an approach. If you choose to do it, it's your decision. But when I read about these accidents, it makes me recommit myself to my personal limits, to learning more about my plane, and to better understanding weather." 
Amen, brother.
The next day, we arose before dawn and did a detailed weather briefing. The system had run out of gas and we had a clear shot to Kansas if we launched early. By lunchtime, we were thankful to be home but certainly not disappointed that we delayed a day. 
While our airplanes are magic carpets, they are just machines that are no match for the worst Mother Nature can serve up. Think hard about the capabilities and most importantly, the limitations of you and your plane for the flight you are contemplating. Waiting never killed anyone that I know of, but our airplanes sure can. 
Stay hungry for safety.