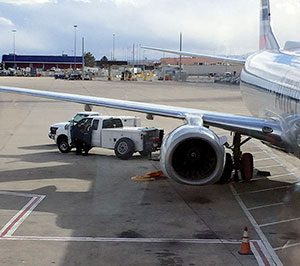 "Ladies and gentlemen, this is your captain. I have some good news and some bad news."
"Uh oh," I said to my wife Patty as we sat on a 2 p.m. American Airlines flight from Salt Lake City to Dallas, about to leave the gate. 
"One of our tires needs to be replaced, and it may take an hour and a half. But we will get this done and be on our way as soon as possible. You will need to collect your belongings and depart the airplane," said the captain. 
My first thought was, why now? Was the tire damaged during the previous landing? Was it just a crew change and the new crew didn't like the looks of one of the main tires? Not that it mattered, but I knew immediately that there was no way we were going to depart in an hour and a half. But within 30 minutes a mechanic showed up with the replacement tire. A half-hour later, another guy arrive to help.
A disgruntled female passenger scowled at the mechanics and said, "Damn government workers." I said, "Ma'am, these guys are private industry. Maybe you are used to the time it takes to change a tire at a NASCAR race, but it's a little more complicated on a Boeing 737-800." 
As we sat in the terminal, I thought about how I inspect my Mustang tires during preflight. And how I should look more closely at them after every landing. I am fairly conscientious about keeping tire pressures monitored though. I have good reason.
One warm summer morning, we departed for California in our Sabreliner Model 40. After a full week of business, we fueled and loaded up in Sacramento for the return to Dallas with a stop in Denver. On the previous landing, we noticed what appeared to be a slightly underinflated left main tire. But now it looked normal. Probably anxious to get home, we didn't check the pressure. The weather was great as we left the FBO and taxied to the active. My longtime pilot JC was PIC for this leg. Everything was normal as the Sabre smoothly accelerated down runway 12R at SJC until exactly V1 speed. Simultaneously, we heard a loud boom and the airplane began to lurch sideways. Instinctively, JC rotated the old bird one second before we left the rapidly approaching runway boundary. 
We made two passes by the tower for a visual inspection. The controllers said everything looked normal. What they couldn't see was the phonebook-sized hole in the left main tire – the one and only left main tire that came with the airplane. We knew something was wrong but decided to raise the gear and press on to Denver while we burned off fuel to reduce our landing weight. (Thinking back, raising the gear up was probably not the right thing to do, but it's the decision we made).
In the cockpit, we had the situation under control, were well briefed and composed. And on we flew to Denver for the next hour. 
Over the threshold with the red lights of fire trucks flashing and sirens blaring, JC made a perfect landing. The tire stayed on the wheel. And just like in your car when you have a flat, the old Sabre just let out a "whomp, whomp, whomp" as the tire begrudgingly brought us to a stop. We were towed to the FBO. Six hours later, with a new tire sent from Dallas, we were on our way. Today, American Airlines got us going in three.
Fly safe.