Most "heavy metal" owners and pilots who, like us, read Twin & Turbine Magazine are well-aware of the business-related benefits and other advantages of general aviation. Tax benefits, flying on our own schedules, the ability to transport colleagues or an entire team, are just some of them. As an attorney with a state-wide employment law practice, I've certainly taken advantage of all those items and more. However, until we started flying medical charity missions, my co-author Stuart and I missed what can only be called "satisfying and joyful" flying.
Dr. Stuart Bloom, an anesthesiologist who is also my hangar neighbor at KVNY, and I recently sat down to compare notes on the incredible experiences we've both shared with flying patients and family members to and from their vital medical appointments – all arranged through Angel Flight West. Among our most satisfying missions are transporting kids with special needs such as burns or deafness to and from camp. Camp missions are just perfect for twin and turbine aircraft.
Stuart and his wife, Barbara, are the proud owners of a JetPROP, while my wife Margie and I fly a Cessna 340 (it's no coincidence that one's a twin, one's a turbine, and you are reading this in Twin & Turbine!). We've found that transporting patients to and from their medical appointments or other specific verified needs, to be extremely gratifying. A typical accolade recently came from grateful passenger Susan K. in Durango, Colorado. She thanked AFW for making it possible to participate in a clinical trial in Denver for Stage III ovarian cancer.
"Your hard work and tireless efforts helped me get treatment in the midst of and throughout my fight to live, which continues to this day! Thank you from a verygrateful survivor."
Angel Flight Mission
For the patients and their families, utilizing a public benefit flying organization such as Angel Flight West means they don't have to exhaust their limited resources like energy, time and finances, on commercial air travel or long road trips. Charitable air travel saves that energy for the vital recuperation times needed for many of them. Passengers never experience any costs related to a charitable flight as all the expenses are covered by the volunteer pilot or AFW.  Since no money is ever exchanged in return for these flight services, the IRS and FAA consider these operations to be strictly charitable flights under FAR Part 91  Another value-add to pilots who volunteer with is that Angel Flight West provides a pilot safety education program. The organization is also in the process of designing and instituting a safety management system to elevate their operations and volunteer pilots to best practices and high standards.
By AFW's calculations, the majority of the planes used in charitable missions are single-engine pistons. So, if the weather is questionable, such as low instrument flight conditions or strong headwinds, there's more worry about cancellation than there might be with an aircraft with greater capability. Twin and turbine pilots with their heftier craft are needed to fill this gap to complete these types of missions. But no matter what type of aircraft is used, AFW Command Pilots always have the right and authority to adjust or cancel a flight – usually due to weather or mechanical issues.
Passengers are also told in advance of a possible cancellation and are required to have an alternative travel plan. This takes the pressure off Command Pilots to fly and complete a mission. No pilot is ever criticized for canceling a mission. Recently, to increase safety and reduce mission completion pressures after a long day, the AFW Board's safety committee disallowed night flights by VFR only or non-current instrument-rated pilots, recognizing the significant risk increase inherent in these operations.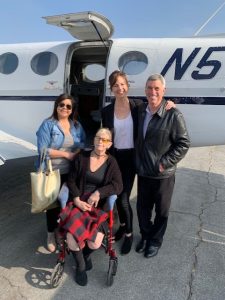 The AFW Process
In 2019, Angel Flight West arranged 5,090 missions across 13 western states. That adds up to a total of nearly 10,000 hours and covers an estimated 660,000 miles of fantastic flying opportunities. While this is an impressive number of flights, each one of them is a magical moment in time for the passengers and the pilots, too.
AFW posts each new total mission flight, from home airport to destination airport, on their online mission board as requests come in from social workers, hospital staff, camp directors or directly from passengers. These are vetted for financial and critical need by AFW headquarters located at KSMO (Santa Monica). Angel Flight West always lists each total flight, then breaks up the long segments into separate legs, thus permitting pilots to choose the legs they prefer to fly. This allows pilots with smaller aircraft or with limited time to accept missions to suit their needs and capabilities. However, for twin and turbine pilots such as Stuart and myself, we will not hesitate to request all or most legs. Our more capable aircraft make it more likely that the charitable mission will be filled and also helps improve the patient flying experience. Time is saved by reducing interim stops to change planes and increases the comfort of our Angel Flight passengers.
Join Us on a Mission
This morning, our mission will be to fly mom, dad and the patient, a 9-month-old in an appropriate travel seat, from KDVT (Deer Valley, north of Phoenix) to Children's Hospital in Los Angeles. Often, we fly CHLA patients and their families to KBUR, but KSMO and KVNY also work. The office staff at AFW is more than willing to change suggested pick up or drop off airports if you, the pilot, request that change. (For example, flying the passengers to your home base may make more sense if it's almost as close as the airport listed on the available missions page). Before the flight is ever even scheduled, AFW office staff have pre-qualified the family as in need of a charitable flight through the referring social worker or physician.
On this day, the family is waiting at the designated FBO and is ready to fly when we arrive. Many passengers have flown before and are familiar with the required Waiver of Liability. No mission departs without the passengers and any non-essential crew members signing a waiver. The Volunteer Pilot Protection Act also exists for pilot's protection, but a waiver is an added level of protection for pilots and the organization.
Passenger and baggage weights are confirmed before boarding, the child's booster seat is secured, and you brief mom and dad on your safety procedures. The flight then departs, bound for Santa Monica Airport (KSMO), home of AFW, and where our patients meet Margo (or another Earth Angel volunteer) to drive them to their medical treatment or overnight housing. In this case, the family is staying at the Ronald McDonald Children's House, and that will be their first stop today.
The return flight is planned for about three days out, so any Angel Flight West pilot can check their calendar to see if that's a convenient time to fly. A typical page from the AFW website listing available missions will show about 5-10 available flights every Monday through Friday. There are usually weekend flights listed as well, especially for camp flights or for passengers who might need to fly on the weekend. Most other charitable flight organizations around the country have similar web-based portals to find and report trips. On many occasions, a mission assistant will accompany the pilot. This person may be another pilot or a person well known to the Command Pilot. Their role is vital in helping reassure and settle the passengers and relieving the pilot of additional distractions. Stuart and theJetPROP usually complete their missions faster than our 340, but we can handle a larger load, such as a few additional passengers or more baggage.
Once all are safely back home, the Command Pilot then files a simple mission report online. The report allows pilots to address any passenger challenges for coordination staff to address or safety concerns noted on the trip. The latter are then forwarded to and reviewed by the AFW Safety Committee to help determine ways to mitigate these problems in the future. The Command Pilots may also make note of the destination airport FBO's special features such as reduced fuel prices or waived fees for AFW flights for future AFW pilot  awareness. The mission completion report serves as a perfect year-end charitable donation record. (Tax savings are beyond the scope of this article, check with your tax advisor).
While we are filing the online mission report, we can check to see other new missions posted that are convenient to our personal schedules. Angel Flight West also provides air transportation to wounded veterans in need and their families, blood transport, patients for hospice care, and relocation for victims of domestic violence. Referrals are made through the main office where staff screen and confirm need.
Do Some Joyful Flying
Definitely, flying charitable missions is a win-win for the public and the pilots. So, we encourage you to get out there and do some joyful flying!
There are literally dozens of public benefit flying organizations around the country and you're probably already familiar with some, such as Pilots N Paws, Wounded Warrior Project, Make-A-Wish Foundation, and Veterans Airlift Command. While Angel Flight West covers the 13 western states, including Hawaii and Alaska, other Angel Flight organizations provide arranged flights for the remainder of the United States. Check them out and find the one that works best for your geography and aircraft.
Angel Flight West is a 501(c)(3) charitable organization with a 4 Star Charity Navigator rating. Find them online at www.AngelflightWest.org or call (310) 390-2958.  For those of you seeking further information on public benefit flying organizations right for you, check out online resources such as www.angelflight.com/locator; www.aircarealliance.org/volunteer-opportunities; www.volunteerpilots.net.
Author's note: Stu and I would like to thank our wives, Barbara and Margie, for their help preparing this article and for their never-ending, enthusiastic support for our missions. We are so lucky to have them join us when their time and available space onboard makes that possible. Additional thanks to Josh Olsen, AFW's Executive Director, and his staff of 10, who recognize and help each command pilot. Having this incredible staff has made mission selection and coordination with patients, relay leg pilots, earth angels, like being part of a private concierge flying service.